Jonway MJS-E Sport is a maxi electric scooter with a top speed of 130 km/h
Jonway, a Chinese manufacturer of two-, three- and four-wheel electric vehicles, has in its catalog the MJS-E Sport, a large electric scooter (also called 'maxi scooter'), which has the capacity to reach 130 km/h of top speed.
Currently, most electric motorcycles and scooters are designed for urban use, with a maximum speed of around 80 km/h. But that is changing as new manufacturers enter the segment and look to diversify their lineup.
A good example is the futuristic electric scooter BMW CE 04, which has a top speed of 120 km/h. Of course, there are other, more extreme (and rare) cases, such as the Damon HyperFighter electric motorcycle, which is capable of reaching up to 273.5 km/h.
Back to talking about the Jonway scooter, the MJS-E Sport has an electric motor located in the rear wheel hub, with a rated power of 7 kW and peak power (maximum) of 16.5 kW. With this, according to the company, it is capable of reaching up to 130 km/h, with an ambient temperature of 20°C.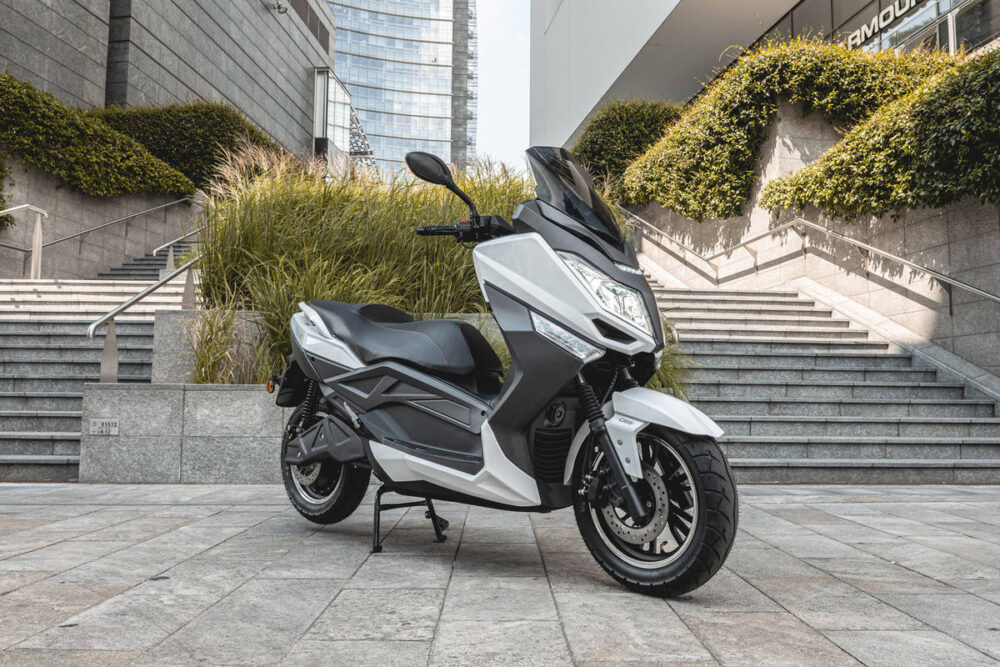 To handle this, it is equipped with an integrated (non-removable) 72V, 85Ah/6.2KWh battery, which weighs 62 kg. According to the company, the range is up to 150 km in ECO mode and 105 km in normal mode.
In addition, it has a fully digital panel, Full-LED lighting, SMART keyless control, regenerative braking, USB socket for smartphone charging, 14″ aluminum wheels and brake discs on both axles.
Finally, as we mentioned at the beginning of the article, the Jonway model is a large scooter, with 2,170mm in length and a wheelbase of 1,580mm. Just to compare, the Yamaha XMax 300, a 300cc maxi scooter, has a length of 2,185mm and a wheelbase of 1,540mm.
Anyway, the MJS-E Sport is sold in Italy for €7,450 without tax incentives. With all the incentives, the price drops to €5,007. The Yamaha XMax 300 is sold in Portugal for €6,195, so the Jonway model has a very competitive price.
For more information, visit the Jonway Chinese website at http://en.jonway.com/. You can also visit the website of the importer in Italy at https://www.i2v.it/mjs-e-sport/.
photos: Jonway