Damon HyperFighter is an electric bike with 200 HP and 0 to 60 MPH in 3s
Damon Motorcycles launched HyperFigther, its high-performance electric motorcycle, which comes with a maximum power of 200 HP and can accelerate from 0 to 60 MPH (96 km/h) in just 3 seconds.
HyperFighter is the second electric motorcycle of the brand, which already has the faired HyperSport. It is a 'naked' bike and has cutting edge technology that makes it ready for the future.
It is offered in three versions: Colossus, the top of the line; Unlimited 20, the intermediate; and Unlimited 15, the standard. Colossus is the high-end, with Brembo brakes, Öhlins suspensions, single-sided swingarm, among others. And, of course, the most expensive one.
One of the main systems on the new bike is the Co-Pilot™, an advanced 360º alert system that uses radar, front and rear cameras and other non-visual sensors for "situational awareness", ie, it helps riding safer.
Another highlight of the model is the Shift™, a system that adjusts ergonomics while riding. Just press a button and the handlebars can be lowered and the foot pedals can be retracted, adopting a more sporty riding.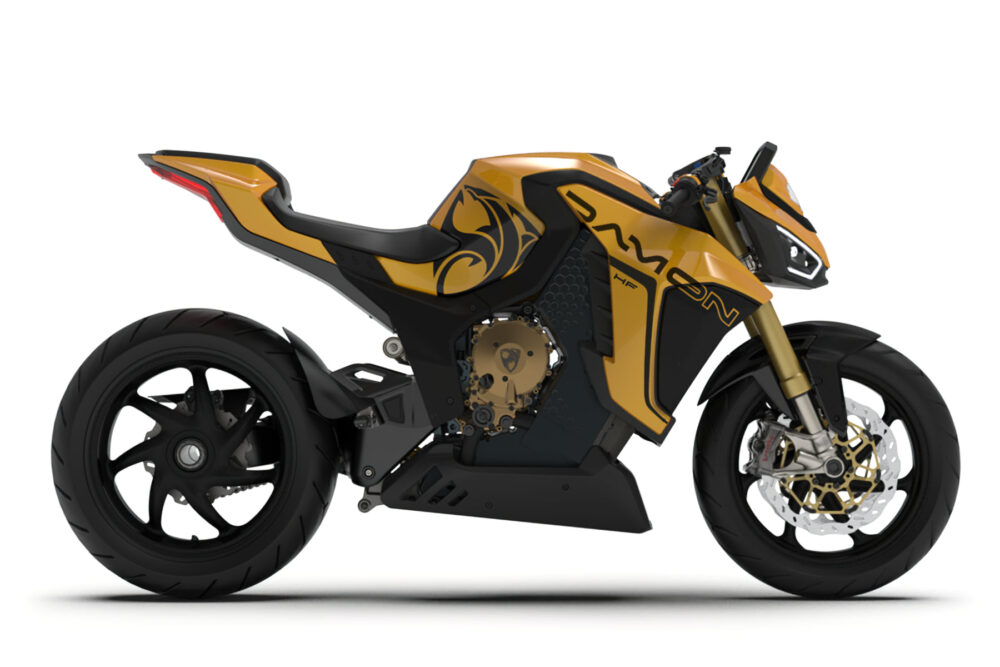 Finally, we can't forget to mention HyperFighter's design, which is very aggressive and full of sharp angles.
Engine, Battery, Technology and Price
Damon HyperFighter Colossus and Unlimited 20 features a 150 kW liquid-cooled electric motor. It is capable of generating up to 200 HP of maximum power and more than 200 Nm of torque, which allows reaching a top speed of up to 170 MPH (273.5 km/h), with 0 to 60 MPH in just 3 seconds.
The battery is 20 kWh which allows a range of up to 146 miles (235 km) in combined city/highway mode. It can be recharged up to 80% in just 45 minutes with a DC Fast Charging. On 220V, it takes 2.5 hours to reach 90% and on a 110V outlet, it takes 15 hours.
The standard version HyperFighter Unlimited 15 is equipped with a 115 kW electric motor, capable of generating up to 150 HP. According to the company, it is possible to reach up to 150 MPH. The battery is 15 kWh which allows 120 miles Highway + City Range.
In addition to the aforementioned Co-Pilot™ and Shift™, the top of the line Colossus has Traction Control, Riding Modes, ABS, Öhlins suspensions, Brembo brakes, Parking Brake, Wireless Connectivity & Data, Full-LED lighting, color TFT digital panel, 1080p front and rear cameras, Mobile App and OTA (Over-the-Air) updates.
Anyway, Damon HyperFighter Colossus can be acquired in the United States for US$ 35,000 MSRP. The standard version Unlimited 15 starts at US$ 19,000. For more information, visit https://damon.com/hyperfighter.