BMW launches its electric scooter, the CE 04: futuristic design and liquid-cooled electric motor
BMW launched its first electric scooter in Europe, the CE 04, which arrives with a futuristic design and innovative liquid-cooled electric motor.
The model is based on the BMW Motorrad Concept Link concept, unveiled in 2017, and is focused on urban mobility, merging transport and communication functions.
"The BMW CE 04 is our new electric star for the city. It combines an e-drive with emotion and motorcycling fun. The latest technology, and the best battery cells, which also provide power in the BMW iX. Just like the CE 04, all future new BMW Motorrad models for urban mobility will be pure electric", said Oliver Zipse, CEO of BMW AG.
Therefore, with the new CE 04, BMW opens a new chapter in urban mobility on two wheels powered by electricity.
Design
The BMW CE 04 has a futuristic design, with straight lines and defined angles, full of cutouts. It is bold, with the center and back formed practically by a flat piece.
The seat, described as "floating", is completely flat, escaping the two-level trend, and which can leave the croup with a blocked view. It has not been informed whether there will be a split-level seat offered as an option.
The modern surface finish is in a light white, complemented by matte black sections in the front and side areas, as well as the "floating" seat.
In addition, there are trend-setting wheels (solid wheels) with a disc wheel look and a side stand that is integrated into the design styling.
There is also an optional 'Avantgarde Style', with 'Magellan Gray metallic' color, complemented with a black/orange seat, an orange windshield and various graphics.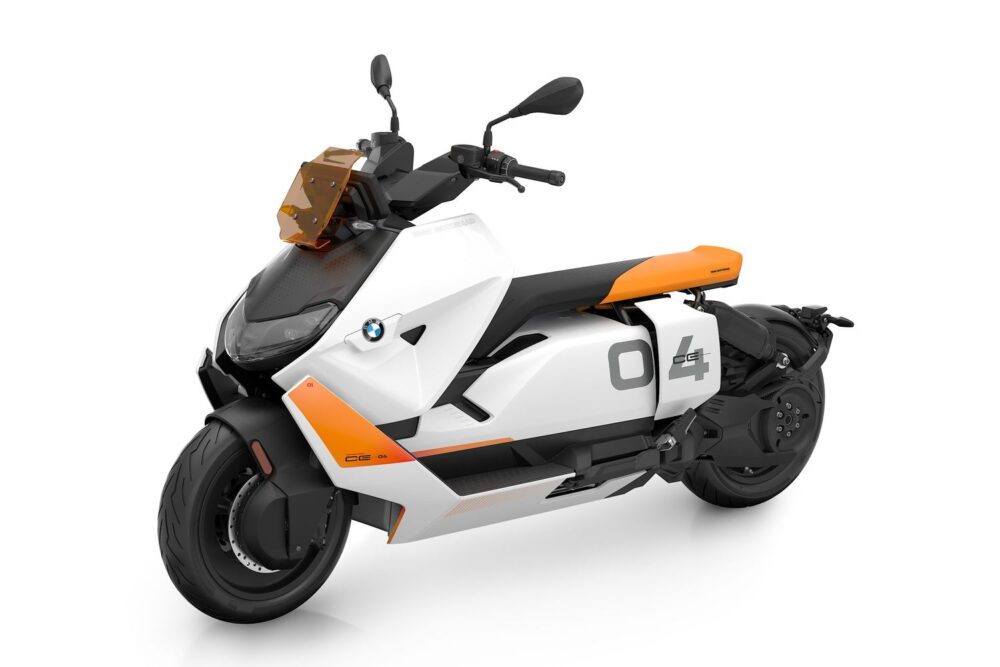 Engine and battery
The BMW CE 04 has an electric motor capable of generating up to 31 kW (42 hp) of maximum power. There will be a reduced power version (category L3e-A1 in Europe) with up to 23 kW (31 hp).
According to the company, acceleration from 0 to 50 km/h is done in just 2.6 seconds and the top speed for both versions is 120 km/h.
In addition, the battery cell capacity is 60.6 Ah (8.9 kWh), providing a range of approximately 130 kilometers (reduced power version: 100 km).
The new BMW CE 04 has an innovative liquid-cooled permanent magnet electric motor, mounted in the frame between the battery and the rear wheel, similarly used in BMW cars such as the 225x and Active Tourer.
BMW Motorrad has carried out extensive riding tests to develop a specific type of energy recovery for each riding mode, giving the rider a high level of convenience. That means optimal performance and driving characteristics are available in every situation on the road.
The Li-ion battery is charged using the charging device built into a normal household outlet, wall box, or public charging station.
When the battery is completely discharged, the ideal charging time is 4 hours and 20 minutes. With the quick charger available as an optional extra with a power of up to 6.9 kW (2.3 kW is the standard level), charging time is reduced to just 1 hour and 40 minutes when the battery is fully discharged.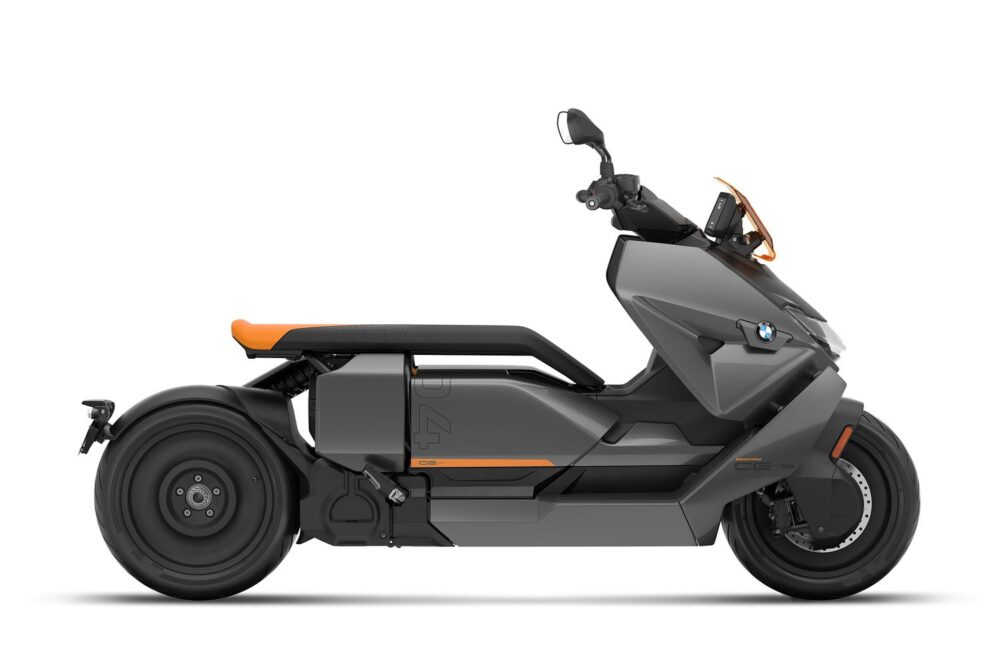 Chassis
The BMW CE 04 features a one-piece tubular steel main frame for smooth handling and a high level of driving comfort.
The front suspension is the traditional telescopic suspension with 35 mm tubes. The rear has a unilateral swing arm and a single shock absorber.
Furthermore, the wheels are 15 inches long, with tires measuring 120/70-15 at the front and 160/60-15 at the rear. In terms of braking, there is a double brake disc at the front and a single one at the rear, equipped with ABS (the ABS Pro system is offered as an option).
Technology
The BMW CE 04 comes with three driving modes: "ECO", "Rain" and "Road" (Economy, Rain and Road, respectively). There is an optional "Dynamic" mode, allowing the scooter to accelerate at an even faster pace.
In terms of safety, in addition to the aforementioned ABS, the model has an Automatic Stability Control (ASC), which limits the engine's torque in relation to the slipping of the rear wheel. In addition, Dynamic Traction Control – 'Dynamic Traction Control (DTC)' is offered as an option, which offers even more safety when driving.
The instrument panel is fully digital in 10.25 inch color TFT, with integrated map navigation and Smartphone connectivity.
Finally, it has Full-LED lighting, that is, headlights, flashlights and turn signals have this technology. In addition, 'Headlights Pro' cornering lights are offered as an option, which further improves road illumination when cornering for even safer driving at night.
Conclusion
Finally, the BMW CE 04 is offered in Germany, starting at €11,990. For more information, visit the BMW Motorrad UK website (in English).