Yamaha Motor adds Lithium Battery models To Its Golf Cars
This year, Yamaha Motor introduces two new models of golf cars, each powered by a high-performance maintenance free Roypow® LFP cobalt-free Lithium-Ion battery.
This new Lithium-Ion battery offers a number of key benefits:
Fast, smooth acceleration and greatest top speed compared to lead acid batteries, including 20% faster on a 15-degree incline.
Maintenance free, saving time and labour costs.
Longer battery life of up to 8 years, with a 5-year warranty
Quicker charging time, 1.8 times faster than a lead acid battery.
Lighter (25% to be exact), allowing for greater speeds, less wear on tyres and brakes, and less turf damage.
Impressive driving range, allowing for over 3 rounds of golf per charge.
Drive² AC Li
The Drive² AC Li golf car offers a sophisticated, powerful 3.3 kW motor, fully independent front suspension that has been optimised to compliment the Yamaha-developed lightweight Lithium-Ion battery for a smooth ride and a redesigned longer stroke rear suspension for increased comfort allowing golf course owners to deliver a better experience for their members.
Drive² PTV PowerTech Li
The Drive² PowerTech Li for personal transport offers a 5.0 kW electric motor, fully independent front, and rear suspension (IRS), a comfortable interior, style, and more performance.
This faster charging, faster moving vehicle will have users speeding across farms, through estates and around resorts, with longer battery life leading to more time spent on the move and less time charging.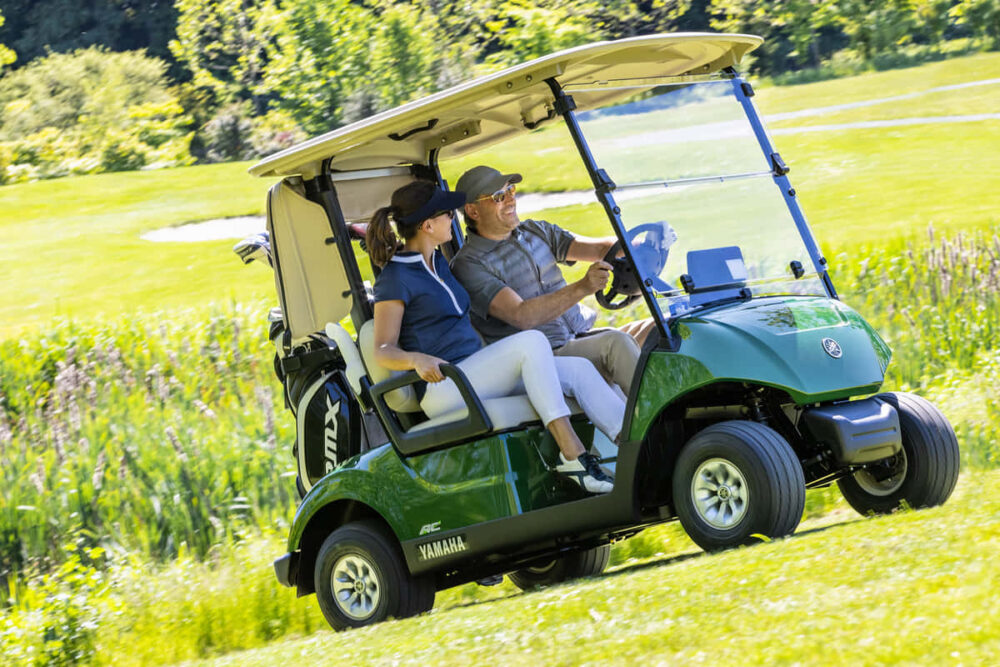 Drive² PTV PowerTech AC AGM
Also new for this year is the Drive² PTV PowerTech AC AGM, with a punchy electric motor to speed you to your next activity and high-performing Trojan AGM maintenance-free batteries, offering a longer run time so you can get more done between charges.
This model also offers outstanding interior comfort and IRS (Independent Rear Suspension) for a softer ride, smoothing out bumps in the terrain and increasing your comfort.
Your Priorities, Your Choice
Both AGM and Lithium-Ion batteries offer a sustainable choice for business and private users alike, plus both are maintenance free.
The main differences are that the AGM batteries are fully recyclable Lead Acid type, which can be seen as a distinct sustainability advantage for some customers, whereas the Lithium-Ion versions offer several performance advantages such as more rounds per charge, longer life, faster charging, and faster acceleration.
Anyway, for more information, access https://www.yamaha-motor.eu/gb/.
photos: Yamaha