Kawasaki presents electric motorcycle at Intermot 2022 innovation fair in Germany
Kawasaki presented at Intermot 2022 (biannual two-wheeled vehicle innovation fair in Cologne, Germany), a prototype electric motorcycle, very similar to the 'naked' combustion-powered Z400.
This prototype is the same one that was presented in Japan, during the traditional Suzuka 8 Hours endurance race, valid for the FIM WEC (World Endurance Championship).
According to the company, this prototype will be the basis of a real future production electric motorcycle, and reflects the brand's commitment to introduce at least three electric vehicles globally by 2022.
In addition, the company makes it clear that it will not abandon combustion engines, and that it works on other types of fuels as a carbon-neutral choice in addition to hydrogen, such as biofuels.
In the images of the motorcycle presented at Intermot, you can see the electric motor installed in the center of the vehicle, with the final transmission made by chain. We couldn't see a shift pedal, but we can't rule out this item on the final model.
The company recently filed a patent for an electric motorcycle with a power of 11 kW, so it may be that this model presented is this motorcycle that, with this power, can reach up to 140 km/h.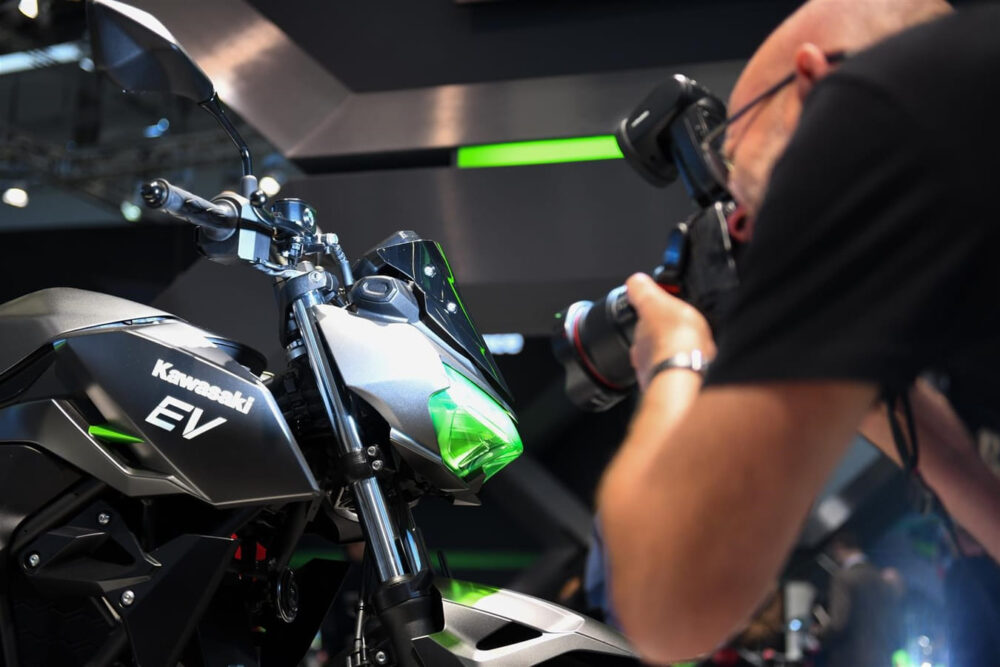 Hybrid models
Despite not having shown a hybrid model at the fair, Kawasaki is also working on this type of vehicle, as it has also shown a prototype in the Suzuka 8-hour race.
This hybrid bike has characteristics of a sports bike, based on the Ninja 650. It has the same design, but with a larger front part, probably to accommodate the battery and other components.
Thus, this model has a traditional combustion engine and an electric motor. There is no further information, but we believe that they can be used separately or together, that is, in places where there is a restriction for combustion vehicles, it could only operate in electric mode. In other cases, it could combine the two to extract maximum power and torque, providing a very sporty ride.
Finally, Kawasaki concluded by saying that it is actively involved in partnerships that are not simply limited to the world of two wheels, but encompass automotive and other forward-looking technologies.
Anyway, for more information, access https://www.kawasaki.eu/en/.
photos: Kawasaki