Impressive results of Triumph's TE-1 electric motorcycle project
Triumph announced the completion of its TE-1 electric motorcycle project, and released the final test results of the prototype which, according to the company, exceeded the objectives.
The Triumph TE-1 project is a collaboration between Triumph Motorcycles, Williams Advanced Engineering, Integral Powertrain Ltd and WMG at the University of Warwick, funded by the UK Government's Office for Zero Emission Vehicles, to create innovative developments in specialist electric motorcycle engineering, and innovative design of integrated technology.
The first data released was the real autonomy, which can reach 161 km with a charge in its lithium battery that has a capacity of 15kWh. This is, according to the company, superior to the real range of equivalent electric motorcycles available in the world today. In addition, another impressive data released is that the battery can be recharged in just 20 minutes (0 to 80%), which is a huge improvement over today.
The second data that caught the attention was the peak power of the model, which reaches up to 130 kW (177 HP). It is similar to the Speed Triple 1200 model, a motorcycle with a three-cylinder engine and 1200 cm³. With this, the company discloses that the acceleration from 0 to 100 km/h happens in just 3.6 seconds. Furthermore, it is said that with the further refinement of the electronics, including the traction control system and front wheel lift control, performance can be further improved.
Finally, the total weight of the model is 220 kg, about 25% less than comparable electric motorcycles currently available, which leaves it with a great power-to-weight ratio.
Design and conclusion
Official images of the TE-1 prototype show that Triumph's electric bike will be very similar to conventional models, with a design similar to the Speed Triple 1200 RS.
It is very aggressive, with two LED headlights with a very intimidating look, and head down focused posture. In addition, the rear of the bike is extremely short, typical of 'streetfighter' models.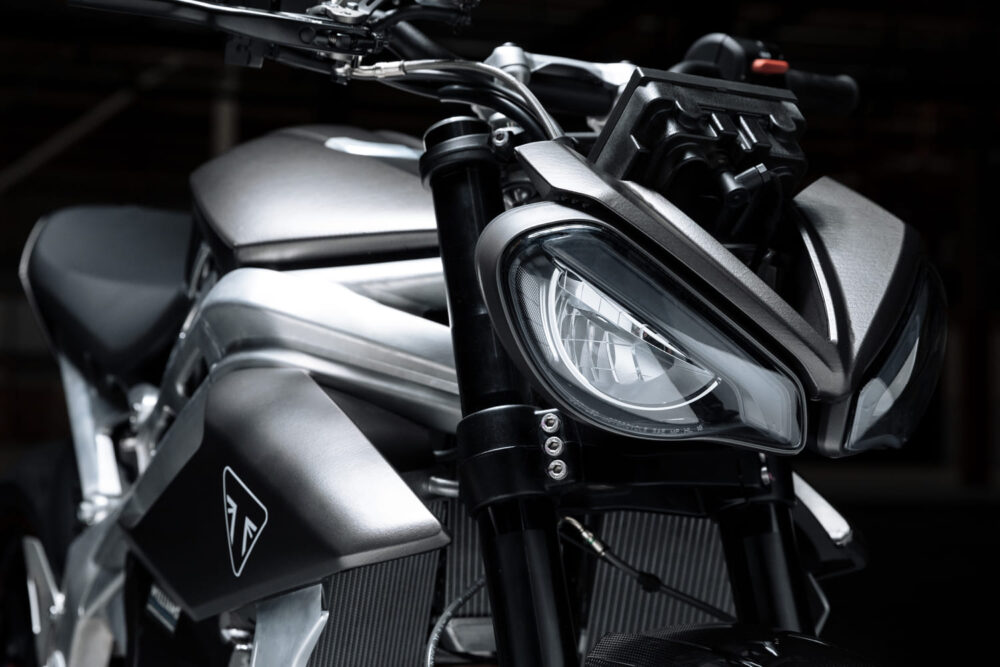 According to the company, Triumph's future electric bike won't be exactly like this prototype, but it will have the same 'spirit' and knowledge gained in the project.
Anyway, the company does not say when, in fact, it will be making an electric model available. But, with the completion of this project, we can estimate that it will be in one or two years, that is, until the end of 2024.
For more information, visit https://www.triumphmotorcycles.co.uk/.
photos: Triumph