Get Ready for the Thrill of the 2023 Honda Trail 125 ABS as it Takes on Canada
Get ready for an epic adventure as Honda Canada unleashes the highly anticipated 2023 Honda Trail 125 ABS, making its debut in Canada this spring.
This rugged and versatile bike is the ultimate companion for adrenaline junkies and outdoor enthusiasts alike, promising an unforgettable journey on any terrain.
The Honda Trail is a classic brand that's been resurrected with a modern twist. This miniMOTO packs a punch with its practical design and hassle-free technology, making it the perfect companion for those who want to relive the past while living in the present.
Unveiled as a concept model at the 2019 Tokyo Motor Show, this beauty captured the hearts of the public with its innovative design and stunning features, leaving them begging for a production model in Canada.
Well, the wait is over! The Honda Trail 125 ABS has finally arrived in Canada, ready to take riders on an adrenaline-fueled journey through the city streets and rugged backroads. With its powerful engine and state-of-the-art ABS technology, this miniMOTO is the ultimate combination of style and performance.
Honda's designers have struck gold with the Trail 125 – a modern motorcycle that retains the iconic look, simplicity, and ruggedness that made the CT-series a classic.
The Trail 125 packs a punch with a semi-automatic, air-cooled 125cc four-stroke engine featuring PGM-fuel injection and electric start, as well as a full LED lighting package and disc brakes with front wheel ABS.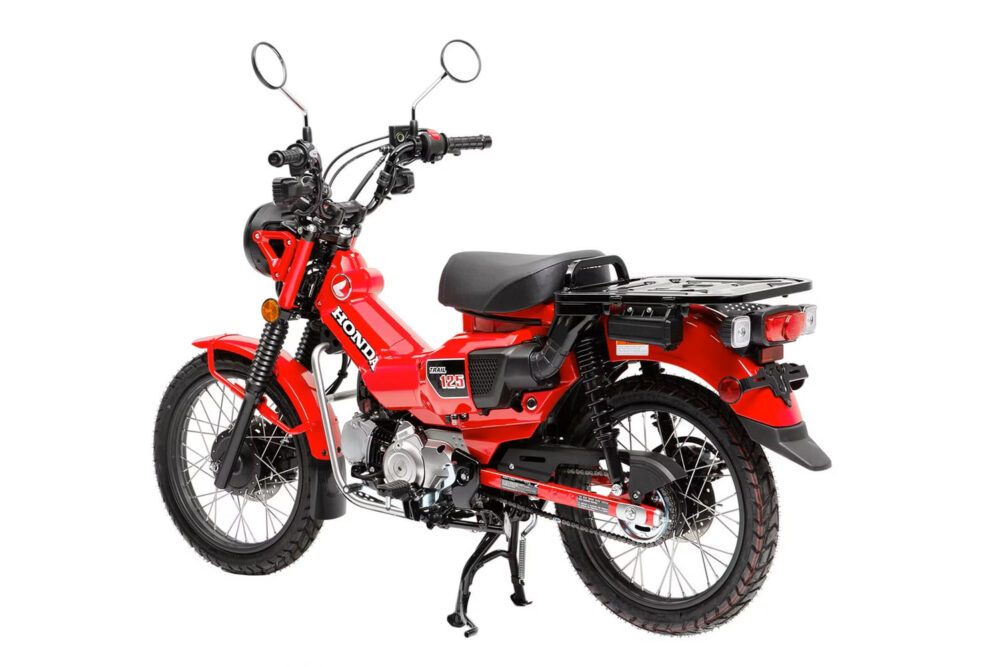 Its backup kick start, high air intake, upswept exhaust, spoked rims, standard skid plate, and cargo rack add a unique ruggedness that sets it apart from other miniMOTOs, making it the perfect companion for any adventure – big or small.
Anyway, the 2023 Honda Trail 125 ABS will be available for sale at Canadian dealerships in April, for $5,649.
photos: Honda