Yamaha launches XForce in Japan: 155cc scooter with biker-style handlebars
Yamaha launched in Japan the 2023 XForce, its 155cc scooter, which comes with a sporty design, robust in the front and light in the rear, and biker-style handlebars, which increase freedom and provide emotion.
According to the company, the biker-style (motard) handlebars increased the degree of freedom in the riding posture on this new scooter. In addition, the riding position that balances comfort and mobility provides ease of daily handling and exhilarating riding.
The 2023 Yamaha XForce is equipped with a new generation 155 cm³ water-cooled BLUE CORE engine, which features 'SMG' and 'VVA' technologies. The 'SMG (Smart Motor Generator)' performs a silent start of the engine and the 'VVA (Variable Valve Actuation)' allows optimal intake according to the engine's rpm range.
So, this unit is capable of generating up to 11 kW (15 HP) of maximum power at 8000 rpm, and 14 Nm (1.4 kgfm) of torque at 6500 rpm. The transmission is automatic CVT, the fuel tank capacity is 6.1 liters and the weight is 130 kg.
In addition, this new scooter is equipped with a traction control system that suppresses the tendency of the rear wheel to slip even on slippery roads.
Complementing the safety issue, it comes out of the factory with ABS brakes and brake discs on both axles, the front being 267 mm. The wheels are 13″, fitted with tires measuring 120/70-13 at the front and 130/70-13 at the rear.
Finally, in terms of technology, it comes with LED flashlights, LCD digital panel, 5V and 2A USB port, and smartphone connection to use the 'Yamaha Motorcycle Connect (Y-Connect)' app.
Anyway, the 2023 Yamaha XForce is sold in Japan for 396,000 yen (approximately US $ 2,930). Available colors are: Matte Green, Matte Blue (with red wheels), White and Black. No sales forecast in other countries.
For more information, access https://www.yamaha-motor.co.jp/.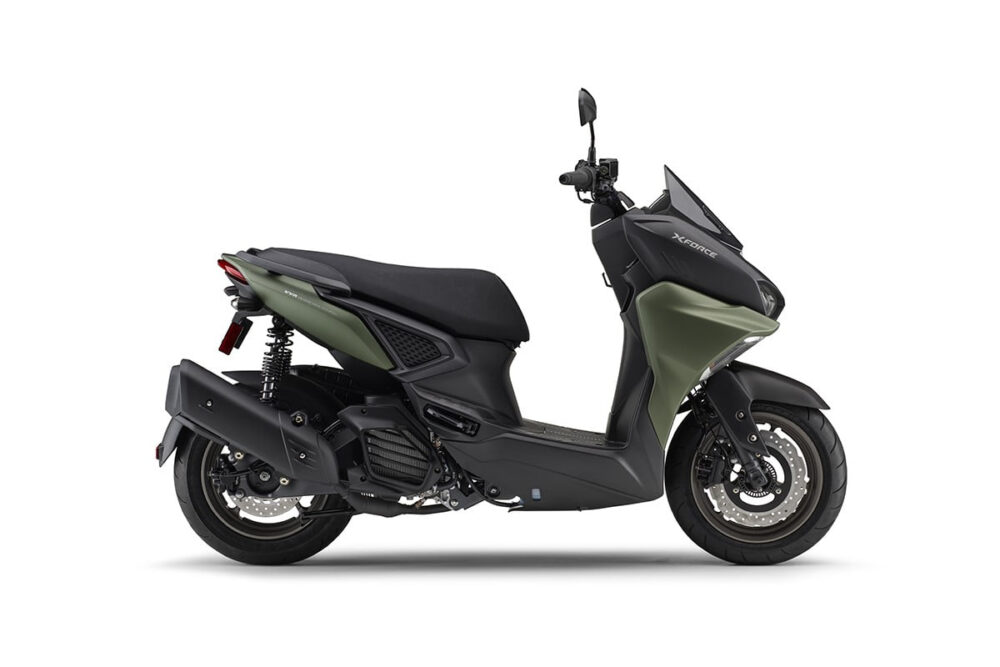 photos: Yamaha