Yamaha launches 2022 Tricity 125 with new EURO5 engine and refined chassis
Yamaha has launched in Europe the new 2022 Tricity 125, its 3-wheel 125cc scooter, which arrives with a new EURO5 engine, new Stop-and-Start system and refined chassis.
With the updates, the 2022 Tricity 125 is even lively and more economical, bringing more comfort and stability, for an improved and practical urban use.
The new 125cc single-cylinder EURO5 engine now features Variable Valve Actuation (VVA) technology for more power at high revs and good fuel economy at low. In addition, it features a forged piston and a newly designed cylinder head, as well as a larger intake valve and increased compression ratio.
According to the company, the new engine is capable of generating up to 9.0 kW (12 HP) of maximum power at 8000 rpm, and 11.2 Nm (1.13 kgfm) of torque at 6000 rpm.
The engine improvements didn't stop there. A new Starter Generator Control Unit and a Smart Motor Generator system has been added, which turns the crankshaft directly, eliminating the traditional starter. With this, the operation of starts and restarts is much quieter.
In addition, with the new Stop-and-Start system, operation is quieter and smarter, making riding more enjoyable in heavy daily traffic.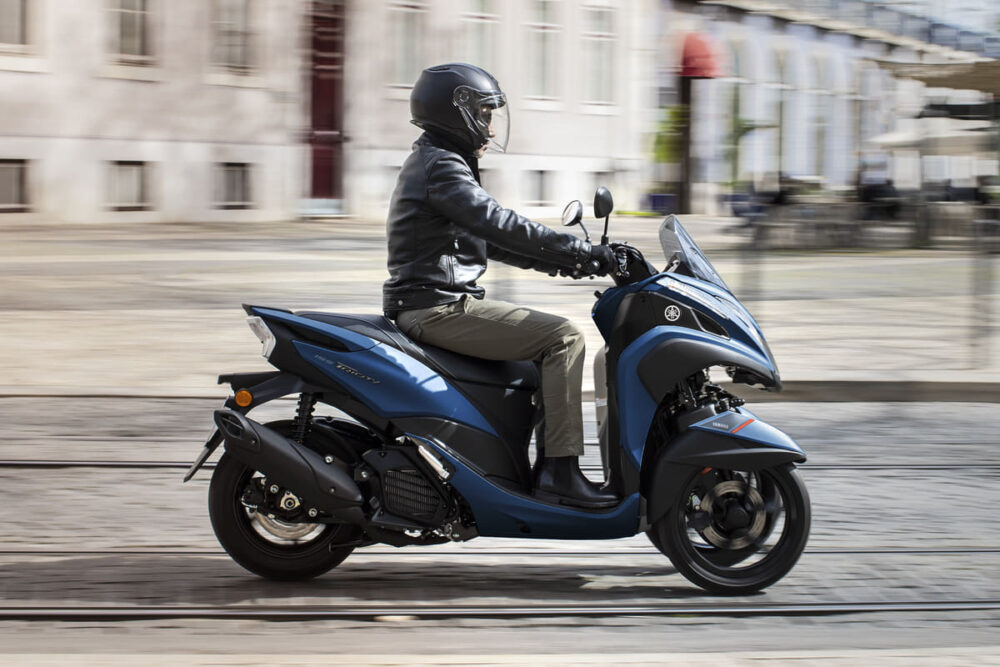 New chassis and technology
The 2022 Yamaha Tricity 125 features a new frame with a longer wheelbase, revised engine mounts and increased levels of torsional and longitudinal rigidity. Together with the revised steering characteristics of the latest LMW Ackermann system, it gives an excellent ride quality with high levels of comfort.
The rear suspension was also not left out of the improvements. The rear twin shock system has had its length increased by 90 mm for more comfort, and the spring rate and damping strength have also been increased, resulting in stable operation.
To complete the mechanical improvements, the scooter received an optimized Unified Brake System (UBS), which now better distributes braking force between the front and rear axles when the rear brake is applied.
In terms of technology, the Tricity 125 gained a new digital LCD panel with smartphone connectivity, and Smart Key for keyless start.
Finally, the 2022 Yamaha Tricity 125 arrives with new color options: Petrol Blue and Sand Gray, as well as being available in Matt Gray.
Anyway, for more information, access the website https://www.yamaha-motor.eu/gb/en/.
photos: Yamaha