WorldSBK | Razgatlioglu Triumphs as Bautista Crashes in Spectacular Italian Round
In a thrilling display of skill and determination, Toprak Razgatlioglu (Yamaha) emerged triumphant at the Autodromo Internazionale Enzo e Dino Ferrari di Imola during the Italian Round of the WorldSBK Championship.
The Turkish star capitalized on a dramatic opening lap crash by Alvaro Bautista (Ducati), dramatically closing the gap in the championship standings by a maximum of 25 points.
The stage was set for an intense battle as the reigning champion, Bautista, shot off the grid, taking the lead in the shortened 15-lap race. However, his hopes were shattered when disaster struck at Turn 3, sending him careening into the gravel and prematurely ending his impressive winning streak in 2023.
Seizing the opportunity, Razgatlioglu swiftly moved into the lead, with teammate Andrea Locatelli narrowly avoiding the chaos caused by Bautista's crash. However, Razgatlioglu's bid for victory would not be without fierce competition from the ambitious Axel Bassani (Motocorsa Racing), who charged forward in pursuit of his maiden win.
Bassani executed a daring maneuver, surging from fourth to second place. He capitalized on Locatelli's error at the final chicane on Lap 2, seizing the opportunity to blast past both Locatelli and Jonathan Rea (Kawasaki). Bassani's audacious move put him in striking distance of the leading Yamaha rider, narrowing the gap to just over a tenth of a second by Lap 7.
The tension continued to mount as Bassani made his move on Razgatlioglu, attempting to snatch the lead at the Villeneuve chicane before ultimately finding success at the left-hand hairpin of Tosa. Initially creating a slight gap, Bassani's advantage was short-lived as the tenacious Razgatlioglu refused to be left behind.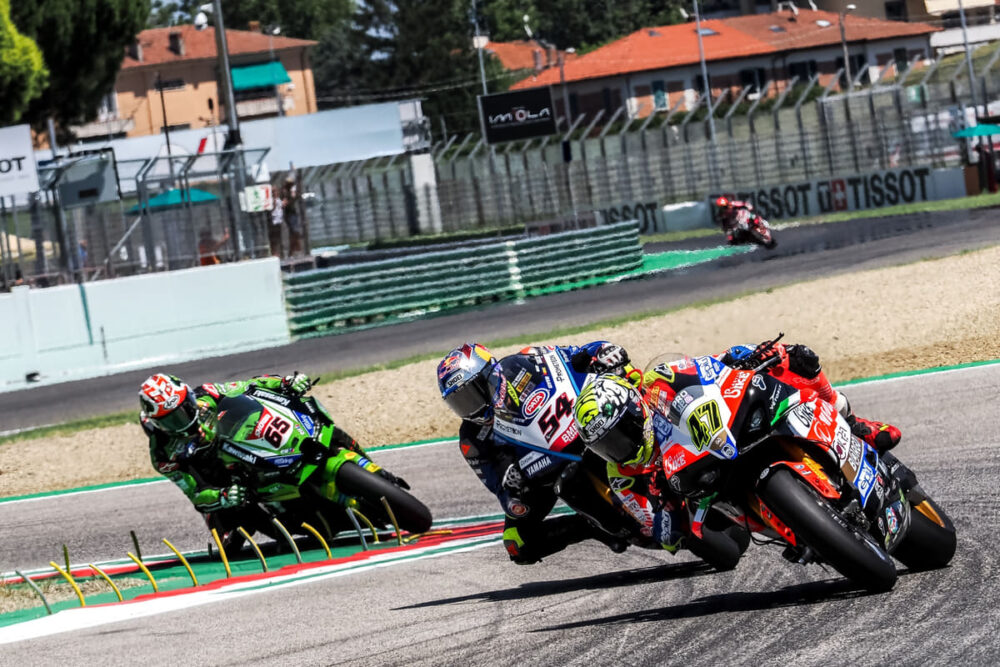 With just a few laps remaining, Razgatlioglu launched a counterattack, making a daring move into Rivazza 1. Although Bassani defended fiercely, the Yamaha rider's determination prevailed as he secured a vital lead. Seizing the opportunity to showcase his prowess, Razgatlioglu pushed ahead, crossing the finish line to claim his first feature-length race win of the 2023 season.
This victory marked Razgatlioglu's 36th career win and his 102nd podium, while simultaneously notching Yamaha's 410th rostrum in World Superbike history. Bassani, displaying remarkable talent, matched his best result by securing his sixth podium in the Championship, while Rea achieved the rare feat of earning two feature-length race podiums in a single round in 2023.
Amidst the exhilarating battle for the lead, Bautista's teammate, Michael Ruben Rinaldi, claimed fifth place, followed closely by a gripping battle for sixth between Bradley Ray (Yamaha Motoxracing), Loris Baz (Bonovo Action BMW), and Scott Redding (BMW Motorrad). Ray emerged victorious, achieving a career-best sixth-place finish while Baz narrowly edged out Redding to claim seventh.
As the dust settles on the Italian Round of the WorldSBK Championship, the series continues to deliver breathtaking racing and intense competition. Toprak Razgatlioglu's victory and Alvaro Bautista's unfortunate crash have shaken up the championship standings, leaving fans eagerly anticipating the next round and the thrilling battles yet to come.
The championship standings are as follows:
| Position | Rider | Bike | Points |
| --- | --- | --- | --- |
| 1 | Alvaro Bautista | Ducati | 391 |
| 2 | Toprak Razgatlioglu | Yamaha | 321 |
| 3 | Andrea Locatelli | Yamaha | 208 |
| 4 | Jonathan Rea | Kawasaki | 201 |
| 5 | Axel Bassani | Ducati | 179 |
| 6 | Michael Ruben Rinaldi | Ducati | 129 |
| 7 | Danilo Petrucci | Ducati | 117 |
| 8 | Alex Lowes | Kawasaki | 109 |
| 9 | Dominique Aegerter | Yamaha | 101 |
| 10 | Xavi Vierge | Honda | 98 |
Anyway, the WorldSBK Championship returns from July 28th to 30th, with the Czech round.
For more info, access the WorldSBK website.