Revving Up the Roads: Unveiling the 2024 Honda SP160, the Epitome of Sporty Street Performance
Honda has once again set the bar high with the introduction of the all-new 2024 SP160, an embodiment of power, style, and innovation tailored for the Indian roads.
This remarkable addition to the SP lineup, known for revolutionizing the 125cc motorcycle segment, is now pushing boundaries even further with its sporty aesthetics, advanced technology, and unprecedented value propositions.
Sporty Aesthetics: A Visual Powerhouse
The SP160's dynamic design resonates with the desires of modern riders who seek a harmonious fusion of dynamism and utility. The motorcycle boasts a bold tank design accompanied by sporty shrouds that exemplify a perfect blend of fierceness and vitality. Further accentuating its sporty nature, the aerodynamic under cowl lends the bike a cutting-edge look.
An eye-catching LED headlamp graces the front, radiating a premium aura. Complementing this, the distinctive LED tail lamp design distinguishes the SP160 from the crowd.
The marriage of style and functionality is further seen in the inclusion of a 130mm wide rear tire, enhancing traction during acceleration, and a sporty muffler with a chrome cover that reflects its DNA of style and sportiness.
Advanced Technology: Power with Precision
Under the SP160's hood lies an OBD2 compliant, powerful 160cc Programmed Fuel Injection (PGM-FI) engine – a testament to Honda's commitment to superior performance and fuel efficiency.
The Solenoid valve within the engine serves as an automatic choke mechanism, providing additional air during ignition and warm-up. Engine Control Unit (ECU) regulations orchestrate the valve's action based on oil temperature and intake air pressure.
The engine's design incorporates a long stroke for added torque and efficiency, coupled with a high compression ratio of 10:1 for commanding performance. Spiny sleeves on the cylinder's outer surface enhance cooling and structural integrity, while a roller rocker arm and counterweight balancer ensure a seamless and vibration-free ride across the RPM range.
The motorcycle's advanced digital meter is the rider's window to an enriched journey, showcasing information such as gear position, average fuel mileage, fuel consumption, and more.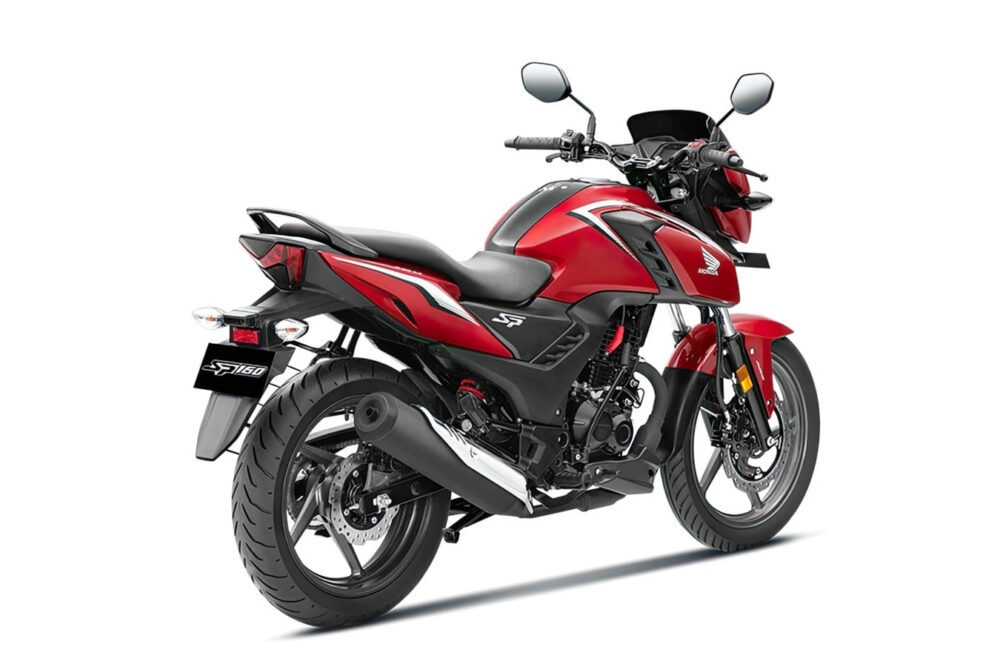 Comfort & Convenience: Redefining Riding Experience
Enhancing rider convenience, the SP160 introduces an Engine Stop Switch, enabling hassle-free engine shutdown during brief halts. The bike's high ground clearance (177mm) and a long wheelbase (1347mm) create stability and a superior riding experience, especially on uneven terrain.
Safety takes precedence with the SP160 featuring single-channel ABS and petal disc brakes, ensuring confident braking performance in varied conditions. The integration of a high-performance Rear Mono Shock suspension offers both comfort and stability, making every ride a pleasure.
New Value Propositions: Unmatched Warranty and Variants
Honda's customer-centric approach shines through with the SP160's exclusive 10-year warranty package, offering 3 years of standard coverage and an optional 7-year extension. This assurance underscores the brand's commitment to quality and durability.
The SP160 is available in two exciting variants – Single Disc and Dual Disc, allowing riders to choose their preferred level of braking performance. Furthermore, the introductory price of Rs. 1,17,500/- (ex-showroom Delhi) presents an enticing proposition for those seeking the perfect balance between value and excellence.
Speaking at the launch, Mr. Tsutsumu Otani, Managing Director, President & CEO of Honda Motorcycle & Scooter India, expressed his excitement, stating, "The all-new SP160 embodies the fusion of cutting-edge engineering and innovation, poised to exceed customer expectations."
In a world where performance meets style, the all-new 2024 Honda SP160 stands as a true testament to Honda's dedication to elevating the riding experience through innovation and passion.
photos: Honda