New Colors Unveiled for the 2024 Kawasaki Z900: A Blend of Power and Aesthetics
As the motorcycle world eagerly awaits the upcoming season, enthusiasts across Europe and America have reason to celebrate with the revelation of the new colors for the 2024 Kawasaki Z900.
Renowned for its global success, the Z900 is set to make an even greater impact with a range of five distinct models, each showcasing the iconic Sugomi styling and aggressive Z persona.
At the heart of this lineup is the Z900, a machine tailored for the true rider at heart. Alongside it stands the Z900 SE, a partner that shares not only the Sugomi aesthetics but also the engineering finesse, all while offering the convenience of a 70kW option, perfect for those ascending the Z series hierarchy.
The Z900's signature Sugomi design elements, characterized by its crouching stance, low-set head, and upswept tail, remain as captivating as ever. Yet, with an array of updates, its aggressive contours have been refined, resulting in an even sharper and more captivating appearance.
A leap into the future is marked by all-LED lighting and color TFT meters that seamlessly integrate with the rider's Smartphone through the innovative Kawasaki Rideology app.
The Z900 and Z900 SE not only offer integrated riding modes and power mode selection but also boast three variations of KTRC traction control. The inclusion of an assist and slipper clutch across all Z900 models, along with the application of horizontal back-link rear suspension technology inspired by Kawasaki WorldSBK machinery, ensures an unmatched riding experience.
For those seeking an extra dose of refinement, the Z900 SE takes it up a notch. Sporting striking gold-colored inverted forks with a generous diameter and an Öhlins S46 rear shock equipped with a remote pre-load adjuster, the SE model redefines sophistication.
Braking prowess is elevated thanks to Brembo front M4.32 brake calipers, Brembo disc rotors, and stainless-steel braided lines. The Z900's superb handling character is further enhanced by the introduction of new Dunlop Sportmax Roadsport 2 tires.
The Z900's color palette for the year 2024 introduces an updated Metallic Spark Black/Metallic Matte Dark Gray combination, while the timeless Ebony/Metallic Matte Graphenesteel Gray option maintains its presence.
A delightful surprise arrives in the form of a new colorway, the Candy Persimmon Red/Ebony, adding a vibrant and eye-catching choice to the mix. As for the Z900 SE, a dynamic Metallic Spark Black/Metallic Matte Graphenesteel Gray/Candy Lime Green variant with a distinct green frame makes a captivating debut.
In summary, the 2024 Kawasaki Z900 collection is a manifestation of power, style, and innovation. The incorporation of Sugomi design elements, coupled with thoughtful engineering enhancements, creates a symphony of aesthetics and performance.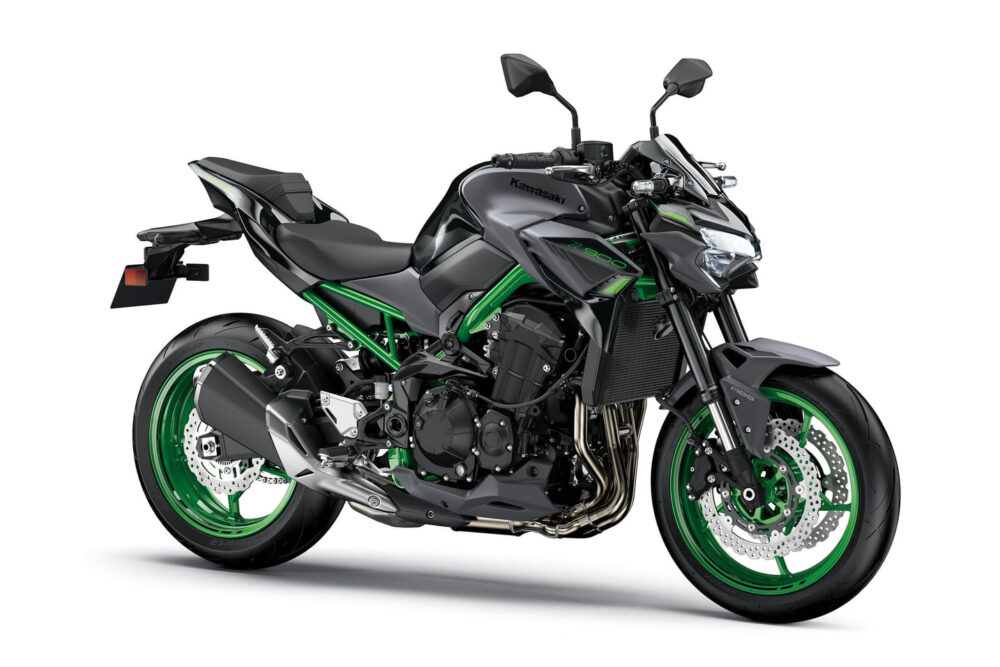 With a seamless integration of technology, riding modes, and advanced suspension, Kawasaki once again showcases its commitment to pushing boundaries and delivering an unparalleled riding experience.
photos: Kawasaki