Revolutionizing Urban Travel: Gogoro CrossOver – The Ultimate Electric Scooter SUV
Gogoro, the global technology leader in battery swapping ecosystems, has just unleashed the Gogoro CrossOver Smartscooter, an innovative electric scooter that's turning heads and considered the "two-wheel SUV."
This isn't your ordinary scooter; it's a game-changer designed for the modern rider who craves customization, power, and smart features. Let's dive into the excitement in just a few paragraphs.
All-Terrain Wonder
The CrossOver doesn't just conquer the urban jungle; it thrives in all environments. It boasts a rugged all-terrain chassis that guarantees stability and strength.
Also, with a generous 14.2 centimeters of ground clearance, it can handle any road condition you throw at it. Whether you're navigating city streets or venturing off-road, the CrossOver's got you covered.
Versatile Cargo Space
Adapting to your ever-changing needs, the CrossOver offers flexible cargo capacity. It's like the Swiss Army knife of scooters, with 26 locking points for mounting accessories.
You can easily configure it to carry all your gear. Need more room? Flip up or remove the rear seat, and voilà, you've got extra storage. Gogoro also offers a variety of accessories, from faceplate racks to front baskets, to make your ride truly your own.
Raw Power Meets Smart Control
Under the hood, the CrossOver packs a punch. With a 7.6 kW motor and a smooth FLO DRIVE™ belt drive system, it guarantees a powerful and enjoyable ride.
But it's not just about raw power; it's about control. The Synchronized Braking System (SBS) ensures stability and shorter braking distances, keeping you safe.
The suspension system is designed for durability, with telescopic front forks and dual rear shock absorbers. Plus, those 12-inch Maxxis tires provide excellent grip.
Brain Meets Brawn
The CrossOver isn't just a beast; it's also smart. It's equipped with the 6.8 iQ System® that lets you add smart functions via Gogoro's Mobile App. From remote control to real-time vehicle condition checks, it keeps you connected and informed.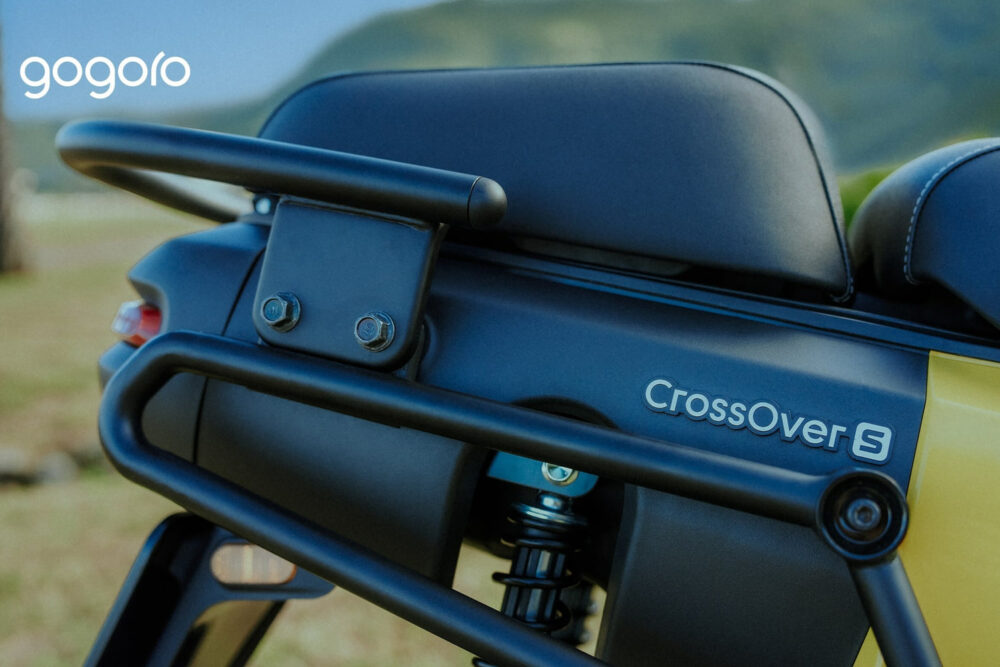 And if you opt for the CrossOver S, you get the latest SSmartcore with a Traction Control System (TCS) and optional cruise control for that extra dose of sophistication.
Colors and Customization
With the CrossOver, individuality is key. Gogoro is introducing the Bespoke Club for Smartscooter customization, allowing you to pick from over 100 color combinations. Whether you want to blend into the cityscape or stand out in style, the CrossOver has your back.
Availability
The Gogoro CrossOver electric scooter is set to hit the streets of Taiwan this quarter, offering two exciting models: the CrossOver and the CrossOver S.
With exciting color options, the CrossOver comes in Desert White or Night Storm Grey, while the CrossOver S offers even more choices with Myst Red, Summit Yellow, Desert White, or Night Storm Grey.
photos: Gogoro