Revolutionizing the Road: Harley-Davidson Unveils Two New CVO Motorcycles
Harley-Davidson has once again raised the bar with the introduction of two cutting-edge 2023 models from their Custom Vehicle Operations (CVO) lineup.
The new CVO Street Glide and CVO Road Glide motorcycles promise an elevated riding experience, featuring advanced technology, enhanced rider comfort, and dynamic performance propelled by the formidable Milwaukee-Eight VVT 121 engine.
With exclusive visual designs that redefine the concept of grand American touring, these models are set to transform the way enthusiasts perceive and enjoy motorcycle travel.
Design that Transcends Tradition
The CVO Street Glide and CVO Road Glide models exhibit stunning new designs that seamlessly blend elements from their predecessors, delivering an unmistakable aesthetic that honors Harley-Davidson's rich heritage.
Equipped with fairings featuring integrated venting and LED signature lighting with integrated turn signals, these motorcycles embody an air of sophistication and modernity.
Notable design enhancements include a trimmed front fender, a distinctive 6-gallon fuel tank with a captivating side bevel, and saddlebags that harmoniously complement the fairings and fuel tank with their three-dimensional shape.
To make a bold custom statement, the new Combo Cast Laced wheels feature a black machine-cut cast-aluminum rim and laced spokes. Each model will be available in two meticulously detailed finish options, allowing riders to personalize their ride with a touch of their own style.
Unleashing Power and Performance
The heart of these formidable machines beats with the all-new 121-cubic inch V-Twin Milwaukee-Eight VVT 121 engine, redefining the limits of factory-installed torque and displacement available in a Harley-Davidson Touring motorcycle.
This powerhouse features optimized liquid-cooled cylinder heads, a new cooling system, variable valve timing (VVT), and a performance exhaust system, all working in unison to deliver an unparalleled riding experience.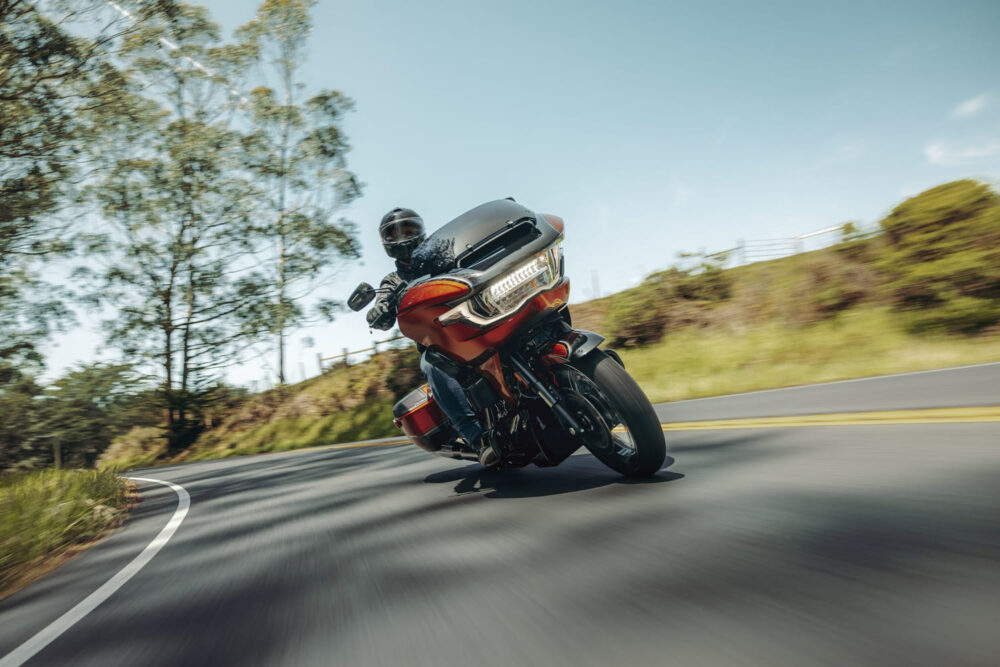 To ensure an exhilarating yet comfortable ride, Harley-Davidson's engineers meticulously considered every aspect of design. The result is a significant reduction in dry weight – 31 pounds for the CVO Street Glide model and 35 pounds for the CVO Road Glide model – compared to their predecessors.
Front and rear SHOWA suspension components have been fine-tuned to promote confident handling while providing a dramatic improvement in rider comfort, with rear suspension travel increased by an impressive 50 percent. To instill a sense of confidence, premium Brembo braking components offer outstanding braking feel and performance.
Embracing Technological Innovation
The CVO Street Glide and CVO Road Glide models mark a significant milestone as they introduce selectable Ride Modes for the first time. Riders can choose between Road, Sport, and Rain modes, which dynamically control power delivery, engine braking, Cornering-Antilock Braking System (C-ABS), and Cornering-Traction Control System (C-TCS) settings.
This technological advancement empowers riders to tailor their riding experience to suit various road and weather conditions, enhancing safety and control.
Furthermore, these motorcycles offer an all-new suite of infotainment technology powered by the cutting-edge Skyline OS. A striking 12.3-inch TFT color touch screen replaces traditional analog instrumentation and most switches, providing riders with a customizable display across three distinct view options.
Compatible with both Apple and Android devices, the system boasts Wi-Fi connectivity for seamless wireless connections, while a built-in Bluetooth receiver enables hassle-free integration with wireless headsets.
The audio experience is taken to new heights with the inclusion of a premium, high-performance Harley-Davidson Audio powered by Rockford Fosgate Stage II four-speaker audio system, fueled by a new 500-watt RMS amplifier.
Eagerly Awaited Debut
Motorcycle enthusiasts and Harley-Davidson fans alike can look forward to witnessing the U.S. public debut of the CVO Street Glide and CVO Road Glide models during the highly anticipated Harley-Davidson Homecoming Festival in Milwaukee, taking place from July 13th to July 16th, 2023.
Authorized Harley-Davidson dealer showrooms worldwide will welcome these remarkable machines in mid-July.
photos: Harley-Davidson