Introducing the 2024 Triumph Tiger 900: More Power, Comfort, and Technology
Triumph Motorcycles is taking the adventure bike world by storm in 2024 with its revamped Tiger 900 range. The new lineup includes the Tiger 900 GT, GT Pro, and Rally Pro, each offering a significant boost in performance and features.
If you're a motorcycle enthusiast, especially about the adventurous ones, you'll be excited to learn about the enhancements to this iconic model.
Power Boost
The heart of the Tiger 900 is its trademark three-cylinder engine, and it has undergone a major upgrade. The result? A 13% increase in power, delivering an impressive 108PS of peak power and higher peak torque of 90Nm.
The new engine is not only more powerful but also offers improved performance across the rev range and up to 9% better fuel economy, according to the company.
Cutting-Edge Safety Features
Triumph has also integrated active safety features, including enhanced braking for better control and reduced stopping distances.
Moreover, there's a new emergency deceleration warning system that activates hazard lights during rapid braking, ensuring you stay safe on the road. The new marker lights further enhance visibility, especially in low light conditions.
Tech Upgrades
The 2024 Tiger 900 comes equipped with a host of technological advancements. You'll enjoy the benefits of new 7" TFT instruments, providing a sleek and intuitive display.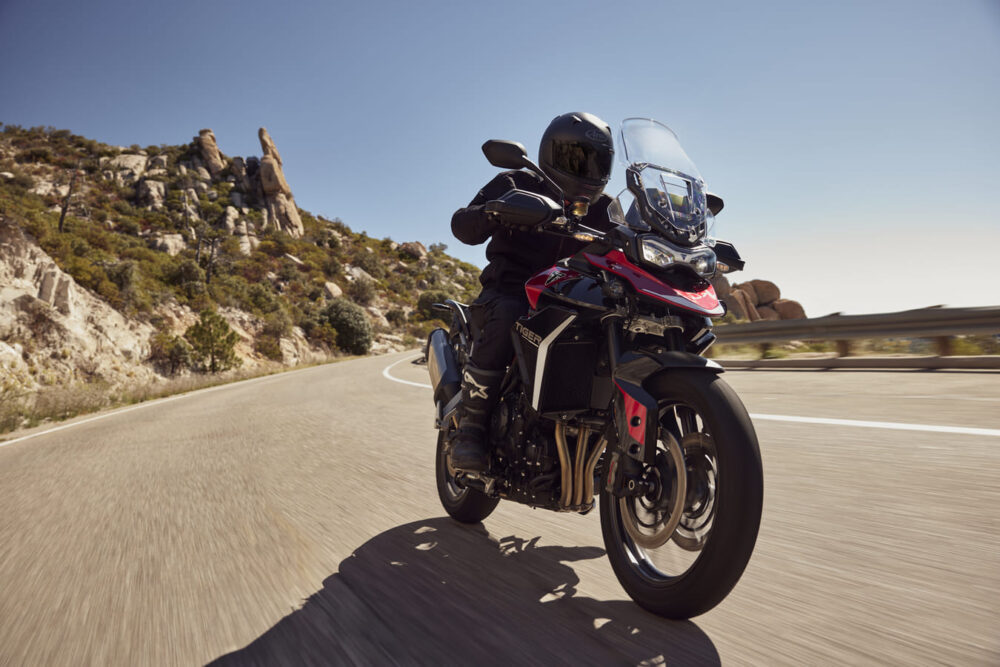 In addition, the 'My Triumph Bluetooth' connectivity is now standard on all models, making it easier to stay connected while on the road.
Enhanced Comfort
Triumph has gone the extra mile to ensure rider comfort. The new rider seat is flatter and more spacious, with heated seats available on both Pro models for those chilly rides. With 20mm of seat height adjustability and an accessory heated low rider seat, the Tiger 900 offers a tailored and comfortable riding experience.
The damped handlebar mounting system and the enhanced handlebar position on the Rally Pro further enhance rider comfort, whether you're cruising or conquering off-road terrains.
Aggressive Styling
The 2024 Tiger 900 doesn't just perform well; it looks the part too. The new bodywork design gives it an aggressive, adventure-focused stance. Choose from a range of striking paint schemes to match your style.
Accessories Galore
If you like to customize your ride, you're in luck. Triumph offers over 50 accessories, including a brand-new Akrapovič silencer, which not only enhances the bike's sound but also shaves off some weight.
There are also accessory packs like Performance, Protection, Trekker, and Expedition, allowing you to tailor your Tiger 900 to your specific needs.
In conclusion, the 2024 Triumph Tiger 900 is a force to be reckoned with in the 'middleweight' adventure bike category. It's not just about raw power; it's a complete package with improved safety, technology, and rider comfort.
And the best part? You won't have to wait long. Orders are already open, with deliveries set to begin early in 2024. In the UK, the 2024 Triumph Tiger 900 lineup is priced as follows:
Tiger 900 GT: £12,195 OTR
Tiger 900 GT Pro: £13,895 OTR
Tiger 900 Rally Pro: £14,495 OTR
These prices are for the on-the-road (OTR) starting prices for each model.
photos: Triumph