Electric motorcycle reaches 456 km/h (283 mph) and becomes the fastest in the world
The Voxan Wattman electric motorcycle, piloted by Max Biaggi on the Space Florida track at the Kennedy Space Center (United States), reached a top speed of 455.737 km/h (283.182 mph), and became the fastest in the world.
The record happened on November 22 with the motorcycle partially faired (partially streamlined), in the category under 300 kg. The 'naked' version (without fairing), also broke the record, with 369.6 km/h (230 mph) and is the fastest in its category.
The Voxan Wattman electric motorcycle uses the same Mercedes electric motor as the ROKiT Venturi Racing Team and the Mercedes-Benz EQ Formula E Team in the Formula E World Championship.
Attempts to break the speed record took place in accordance with the regulations of the FIM (International Motorcycling Federation). Voxan Wattman's speed was measured from a moving start (flying start) of 1 km in opposite directions over a two hour period. According to Federation rules, the final speed is the average of the two speeds recorded in those two races.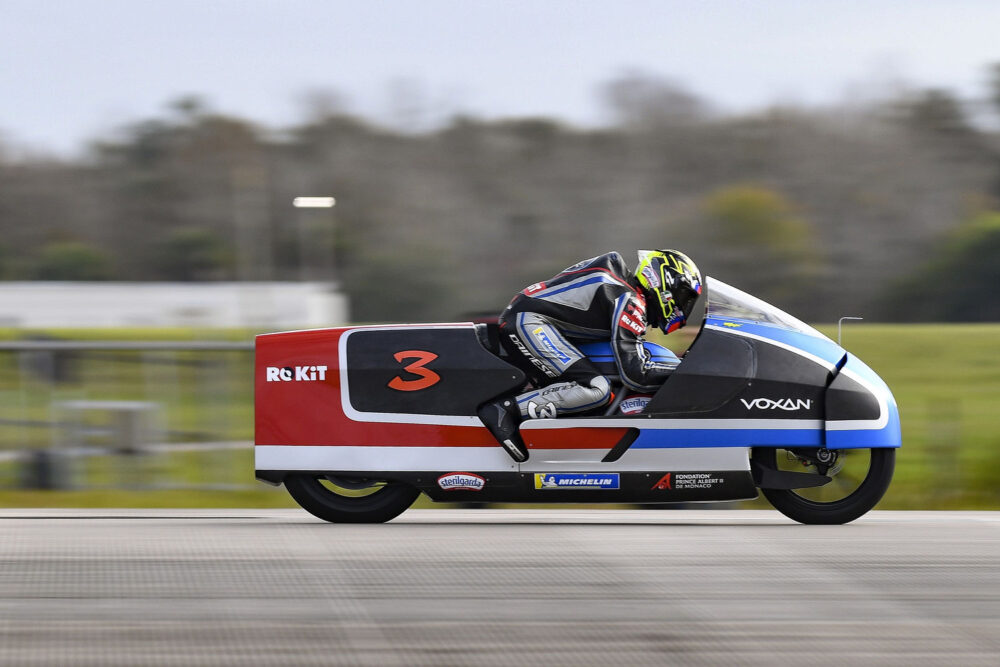 Finally, to make the record even more exciting, Wattman's GPS speedometer recorded an even higher instantaneous top speed of 470.257 km/h (292.204 mph).
How is Voxan Wattman
Wattman is the first high-performance electric motorcycle made by Voxan, an iconic French motorcycle brand, which was acquired by the Venturi Group in 2010 and shifted its focus to the electric power.
It is equipped with a 320 kW (435 HP) Mercedes-Benz EQ engine and an 829V, 5kWh Li-Ion battery. To cool the set, a liquid cooling system is used, with a water/dry ice heat exchanger.
The faired model weighs 296 kg. The 'naked' model, with the same engine and battery, weighs 276 kg.
Anyway, for more information, access the website https://www.voxan.mc/en/.