Yamaha Unleashes the 2023 Ténéré 700 World Rally: The Ultimate Adventure Machine
Yamaha has unveiled in Europe its latest offering in the world of extreme adventure bikes – the 2023 Ténéré 700 World Rally.
As the pinnacle of Yamaha's long-distance adventure bike range, this exclusive model pays homage to the brand's illustrious racing heritage and delivers a thrilling riding experience like no other.
With its rally-ready specifications and historic racing colors, the Ténéré 700 World Rally is set to conquer the toughest terrains with style and performance.
Iconic Design and Racing Legacy
The Ténéré 700 World Rally proudly showcases its racing DNA with a design inspired by Stéphane Peterhansel's legendary 1993 Dakar race bike.
Yamaha's historic rally racing colors in bold blue, pink fluo, and silver adorn the bike, symbolizing the brand's triumphs in the grueling Dakar Rally.
This exclusive model stands as a tribute to Yamaha's factory riders who have fearlessly taken on the world's toughest race throughout the years.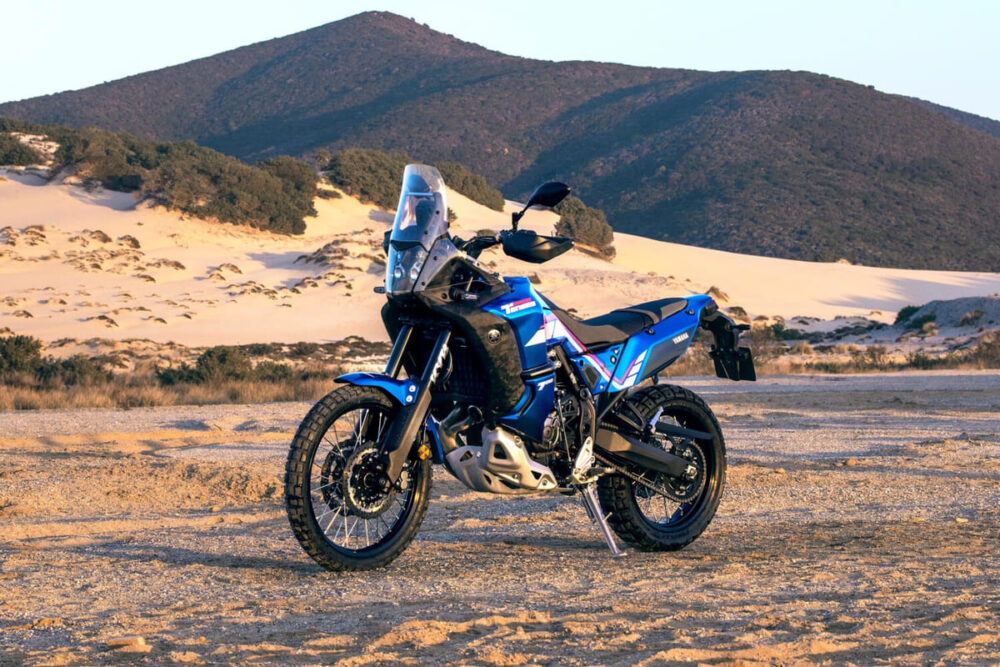 Unparalleled Performance Features
Equipped with premium components, the Ténéré 700 World Rally is built to dominate any terrain. Its rally-ready specifications include long travel KYB suspension systems, 23-liter dual side-mounted fuel tanks, an Akrapovič titanium muffler, and a dedicated flat 2-piece seat.
The bike also boasts a 5-inch color TFT meter with smartphone connectivity, a 3-mode switchable ABS, and an Öhlins adjustable steering damper, offering unparalleled control and versatility.
Unleashing the Sound of Power
The exclusive slip-on Akrapovič muffler enhances the Ténéré 700 World Rally's exhilarating riding experience. As the powerful 270-degree crank CP2 engine roars, the lightweight muffler accentuates the high torque feeling, making it a treat for the senses.
This exceptional machine delivers a best-in-class performance that is both thrilling and dynamic.
Conquer Long Distances with Confidence
Continuing the legacy of Yamaha's winning Dakar bikes, the Ténéré 700 World Rally is equipped with race-developed 23-liter fuel tanks. These tanks not only provide excellent fuel autonomy for long-distance rides but also feature a design that optimizes mass centralization for superior handling.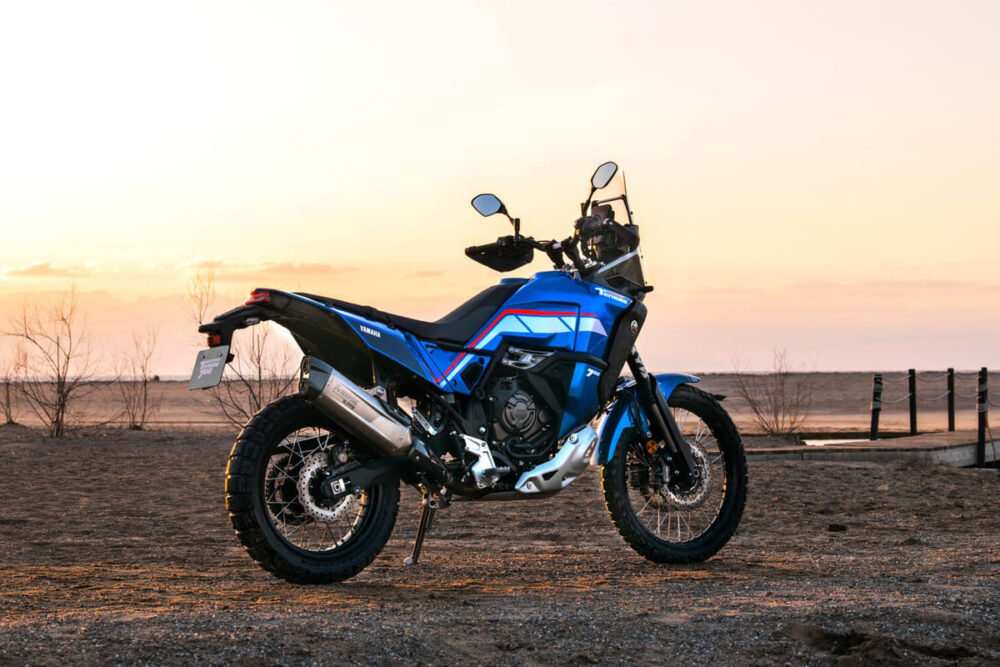 With the fuel carried as low as possible, the bike offers agile maneuverability, allowing riders to conquer any challenge that comes their way.
Exceptional Suspension and Handling
The Ténéré 700 World Rally is equipped with high-specification 43mm KYB front forks with 230mm travel, designed to excel in off-road conditions. These black-colored front forks are fully adjustable, allowing riders to fine-tune their suspension settings for various loads, terrains, and speeds.
In addition, the rear suspension features an aluminum piggyback shock with a piggyback reservoir, providing consistent damping performance and 220mm of rear wheel travel.
Finally, the Öhlins adjustable steering damper, with its 18 different settings, further enhances stability and control, ensuring riders can tackle even the most challenging terrains with confidence.
Comfort and Connectivity
The bike features a rally-inspired 2-piece seat that not only provides comfort but also allows for the fitment of a rack or luggage by removing the rear section.
Its flat profile enables easy rider mobility and effortless weight shifting, while the dual black-grey material construction ensures a firm yet comfortable ride.
Additionally, riders can choose between three switchable screen styles on the connected 5-inch color TFT display – digital, analog, or roadbook style.
With smartphone connectivity through the MyRide app, riders can even view text messages and incoming call notifications on the screen, enhancing convenience and connectivity.
Ultimate Control
The Ténéré 700 World Rally offers a 3-mode switchable ABS, giving riders the flexibility to choose their preferred behavior on different surfaces.
Mode 1 activates ABS on both wheels, complying with legal requirements for public roads. Mode 2 activates ABS on the front wheel only, providing added confidence on loose gravel tracks.
Finally, Mode 3 disables ABS entirely, granting riders the ultimate controllability for dirt riding and off-road adventures.
Conclusion
With the launch of the 2023 Ténéré 700 World Rally, Yamaha cements its position as a leader in the adventure bike segment.
This exclusive model showcases Yamaha's rich racing heritage while delivering exceptional performance, comfort, and connectivity features.
photos: Yamaha