Unveiling the 2024 Suzuki GSX-S1000GX and GSX-8R: A Thrilling Duo
Rev up your excitement because Suzuki has just unleashed a dynamic duo at EICMA 2023—the 2024 GSX-S1000GX and GSX-8R are here to redefine your riding experience.
Both models are based on the brand's new platforms: The GSX-S1000GX has the same engine as the new GSX-S1000; The GSX-8R is based on the new 'naked' GSX-8S. So, brace yourselves as we dive into the thrilling details!
🌐 Global Debut and Release Dates: These beasts are set to conquer the roads globally, with the GSX-S1000GX hitting the streets from December 2023 and the GSX-8R following suit in January 2024. Europe and North America, get ready for an adrenaline-packed ride!
🏞️ GSX-S1000GX: The Ultimate Crossover Marvel: Suzuki's first foray into the realm of crossover models, the GSX-S1000GX, seamlessly blends sport-touring prowess with adventure spirit. Powered by the robust GSX-S1000 series engine, it not only delivers heart-pounding sport performance but also incorporates cutting-edge tech for an unparalleled touring experience.
🚀 Innovative Tech Takes the Lead: Hold on tight as the GSX-S1000GX introduces Suzuki Advanced Electronic Suspension (SAES) and Suzuki Road Adaptive Stabilization (SRAS). SAES dynamically adjusts suspension based on speed, road conditions, and posture changes, while SRAS detects uneven terrains for a smooth off-road glide. It's a game-changer!
🎮 Master the Ride with Intelligent Controls: With the SDMS-α system managing power, traction, and SAES settings, coupled with the Motion Track Brake System for ABS activation mid-corner, the GSX-S1000GX empowers riders with intelligence and performance mastery across diverse scenarios. Conquer any road, any condition!
🔥 Meet the GSX-8R: Sporty Versatility Unleashed: For riders seeking versatility across urban streets, winding roads, and circuits, the GSX-8R steps onto the stage. Born from the esteemed GSX-8S, this sport model boasts a fairing, separate handlebars, and an exposed engine and seat rail, marrying functional beauty with modern innovation.
🚗 776cm3 Powerhouse: Packing a punch with its 776cm3 parallel 2-cylinder engine and a frame meticulously crafted to match, the GSX-8R is your ticket to everyday commuting, spirited sport rides, and memorable tours. It's not just a ride; it's a lifestyle!
In a nutshell, Suzuki's 2024 lineup is a testament to their commitment to pushing boundaries and creating motorcycles that cater to the diverse cravings of riders.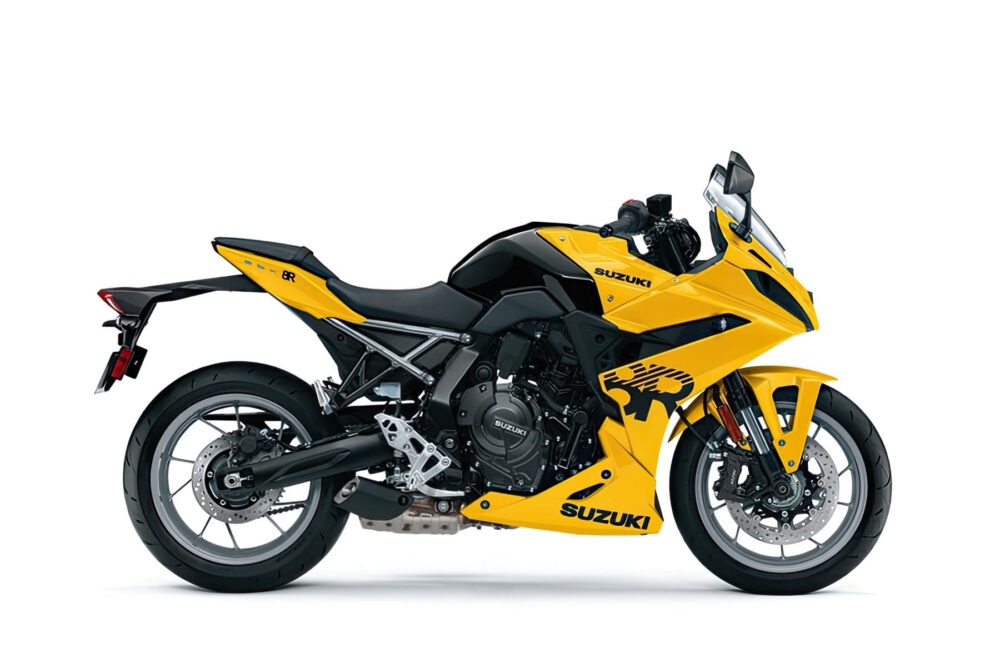 Get ready to embark on a journey where style meets substance, and performance meets passion!
photos: Suzuki