Unveiling the 2024 Honda NT1100: European Elegance Meets Technological Marvel
The year 2024 brings exciting news for motorcycle enthusiasts across Europe as Honda launches the revamped NT1100, its 1,084 cc touring motorcycle, based on the CRF 1100L Africa Twin.
This two-wheeled marvel combines comfortable touring, agile handling, and cutting-edge technology, making it a standout in the world of motorcycles.
In this article, we'll delve into the key features and innovations that make the 2024 Honda NT1100 a true standout in the motorcycle industry.
Styling and Comfort
One of the first things that catch the eye when you lay eyes on the 2024 Honda NT1100 is its sleek and subtle styling. The design isn't just for aesthetics; it's engineered for efficient aerodynamic performance. The riding position is tailored explicitly for touring, making those long journeys a breeze.
Customizability is at the core of the NT1100's design. The 5-way adjustable screen height and angle ensure that you can find the perfect setting to shield yourself from the wind while maintaining a clear view of the road. Upper and lower wind deflectors add an extra layer of protection for the rider.
Technological Marvel
Honda has truly embraced the future with the 2024 NT1100. The centerpiece of this technological marvel is the 6.5-inch TFT touch screen. It not only provides full-color, customizable displays but also offers seamless connectivity with Apple CarPlay® and Android Auto®.
This means you can stay connected, access maps, and enjoy your favorite music without taking your eyes off the road.
The NT1100 doesn't stop at infotainment; it's packed with convenience features. Cruise control and heated grips come as standard equipment, ensuring a comfortable and enjoyable ride in all conditions.
Sizable integrated panniers provide ample storage for your gear, and a center stand is also included for added convenience.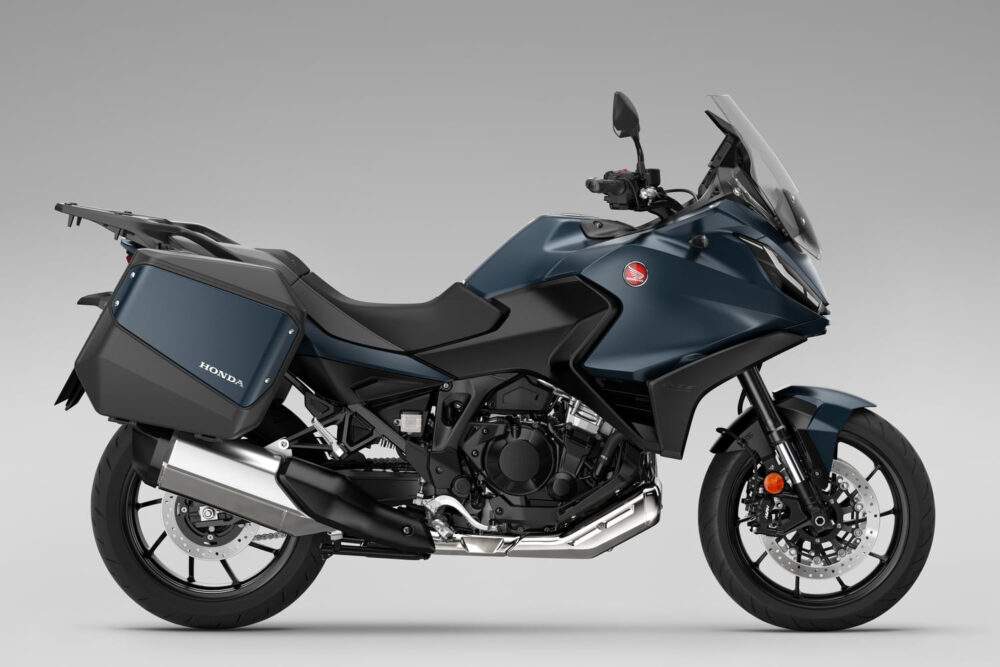 Impressive Performance
Under the hood—or should we say, under the tank—lies a twin-cylinder engine inherited from the legendary Africa Twin. However, this engine has been meticulously tuned for super-smooth acceleration and a satisfying low-rpm sound.
What's even more impressive is that this performance doesn't come at the expense of fuel economy. The engine's efficiency allows for an astonishing 400km range from the 20L fuel tank.
Electronic Wizardry
The 2024 NT1100 boasts an electronic package that will leave tech enthusiasts in awe. With features like 3-level Honda Selectable Torque Control (HSTC), Wheelie Control, full LED lights, self-cancelling indicators, and Emergency Stop Signals, safety and control are top priorities.
Additionally, for those who want even more control over their ride, Honda's six-speed Dual Clutch Transmission (DCT) is an option worth considering.
Color Options to Suit Your Style
The 2024 NT1100 comes in a range of stylish color options, including the eye-catching and new "Matt Jeans Blue Metallic," the new vibrant "Candy Chromosphere Red," and the sophisticated "Matt Iridium Gray Metallic."
Conclusion
In summary, the 2024 Honda NT1100 is a motorcycle that combines European elegance with cutting-edge technology. Its sleek styling, adjustable comfort features, and impressive performance make it a standout in the touring motorcycle segment.
photos: Honda