The 2024 Honda CBR 1000RR-R Fireblade SP: Unleashing the Beast
Rev up your engines and prepare for a thrilling ride with the new 2024 Honda CBR 1000RR-R Fireblade SP. This beast of a motorcycle takes a massive leap in its development, and here's why you should be excited.
Under the hood, or should we say, under the fairings, lies a 1,000cc inline four-cylinder semi-cam gear engine that has been fine-tuned to perfection. The result? Stronger mid-range acceleration and jaw-dropping top-end power.
They've left no stone unturned, revising the cylinder head, compression ratio, valve timing, and springs. The crankshaft and con-rods are now lighter, and there are new, shorter gear ratios throughout the gearbox.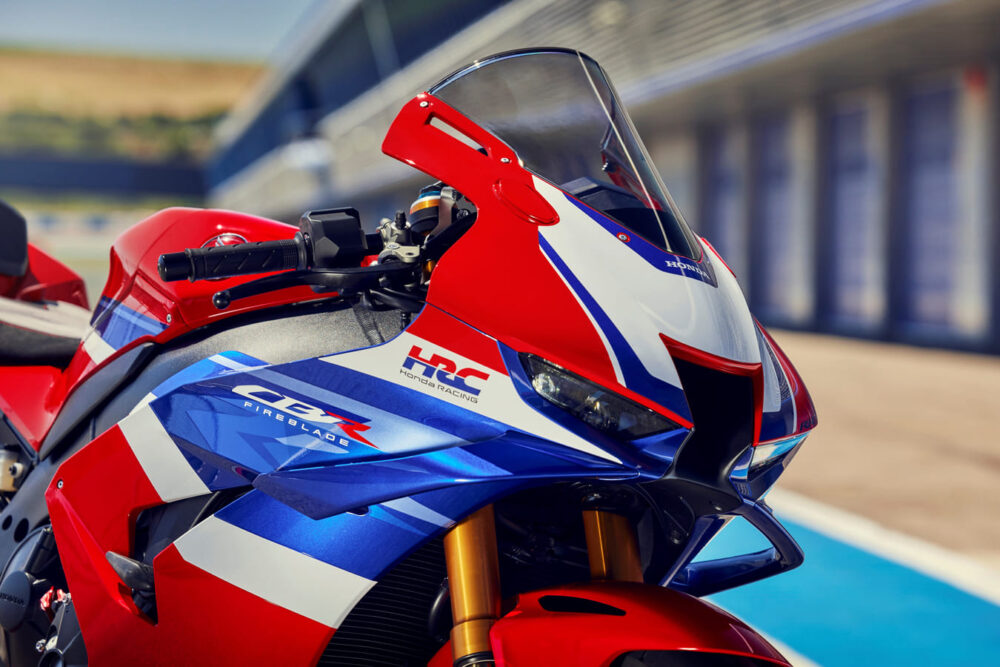 But that's not all. The 2-Motor Throttle By Wire system adds precise control and feel at lower RPMs, giving you more engine braking when you need it. The aluminium diamond-style frame has been reimagined to improve steering accuracy and traction.
And for the tech-savvy riders, a six-axis Inertial Measurement Unit (IMU) and a 3-level Honda Electronic Steering Damper (HESD) are on board.
As for the suspension, you're in for a treat with the new Öhlins Smart Electronic Control (S-EC03) featuring Spool Valves and OBTi user interface. Adjusting your ride is a breeze with a full-color TFT screen that controls riding modes, Power, Engine Brake, HSTC, Wheelie Control, and Start Mode. Oh, and did we mention the new RACE setting for Cornering ABS?
Braking is top-notch, thanks to Brembo and their new Stylema R four-piston calipers up front. And for those who crave aerodynamics, the new winglets provide downforce with 10% less yaw moment in cornering. You'll feel like you're one with the road with the adjusted riding position that offers more control for you, the rider.
And if all this isn't enough, Honda is offering a limited edition CBR1000RR-R Fireblade SP Carbon Edition for those who demand even more style and performance, in just 300 numbered units.
In conclusion, the 2024 Honda CBR 1000RR-R Fireblade SP is not just a motorcycle; it's a statement. It's a thrilling, power-packed, and technologically advanced ride that will leave you craving for more.
photos: Honda