MotoGP | Petronas Yamaha SRT presents Rossi and Morbidelli bikes for 2021
Petronas Yamaha Sepang Racing Team presented Valentino Rossi and Franco Morbidelli's YZR-M1 bikes for the 2021 MotoGP season, in an online event.
The new bikes feature updated graphics, with the latest PETRONAS branding stamped on the sides. The colors remain the same, highlighting the characteristic blue of the Malaysian oil and gas company.
Valentino Rossi's racing overalls (racing suit) has also been updated, keeping the characteristic fluorescent yellow in focus, but adding PETRONAS blue.
There is no visible mechanical change (chassis, rear swingarm and suspension), that is, the bikes remain the same as last season.
An important consideration: Valentino Rossi's bike is 100% factory-specified, the same used on the official Yamaha team; Franco Morbidelli, on the other hand, remains the same as in the 2020 season, that is, 'A-spec Plus'.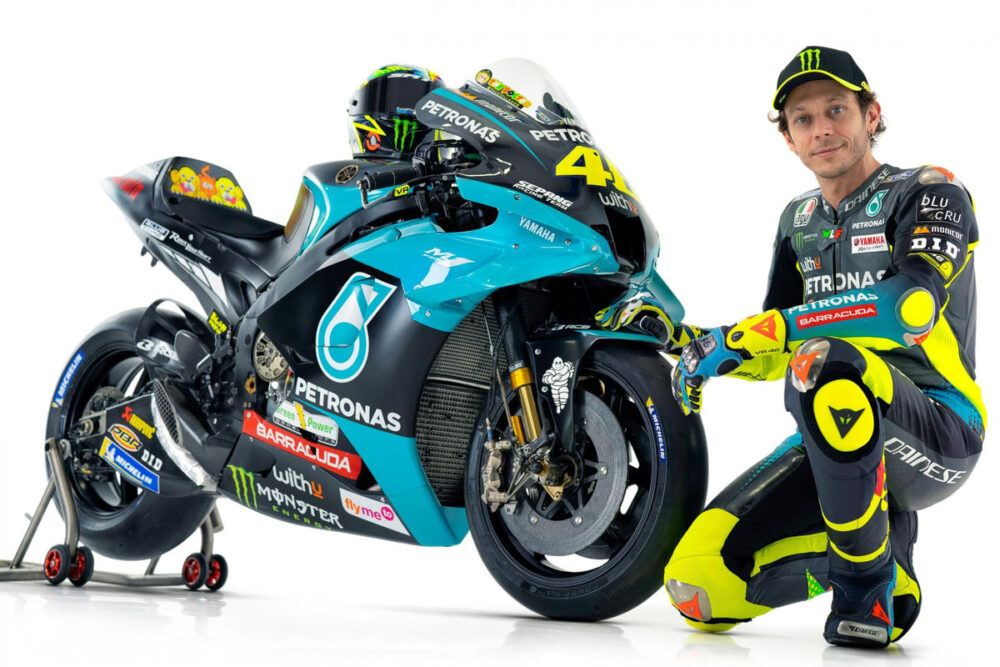 Razlan Razali, Team Principal: "We are proud to represent Malaysia and PETRONAS on the world stage in MotoGP for a third season as PETRONAS Yamaha Sepang Racing Team. We are looking forward to the season ahead, eager to give Franco and Valentino the best opportunity. For Franco, it's a fabulous opportunity to achieve even better things than his stellar season in 2020 and, for Valentino, we're hoping a new team will give him the best opportunities to harness his talent and expertise."
"The team has enjoyed an incredible trajectory since entering the sport and we are thankful to PETRONAS and Yamaha for enabling this through their strong support and shared philosophy and aspirations. 2020 was an incredible year for us, but we are mindful that there are always areas where we can improve. We expect another tough fight on track over the season ahead and we will be pushing at every step to support Franco and Valentino and ensure they have all the tools at their disposal."
"As a team, PETRONAS Sepang Racing Team also incorporates PETRONAS Sprinta Racing in Moto2 and Moto3 as we are proud to have supremely strong line-ups of riders and crew in these categories. For Xavi and Jake in Moto2 and John and Darryn in Moto3 we expect very exciting seasons ahead."
Franco Morbidelli: "This will be my third year with the team and there are many things I like about PETRONAS Yamaha SRT. The 2021 YZR-M1 livery is similar to the last two years, but still changed; It's the same but different so I like it. What is different from last years is my teammate; I expect and hope it will be a great season for Vale [Valentino Rossi] and me. We have had a strong relationship for many years and we will learn a lot from each other. My personal target for 2021 is to get better; improve myself as a person, rider and athlete. I know it's hard and difficult because last year we were quite fast and we made great races and achieved great results. Nevertheless, we will have to try to improve compared with 2020, so that's my aim, try to be better year after year."
Valentino Rossi: "I'm very proud to be part of PETRONAS Yamaha Sepang Racing Team. It's a new challenge for me. This is a very young team, but in the last two years they have already been really competitive. I'm happy to see my new bike for this year and I really like the colours of the livery, leathers, helmet, etc. It looks awesome. My targets for 2021 is to be competitive, fight to win races, fight to achieve podiums and also fight for a good position in the World Championship standings at the end of the season. We are all very focused on our targets to make the best we can. I think that with Franco we are a very interesting couple of riders as we know each other really well. All the whole team has a lot of motivation and I will give my maximum to achieve together the best possible result at the end of the calendar. We are ready to start."
Anyway, the MotoGP 2021 season currently has 19 Grand Prix confirmed, and will officially start on March 5 in Qatar with a test day reserved for rookies and test riders.