Introducing the 2024 Honda CB500 Hornet: The Aggressive Streetfighter
The new 2024 Honda CB500 Hornet is making waves in the world of motorcycles, and for a good reason. It's a 500cc 'naked' motorcycle that joins the Hornet line with a fresh, more aggressive design and exciting aerodynamic improvements.
The transformation from CB500F to the CB500 Hornet brings not only a name change but a bold and aggressive new design that's set to redefine the streets.
A Tried-and-Trusted Formula
Honda has stuck to a formula that works: an entertaining twin-cylinder engine housed in a simple, lightweight, and sporty chassis. With a peak power output of 35kW, it's A2 license-friendly, but don't let that fool you.
The CB500 Hornet offers more than just 'entry-level' performance. It's easy to manage, ride, and learn on, making it an ideal choice for beginners and experienced riders alike. Plus, it keeps your running costs sensible.
Evolution in Design
In 2019, the CB500F received a redesign with uncompromising lines, high-quality suspension, and updated components. Fast forward to 2024, and the CB500 Hornet continues to evolve.
It's a part of Honda's iconic family, following in the footsteps of the impressive CB750 Hornet. The new CB500 Hornet boasts aggressive styling, high-end technology, and a host of detail upgrades that are sure to make it one of Europe's most popular motorcycles.
Model Overview
The 2024 CB500 Hornet brings a new name and look, along with premium technology. It features a 5-inch TFT screen with smartphone connectivity through Honda RoadSync.
The twin-cylinder engine, equipped with a slipper clutch, now benefits from Honda Selectable Torque Control (HSTC) and ECU updates for improved acceleration.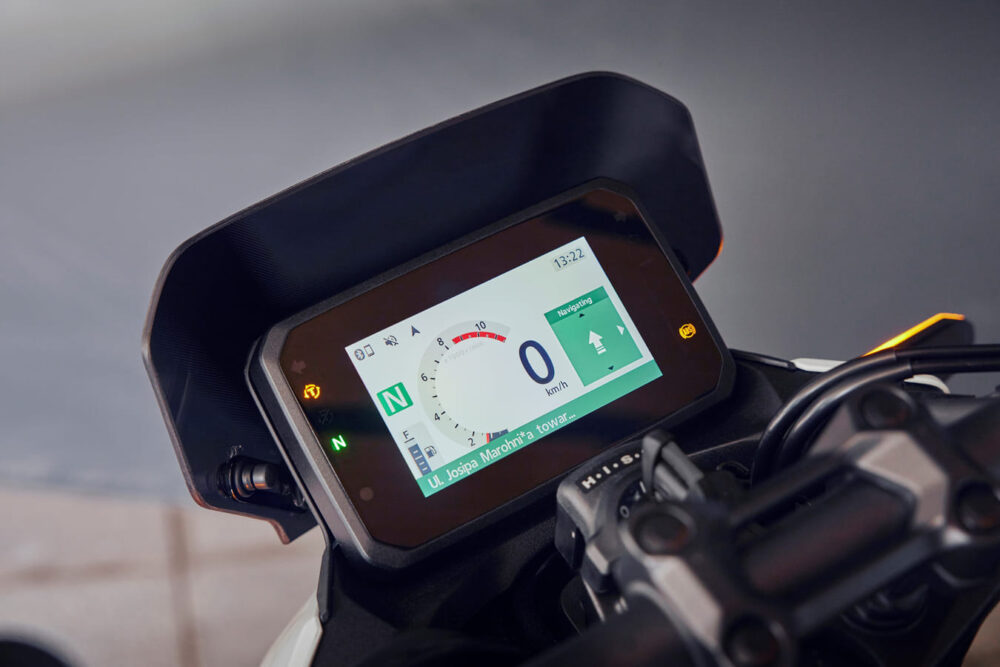 Aggressive Styling
The CB500 Hornet's aggressive new look is inspired by its streetfighter DNA. With 'Digital Dynamism' as the design theme, it features a sensual form from front to rear.
The geometric angles of the fairing improve aerodynamics, resulting in a linear steering feel with increased handling agility. LED lighting, including a new headlight design and taillight, ensures visibility, even during nighttime rides.
Cutting-Edge Technology
The 5-inch full-color TFT screen is a standout feature, offering improved visibility in bright sunlight. It's customizable and provides on-screen turn-by-turn navigation and smartphone connectivity through Honda RoadSync.
The handlebars are tapered for an intuitive feel, and the seat height is low at 785mm, making it easy to manage.
Impressive Chassis
The CB500 Hornet features Showa 41mm SFF-BP USD forks and dual radial-mount four-piston brake calipers. The chassis is light and strong, with a well-balanced wheelbase and a 50/50 front/rear bias percentage. Kerb weight stands at 188kg, ensuring a responsive and nimble ride.
Anyway, the 2024 Honda CB500 Hornet is a thrilling combination of aggressive design, cutting-edge technology, and lively performance. With its stunning looks, advanced features, and responsive handling, the CB500 Hornet is set to turn heads on the streets.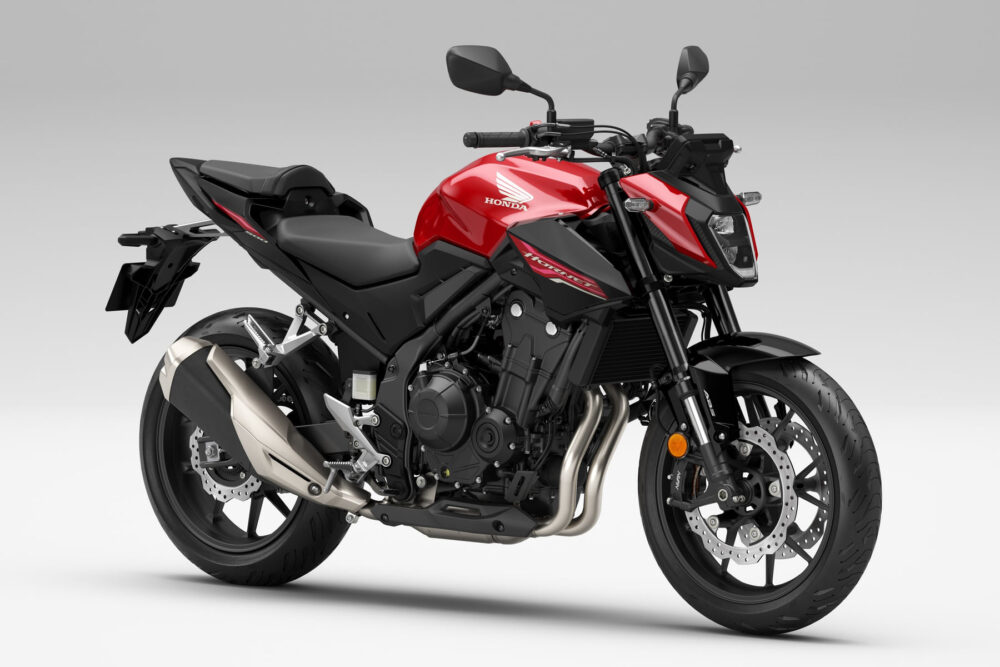 photos: Honda