Honda reveals new Hornet engine: it is NOT a 4-cylinder, but it brings good power
Honda has unveiled the engine of the new Hornet, its powerful naked streetfighter motorcycle that is in development and still in the concept phase. To the disappointment of some, it's not a 4-cylinder, but at least it packs decent power.
According to the company, the engine of the new Hornet is a 755 cm³ parallel twin with 8 valves Unicam and liquid cooling, capable of generating up to 67.5 kW (90 hp) of maximum power at 9,500 rpm, and 75 Nm (7.6 kgfm) of torque at 7,250 rpm.
This power is lower than the Yamaha MT-09 (119 HP) but higher than the MT-07 (73 HP). It is higher than the Kawasaki Z650 (68 HP) but lower than the Z900 (125 HP). Finally, it is also higher than the Triumph Trident 660 (81 HP), but lower than the Triumph Street Triple 765 RS (123 HP).
So, the new Hornet 750 would be a middle ground between the MT-07 and MT-09, if we are going to use Yamaha as a basis for comparison.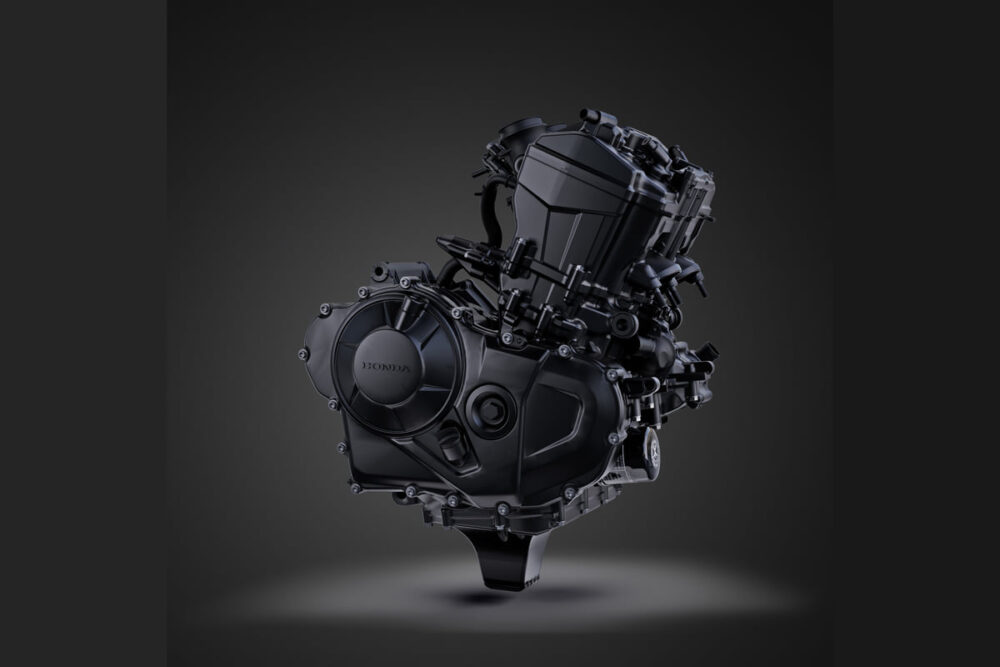 The company says that along with the "high-rev" thrills, the engine also provides a full measure of mid-range torque to generate the kind of acceleration that makes every moment enjoyable. What's more, a distinct pulsing sensation – and an "extremely fun" sound – is provided by a combination of the 270° irregular crankshaft firing sequence and carefully optimized exhaust system.
Fuyuki Hosokawa, 23YM Honda Test Project Leader:
"The Hornet has always been a very special motorcycle for Honda. Exciting, engaging performance has always been matched to lithe, agile handling.
Before starting this project, we thought long and hard about what kind of performance we wanted to give to the rider. We knew that it was essential to keep the classic Hornet top end power 'hit' and at the same time, as a new generation Hornet for modern times, we wanted the engine to have a really strong torquey feel and 'throbbing' sensation at low to mid rpm. Our aim has always been to match these to the lightest, most agile handling possible, to make every ride – even in town – as engaging and fulfilling as possible.
To get the kind of performance and lightweight handling we wanted, we knew we had to develop an all-new short-stroke twin-cylinder engine, with a 270° crankshaft. This would not only deliver that top-end rush, but also the sporty low-down torque, ideal for riding in urban environments and powering out of corners on the open road."
Anyway, for more information about Honda Motorcycles UK, access https://www.honda.co.uk/motorcycles.html.
Images: Honda Europe