Honda CB190X: The New Generation of Adventure Motorcycles is Launched
Adventure motorcycles have gained popularity in recent years due to their versatility and ability to tackle different types of terrain.
In this context, Honda, a renowned motorcycle manufacturer, has recently introduced in China its newest addition to the CB family: the Honda CB190X.
With a bold design and advanced features, this motorcycle promises to capture the hearts of adventure enthusiasts on two wheels. In this article, we will explore in detail the key characteristics and innovations of the Honda CB190X.
Attractive and Robust Design
The Honda CB190X features a modern and eye-catching design that combines sporty and adventurous elements. With angular and aggressive lines, this motorcycle exudes a sense of robustness and confidence at first glance.
The raised front fender, LED headlight, and stylized fuel tank contribute to the CB190X's commanding image.
Additionally, the ergonomic riding position and vibrant color accents add a touch of personality to this machine.
Powerful and Efficient Engine
Equipped with a 190cc engine, the Honda CB190X offers an excellent combination of power and efficiency. This air-cooled, single-cylinder engine delivers agile and responsive performance, ideal for tackling various types of terrain. Its maximum power is 12 kW (16.3 hp) at 8,000 rpm, and its maximum torque is 15.4 Nm (1.55 kgfm) at 7,000 rpm.
Furthermore, the electronic fuel injection technology provides better fuel economy, making the CB190X an enticing option for both long trips and urban commutes.
High-Performance Suspension and Brakes
One of the standout features of the Honda CB190X is its robust and reliable suspension system. With telescopic front forks and an adjustable rear mono-shock, this motorcycle offers excellent shock absorption and stability on uneven terrain.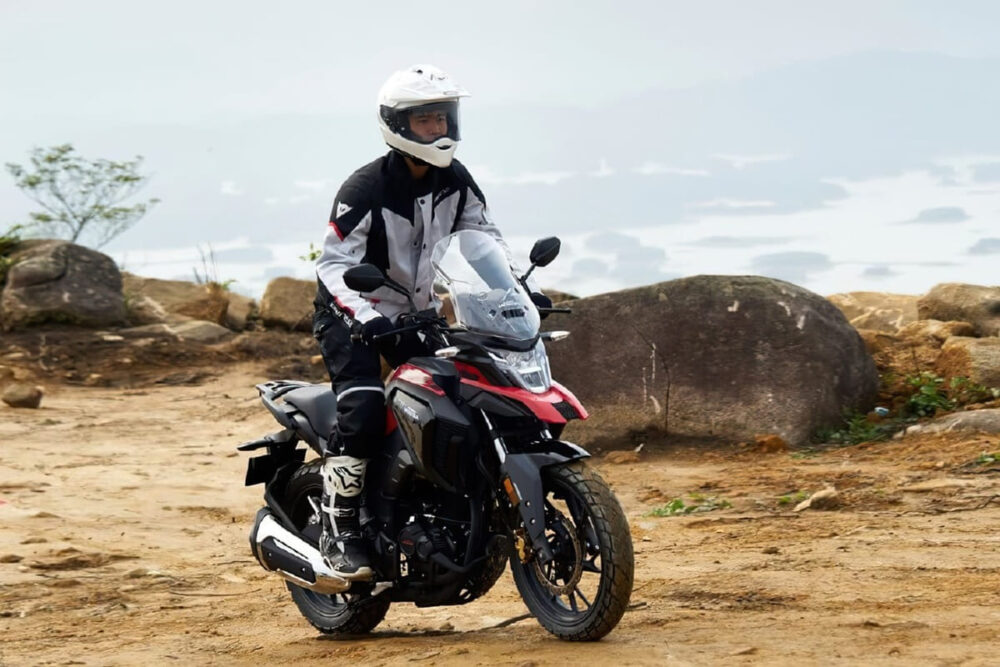 The disc brakes on both wheels, with ABS braking system, ensure efficient and safe response to the rider, even in emergency situations.
Finally, the dual purpose tires guarantee good grip on all types of terrain, allowing you to travel on gravel or dirt roads without much difficulty.
Advanced Connectivity Features
The Honda CB190X not only stands out for its performance and design but also for its connectivity. The motorcycle comes equipped with a digital LCD instrument panel that displays essential information such as speed, RPM, fuel consumption, and more.
Additionally, the CB190X has a USB charging port on the left side of the front fairing, which allows you to charge your cell phone very easily.
Safety and Comfort
The Honda CB190X prioritizes the safety and comfort of both the rider and the passenger. In addition to the disc brakes and ABS system, the motorcycle boasts high-grip tires, ensuring excellent traction in different road conditions.
The spacious and ergonomically designed seat provides exceptional comfort, even on long journeys. The hand guards and protection for the crankcase, engine and fairings reinforce the motorcycle's protection in case of falls or impacts.
Conclusion
With the Honda CB190X, Honda once again demonstrates its expertise in designing motorcycles that combine performance, style, and innovation.
This adventure motorcycle offers an impressive array of features, from its attractive design to the powerful and efficient engine.
With advanced connectivity features and an emphasis on safety and comfort, the CB190X is an exciting choice for those seeking to explore new adventures on two wheels.
photos: Honda