BMW further improves the aerodynamics of the 2023 M 1000 RR to go even faster
BMW has launched in Europe the 2023 M 1000 RR, its track-focused supersport bike, based on the S 1000 RR, which arrives with aerodynamic improvements, to go even faster and attempt the title in the WorldSBK Championship.
Now, the 2023 M 1000 RR has gained aerodynamic wings very similar to those used in MotoGP, mainly by Honda and Yamaha. They are interlocked and made of carbon fiber. In fact, the entire new fairing is made from this extremely light and strong material, including the new front fender and brake cooling ducts.
According to the company, the colossal advance in the area of aerodynamics allowed a significant increase in the performance of the bike, especially the top speed, which is now 314 km/h, compared to 306 km/h of the previous model.
In addition, the new wings generate significantly more aerodynamic downforce, both in the upright riding position and when banking. Thus, the rider gains even more confidence in relation to the front wheel so that he can reach greater lean angles or higher speeds in corners with the same lean angle.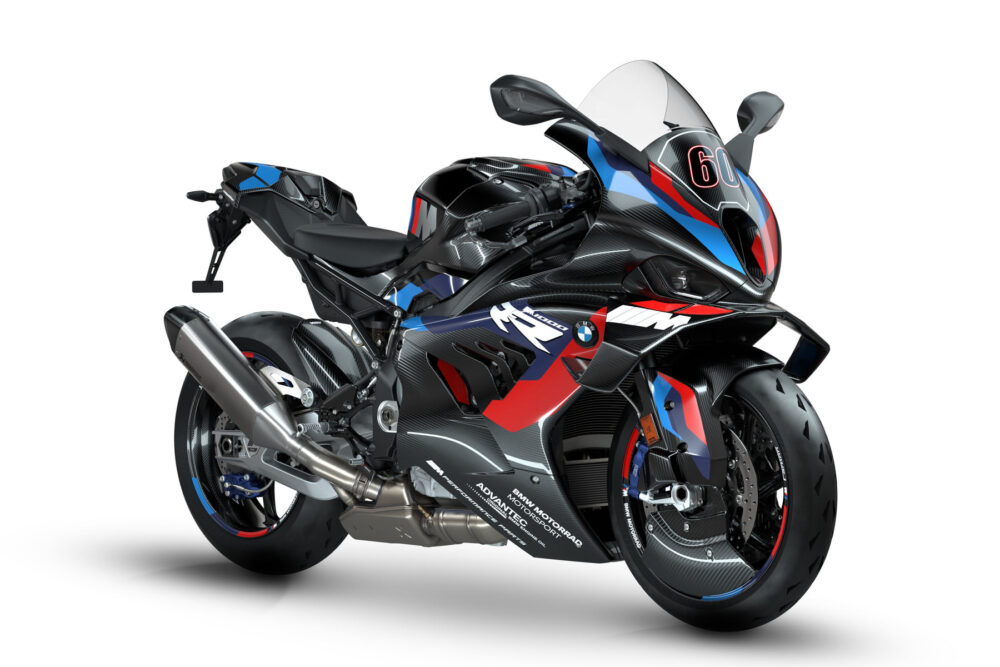 As braking is as important as accelerating, for the first time in BMW Motorrad history, carbon fiber air ducts are used for cooling the front brakes. They are integrated into the new front fender, which has been optimized to improve airflow around the fork legs and brake calipers.
Finally, the M 1000 RR M Competition version features M Aero wheel covers made of carbon fiber, which further reduce air resistance, especially at speeds above 250 km/h.
Engine and Chassis
The 2023 BMW M 1000 RR has the same engine and chassis as the previous model, which had already been updated in 2021, when they allowed for improved performance.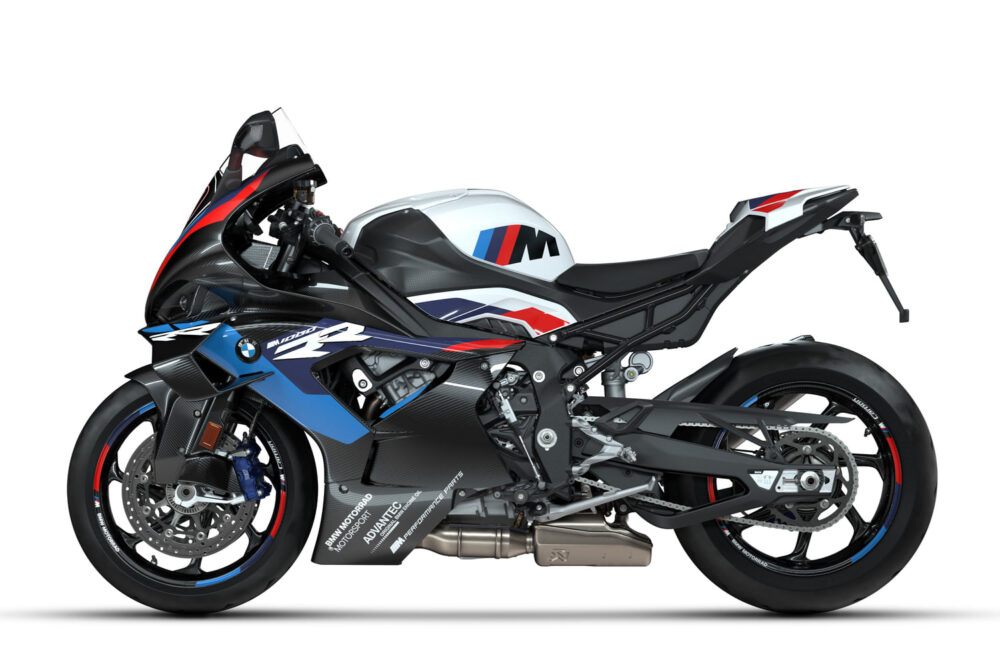 It is equipped with a 999 cm³, in-line 4-cylinder, liquid cooling engine with ShiftCam technology, capable of generating up to 156 kW (212 hp) of maximum power at 14,500 rpm.
The chassis also features an aluminum bridge frame as its centerpiece, complemented by an inverted fork at the front and a center suspension mount with Full Floater Pro kinematics at the rear.
Technology
The 2023 BMW M 1000 RR is a racing machine with pretty much everything in the segment. It features "Rain", "Road", "Dynamic", "Race" and "Race Pro1-3" riding modes, as well as the latest generation Dynamic Traction Control DTC and wheelie DTC function with 6-axis sensor.
In addition, it features 'Engine Brake' with triple adjustment of engine drag torque in 'Race Pro' mode, Shift Assistant Pro, Launch Control, Hill Start Control Pro and M Brakes.
Finally, it has a 6.5-inch color TFT instrument panel, OBD interface for M GPS Datalogger and M GPS Laptrigger, M lightweight battery, USB charging socket, Full-LED lighting, electronic cruise control and heated grips.
Finally, the new 2023 BMW M 1000 RR is offered in white (M RR version) and black (M RR M Competition). It retails for from £30,940 in the UK (about US$ 34,247).
For more information, access https://www.bmw-motorrad.co.uk/.
photos: BMW Motorrad