2023 Suzuki Hayabusa gets new colors to make it even more desirable
Suzuki launched the 2023 GSX 1300 RR Hayabusa, its 1300cc sportbike that arrives with new colors, but maintaining the mechanics and design of the previous model, to make it even more desirable.
The bike is now available in three color options: Metallic Thunder Gray / Candy Daring Red, Pearl Vigor blue / Pearl Brilliant White and Metallic Mat Black No.2 / Glass Sparkle Black.
The look of the 2023 Suzuki Hayabusa remains the same, with very modern and aggressive fairings and front optical set. This one is vertical, with an LED projector at the bottom. In fact, all lighting is LED, that is, headlights, flashlights and turn signals rely on this technology.
In addition, the integrated turn signals positioned at the ends of the front fairing have become more modern, and also work as DRL (daytime running light). At the rear, the turn signals are also integrated into the flashlight.
The side fairings has air outlet and the application of a chrome frieze at the edges. There are also highlighted appliques, in red in the grey model and in blue in the white model.
The 2023 Hayabusa maintained the same 4-cylinder inline engine and 1,340 cm³ with liquid cooling, which is capable of generating up to 190 hp of maximum power and 150 Nm of torque at 7,000 rpm.
In terms of technology, Hayabusa is equipped with 3 riding modes, 10-way adjustable traction control, anti-lift control, engine brake control, Bi-Directional Quick Shift System, Launch Control, Hill Hold Control and Cruise Control.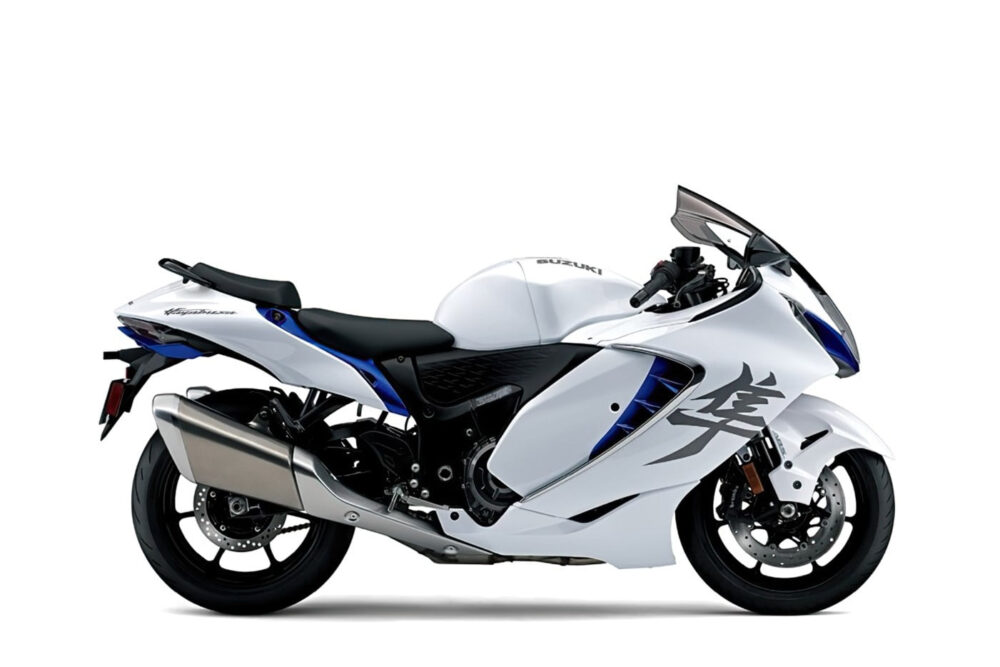 Finally, the instrument panel brings four analog clocks and a color TFT LCD screen in the center, which displays real-time information such as motorcycle inclination, front and rear brake pressure, acceleration rate and accelerator position.