Unveiling the 2023 Honda Hornet 2.0: The Fusion of Thrills and Technology
In a resounding testament to Honda's commitment to innovation and performance, the 2023 Honda Hornet 2.0 has emerged on the scene, capturing the hearts of motorcycle enthusiasts across India.
The all-new Hornet 2.0, now equipped with an OBD2 compliant engine, introduces a host of advancements that seamlessly blend cutting-edge technology with a spirit of adventure.
A Symphony of Design and Power
At first glance, the 2023 Hornet 2.0 exudes an aura of dominance and power. Boasting a forward-leaning aerodynamic design, punctuated by bold graphics that underscore its aggressive character, this motorcycle is a true testament to Honda's racing DNA.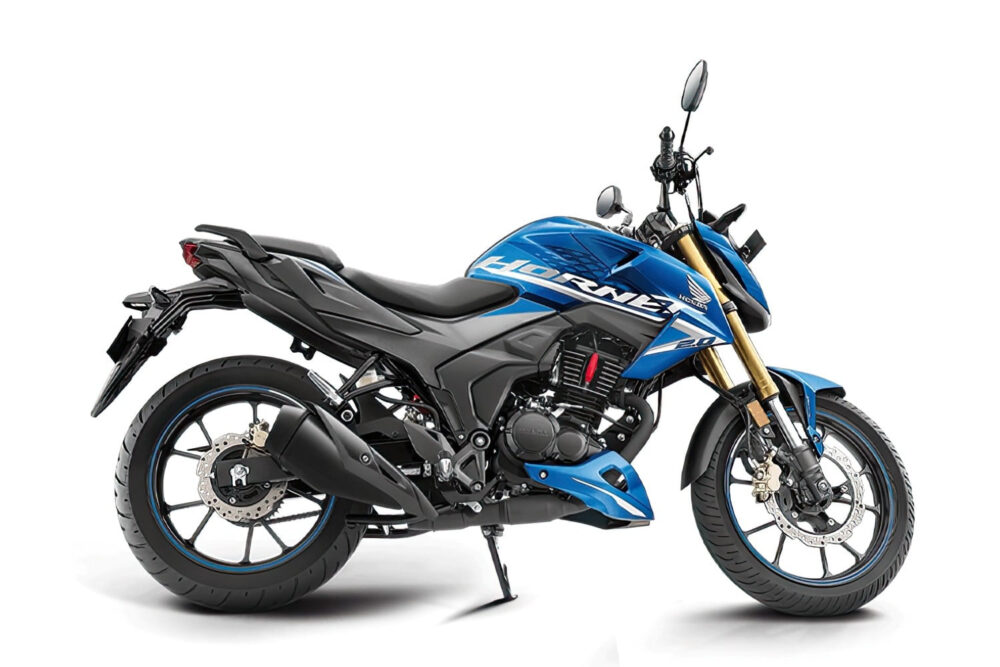 The muscular road presence is further accentuated by the commanding stance, anchored by a sturdy and capacious fuel tank.
The 2023 Hornet 2.0 sets a new standard in illumination with its all-LED lighting system. From the piercing LED headlamp to the distinctive X-Shaped LED tail lamp, visibility is enhanced, and reliability is paramount.
Finally, the sporty split seat and innovative key placement on the tank seamlessly combine form and function, granting riders both style and convenience.
Empowering Performance through Technology
Beneath the skin of the Hornet 2.0 lies a robust heart – a 184.40cc, 4-stroke, single-cylinder BSVI OBD2 compliant PGM-FI engine. This technological marvel doesn't just adhere to environmental norms; it elevates the riding experience through precision and intelligence.
Equipped with multiple sensors, this engine monitors emission performance with finesse, even notifying riders of any detected malfunctions via an instrument panel warning light. The 184.40cc engine generates a staggering 12.70 kW of power and 15.9 Nm of peak torque.
An exquisite touch of innovation comes in the form of the assist and slipper clutch – a feature designed to deliver smoother upshifts and prevent rear wheel lock-ups during hard downshifts. This advancement in safety seamlessly blends into the thrill of the ride.
The Hornet 2.0's handling is further augmented by the Golden Up-side Down (USD) front fork, an unprecedented feature in the sub-200cc segment. Its superior technology harmoniously marries with its visual appeal, enhancing the motorcycle's agility and control.
When it comes to halting the excitement, the Hornet 2.0 employs dual petal disc brakes with single-channel ABS, offering confidence and stability. A mono-shock rear suspension preserves equilibrium during cornering, delivering a smooth and exhilarating ride.
A Triumph of Value and Confidence
The Hornet 2.0 isn't just a motorcycle; it's a testament to Honda's commitment to excellence. Priced at Rs. 1,39,000 (ex-showroom, Delhi), it offers exceptional value for the modern rider seeking an unparalleled experience.
Honda's dedication extends beyond the purchase with a unique 10-year warranty package, combining a 3-year standard warranty with an optional 7-year extension, underlining their confidence in their masterpiece.
As the sun sets on the ordinary, the 2023 Honda Hornet 2.0 rises, a beacon of innovation, power, and style, beckoning riders to embrace the wind and soar into a new era of exhilarating journeys.
photos: Honda