MotoGP | Aleix Espargaro Makes History with Victory and Aprilia's One-Two at Catalunya GP
In a stunning display of skill and determination, Aleix Espargaro, Aprilia Racing rider in MotoGP, etched his name into the history books at the Catalunya Grand Prix.
This thrilling race not only showcased Espargaro's brilliance but also witnessed a Catalan one-two as his teammate, Maverick Viñales, joined him on the podium at the Gran Premio de Catalunya.
While the crowd roared with excitement, the absence of Francesco Bagnaia (Ducati Lenovo Team) due to a crash added an unexpected twist to the event.
A Chaotic Start
All eyes were on local hero Aleix Espargaro, who started from the middle of the front row, creating high expectations among his fans. However, the start of the Catalunya GP took an unexpected turn as Enea Bastianini (Ducati Lenovo Team) faced a challenging moment at Turn 1.
His misfortune triggered a chain reaction that involved Johann Zarco (Prima Pramac Racing), resulting in a multi-rider pile-up at the Turn 1 gravel trap.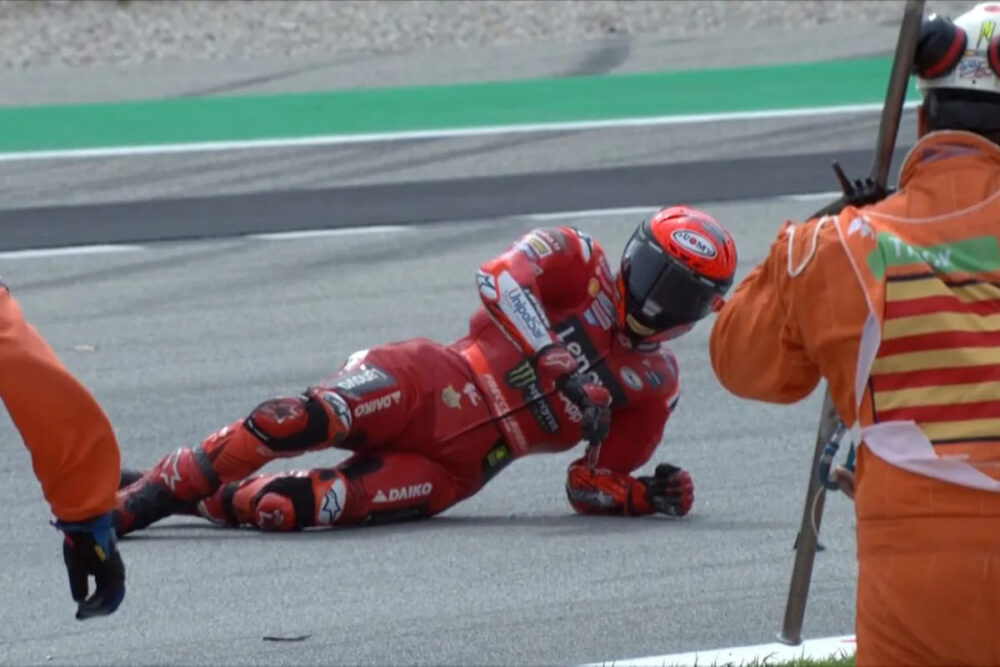 Francesco Bagnaia (Ducati Lenovo Team) also suffered a dramatic high-side at turn two, causing further chaos. The red flags waved, and Bagnaia was swiftly taken to the medical center as the track underwent necessary repairs for a race restart.
A Fresh Beginning
As the riders lined up for the restart, they knew it was time to put the past events behind them and focus on a fresh start. Jorge Martin (Prima Pramac Racing) grabbed the holeshot this time, with Viñales making a strong move to lead on the first lap. Aleix Espargaro settled into third place, engaging in a battle with Miguel Oliveira.
With 21 laps remaining, Aleix Espargaro made a decisive move to pass Jorge Martin, determined to ensure his teammate Viñales didn't escape. Miguel Oliveira also seized the opportunity to move up into third place. Aleix Espargaro showcased impressive pace, narrowing the gap to Viñales and setting the stage for a thrilling race.
Aprilia Dominance:
The race evolved into a fierce competition among the three Aprilia riders as they led the pack. Unfortunately, Miguel Oliveira couldn't maintain the pace set by the factory Aprilia duo, allowing Jorge Martin to close in on him with 14 laps remaining.
However, Aleix Espargaro encountered a setback with 12 laps to go, briefly falling behind. Maverick Viñales built a 1.5-second lead over his fellow Catalan rider. It was a critical moment for Viñales to demonstrate his skills and secure his first Grand Prix victory at his home circuit.
Espargaro's Triumph
With relentless determination, Aleix Espargaro began chipping away at Viñales' lead, closing the gap with each passing lap. Four laps from the finish, Espargaro executed a brilliant move, forcing Viñales to take the long lap loop.
Tire wear became a factor for the Aprilia machines, causing Viñales to lose ground. Although the gap narrowed on the final lap, it wasn't enough for Maverick to mount a challenge. Aleix Espargaro seized the victory, crossing the finish line just 0.377 seconds ahead of his teammate.
Conclusion
The Catalunya Grand Prix will be remembered for Aleix Espargaro's historic victory and the impressive one-two finish by Aprilia. This race showcased the resilience and skill of these riders in the face of adversity, making it a thrilling spectacle for fans worldwide.
See the Championship standings after the race in Barcelona:
| Position | Rider | Bike | Points |
| --- | --- | --- | --- |
| 1 | Francesco Bagnaia | Ducati | 260 |
| 2 | Jorge Martin | Ducati | 210 |
| 3 | Marco Bezzecchi | Ducati | 189 |
| 4 | Brad Binder | KTM | 166 |
| 5 | Aleix Espargaro | Aprilia | 154 |
| 6 | Johann Zarco | Ducati | 141 |
| 7 | Luca Marini | Ducati | 125 |
| 8 | Maverick Viñales | Aprilia | 113 |
| 9 | Jack Miller | KTM | 104 |
| 10 | Alex Marquez | Ducati | 102 |
MotoGP returns on September 10th with the San Marino GP at the Misano circuit.