TVS X: Redefining Electric Mobility with Innovation and Performance
TVS Motor Company has unveiled a remarkable breakthrough in the electric vehicle landscape: the TVS X, a premium electric crossover scooter that marries innovation with exhilarating performance.
Carrying forward its commitment to global sustainable transportation, TVS has introduced the TVS X as its flagship electric vehicle, setting new standards in the industry.
Designing the Future
At the heart of the TVS X's appeal lies its design philosophy, seamlessly blending form and function. The TVS X boasts an aerodynamic silhouette, reflecting its lean, mean, and clean approach.
With a meticulous inside-out approach, this machine embodies harmonious flow and dynamics, ensuring both speed and thrill. Crafted on an innovative platform, the TVS X features a high precision cast aluminum alloy frame that guarantees unmatched stiffness and durability.
This design contributes to enhanced efficiency, exemplified by the segment's first Ram Air Cooled Motor, which optimizes dynamic cooling and sustained performance.
The visual experience is further elevated by a state-of-the-art lighting architecture. A four-element LED headlamp, sequential turn indicators, and programmable light sequences showcase not just functional brilliance, but also an artistic marvel.
Empowering Performance
The TVS X is a rider's machine, developed with the rider in mind from the ground up. It defies norms, providing an unparalleled level of handling that creates a telepathic connection between the rider and the machine. The TVS Xleton frame redefines stiffness standards, ensuring exceptional agility and steering precision. Complemented by specially developed tire compounds, the TVS X offers impressive grip levels and reduced rolling resistance.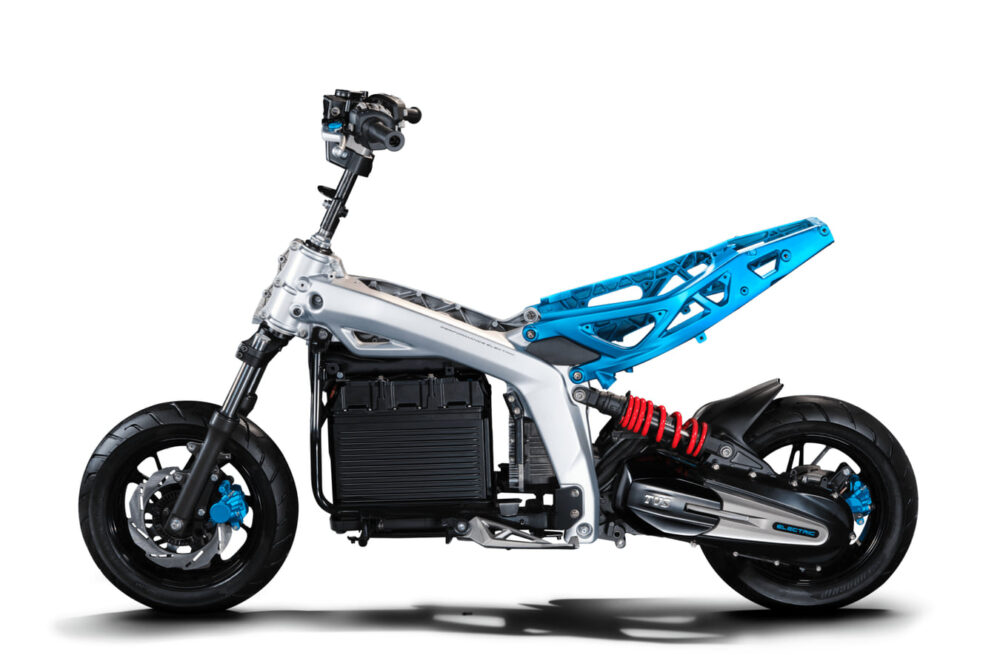 With a peak power of 11kW and class-leading acceleration of 0-40kmph in a mere 2.6 seconds, the TVS X redefines electric performance. Its Permanent Magnet Synchronous Motor (PMSM) motor is backed by an in-house developed integrated controller.
To enhance efficiency, multi-level selectable re-gen modes cater to various riding styles. Safety is paramount, with the latest generation ABS and a smart Hill-Hold feature offering confidence-inspiring stops.
Connected Beyond Expectations
The TVS X doesn't stop at performance; it redefines connectivity. The 10.2-inch HD+ TFT touchscreen, the largest in its class, offers a rich and customizable interface. The TVS SmartXonnect platform enhances productivity, offering context-aware information and EV-specific routing algorithms for hassle-free charging. Personalization reaches new heights with TVS PlayTech, allowing users to choose widgets, themes, and even upload pictures for a truly personalized riding experience.
Safety and convenience are intertwined with the TVS X's connected features. The TVS Smart Xhield ensures proactive safety with crash and tow alerts, while live vehicle location sharing adds an extra layer of security. Immersive features like wellness, gaming, live video streaming, and internet browsing redefine the riding experience.
A Vision for the Future
The launch of the TVS X is a significant milestone in the journey towards electric mobility. The fusion of exceptional performance, intuitive technology, and futuristic design cements TVS Motor Company's position as a pioneer in the EV industry.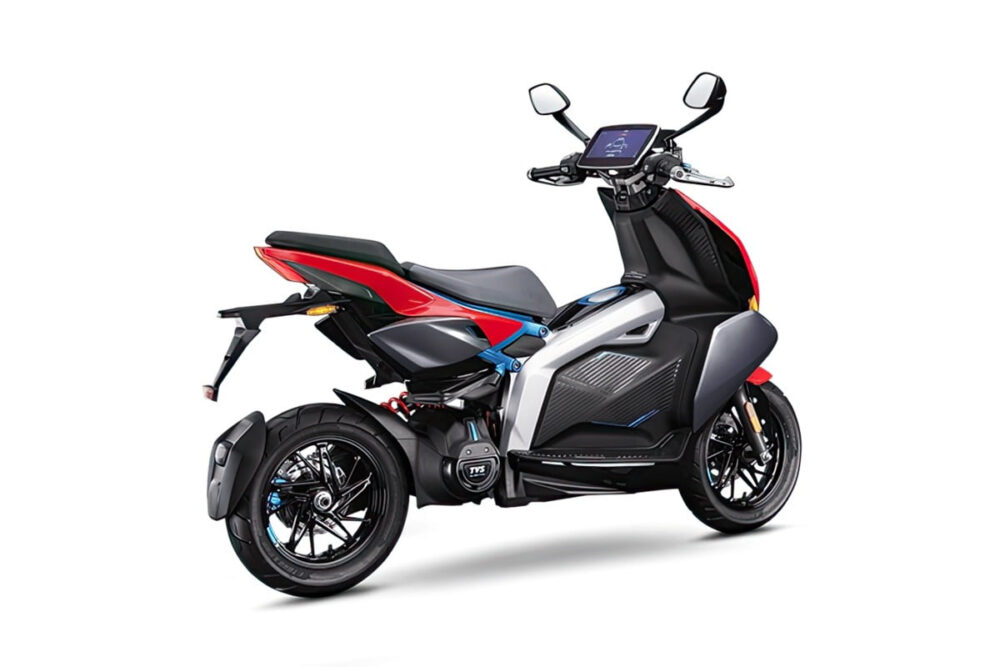 As bookings open and deliveries commence, the TVS X stands as an embodiment of TVS Motor Company's dedication to sustainable mobility, innovation, and premium experiences.
photos: TVS