MotoGP | Fabio Quartararo is World Champion! Marquez wins the Emilia-Romagna GP
Repsol Honda Team MotoGP rider Marc Marquez won the Emilia-Romagna GP this Sunday. But who stole the spotlight was Fabio Quartararo (Monster Energy Yamaha MotoGP), who was crowned 2021 MotoGP World Champion, with two races to go.
This Sunday's race proved difficult for the Yamaha rider, as he started from 15th position. He had to fight a lot to move up in the standings. At the start, he lost two positions, but was able to make the overtaking and, before long, he was already among the top ten.
Majestically leading the race was Francesco Bagnaia (Ducati Lenovo Team) who, after the crash of his teammate Jack Miller, had none other than Marc Marquez on his heels.
The Honda rider did not give the Italian a second rest and just 5 laps from the end, he decided to accept second place. It was at that moment that Bagnaia, giving everything he had, crashed and abandoned. The title dream was over.
At that time, Quartararo occupied the fifth position, his 'goal' for the race. With the crash of Bagnaia and Miguel Oliveira (Red Bull KTM Factory Racing), he inherited the third position, winning the title easily. More relaxed, he was attacked on the last lap by Enea Bastianini (Avintia Esponsorama), who managed to take his place on the podium.
The Yamaha rider was unfazed as he would be crowned champion no matter what. It was a deserved title for all he's done this season. Quartararo is the first French MotoGP World Champion and, as he is also known as 'El Diablo', he was tagged with the #ELD1ABLO .
Repsol Honda double podium
With the Bagnaia's crash, (and, before him, of Jack Miller, who was in front of him), Marquez had no difficulty to win, despite having left the seventh position. But, further increasing the joy in the pits, who came in second was Pol Espargaro, who had a solid race, coming out of fourth position.
It was a promising result for the Honda team and a victory that boosts Marquez's confidence. He said, after the race, that this result will give him more confidence and patience, not only in the last two races of 2021, but also in the next season.
Historic day for Rossi
Valentino Rossi (Petronas Yamaha SRT), made his last race of his career on Italian soil. There was a lot of partying and celebration on the circuit, with 'his' team (SKY VR46 Avintia) paying their respects, with the bikes painted in fluorescent yellow.
To further celebrate the farewell, the nine-times World Champion managed to finish the race tenth, one position behind his brother Luca Marini (SKY VR46 Avintia).
Anyway, Quartararo leaves Italy as World Champion and still has two races to have fun and relax.
See the race result in Emilia-Romagna:
See the championship standings: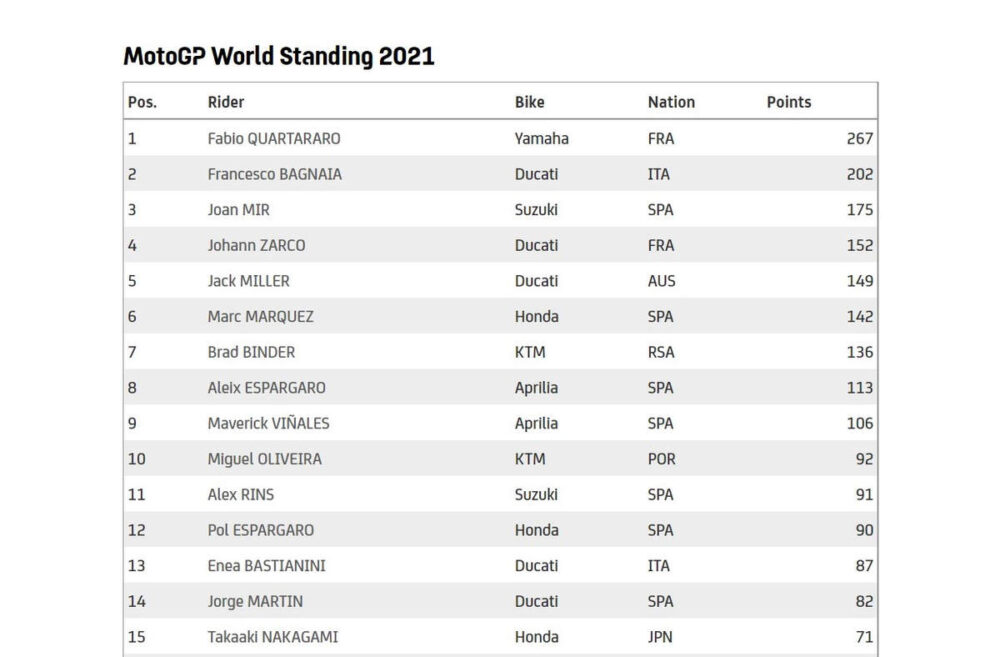 MotoGP returns on November 7th, with the GP of Portugal, in Portimao.