Honda launches 2023 Genio in Indonesia with new design and 12-inch wheels
Honda launched in Indonesia the 2023 model of Genio, its 110cc scooter, which arrives with a new design and 12″ wheels, in addition to new colors.
According to Honda, the new Genio comes with the latest and most iconic design and style in line with current trends. The change happened mainly in the front with more fluid lines and modern design of the headlights, but keeping the body compact, ideal and comfortable for daily riding in the midst of heavy traffic.
Speaking of headlights, they are now LED in a dual vertical format. The turn signals are located at the ends of the front fairing.
Another novelty on the 2023 Genio is the use of 12″ wheels, which ensure a smoother and more comfortable ride, as well as wide tubeless tires measuring 100/90-12 at the front and 110/90-12 at the rear.
Astra Honda Motor (AHM) CEO Keiichi Yasuda said the new Honda Genio is the answer for anyone who wants a scooter suitable for everyday use, rich in functional features but capable of representing the lifestyle of want to look more elegant.
"The new Honda Genio offers a balance of compact design and agile performance, backed by full functional features for everyday needs. With the latest design changes that are increasingly iconic in line with current trends, especially among young people, we believe the New Honda Genio can provide a fun driving experience that is certainly different from the rest," said Yasuda.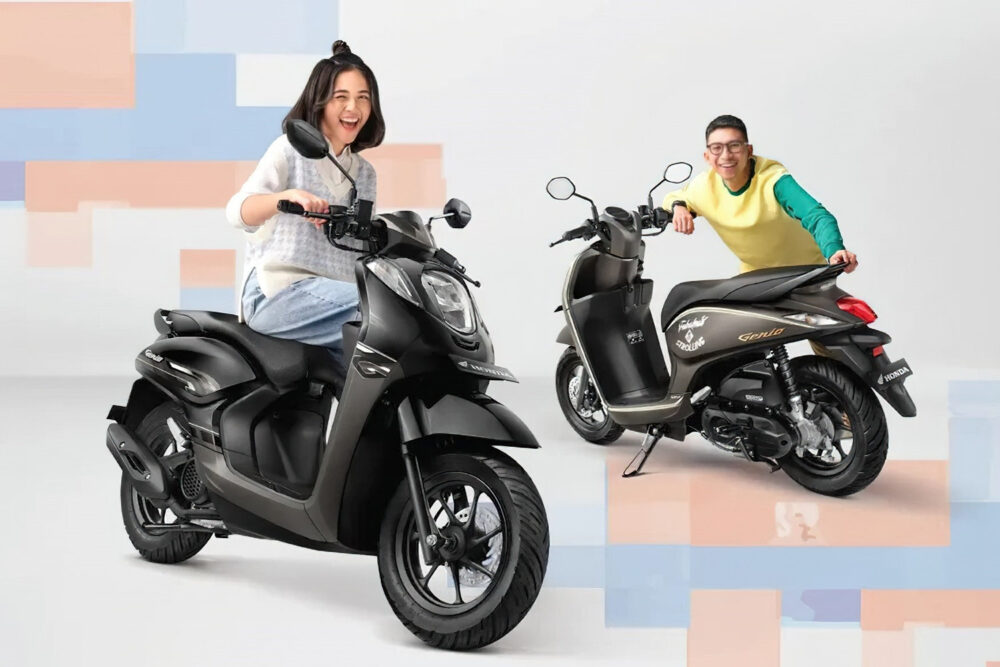 Engine and technology
The 2023 Honda Genio is equipped with a 110cc SOHC eSP (Enhanced Smart Power) single-cylinder engine, which is capable of generating up to 6.6 kW (8.85 HP) of maximum power at 7,500 rpm and 9.3 Nm of torque at 5,500 rpm.
In addition, this engine has ACG, which allows a quick and smooth start, and works together with the ISS (Idling Stop System) that turns off the bike at traffic lights to save fuel.
With this, according to the company, the new Genio is capable of doing up to 59.1 km / liter with the ISS activated (WMTC mode).
Finally, the new model has a parking brake lock, a combined braking system and a center stand switch as standard items, which guarantee the safety of users.
The new 2023 Honda Genio is sold in two types, CBS and CBS-ISS, with a total of 6 color options. The CBS type which is marketed in DKI Jakarta at a roadside price (OTR) of Rp. 18,050,000, is available in Radiant Red Black, Radiant Brown Black and Radiant Black. Meanwhile, the CBS-ISS type, which is traded at an OTR price of Rp. 18,650,000, it also gets three color options i.e. Fabulous Matte Black, Fabulous Matte Brown and Fabulous Matte Blue.
Anyway, for more information, access https://www.astra-honda.com/.
photos: PT Astra Honda Motor