Unveiling the Future of Riding: 2024 Kawasaki Z7 Hybrid Takes the Streets by Storm
In a bold leap into the future, Kawasaki has just dropped a bomb on the motorcycle world with its latest creation, the 2024 Kawasaki Z7 Hybrid.
This isn't just your average ride; it's a hybrid marvel, blending an electric and combustion engine seamlessly, marking Kawasaki's second foray into the hybrid realm after the groundbreaking Ninja 7 Hybrid.
At the heart of this two-wheeled revolution lies a unique power unit, marrying a 451cm3 internal combustion engine with a compact traction motor.
The result? A strong hybrid motorcycle that promises a rush of instant acceleration akin to a 1,000cc-class supersport model, all while delivering fuel efficiency comparable to a 250cc-class bike. It's the best of both worlds in a mid-size package.
With three distinct drive modes offering different riding characters, the Z7 Hybrid isn't just a bike; it's an experience. Riders can choose between fully electric, combustion-only, or a combination of both, thanks to Kawasaki's cutting-edge strong hybrid technology. No more compromise; it's freedom to ride on your terms.
Efficiency isn't just a buzzword here. The Z7's power train packaging is a marvel of engineering, with a 451cc engine offering automatic or manual gears, and a water-cooled EV motor seamlessly integrated for optimal weight distribution. It's not just a bike; it's a work of art on wheels.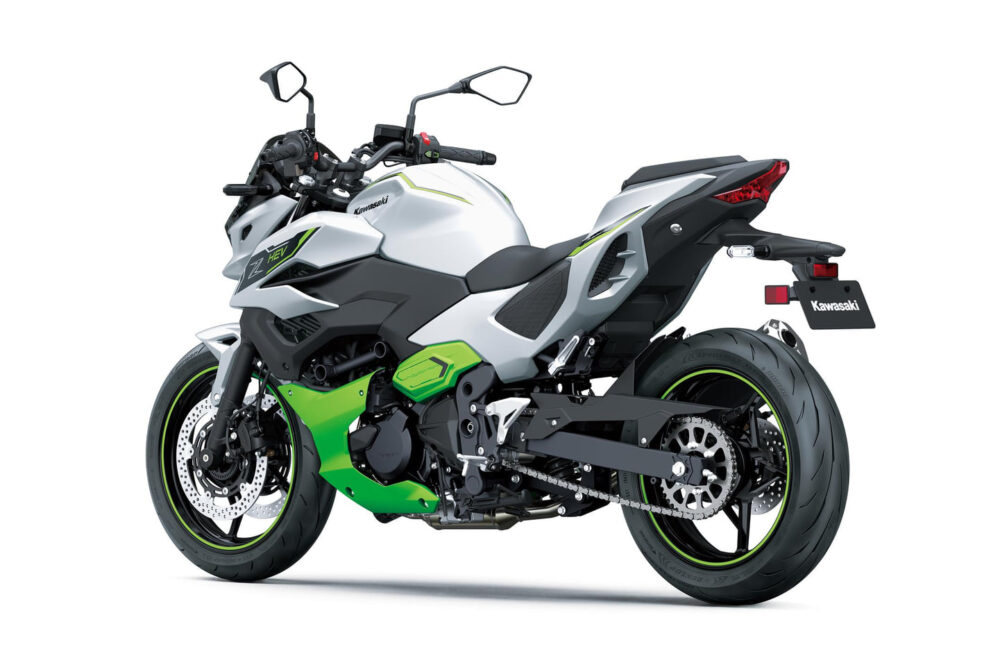 Quiet running and zero emissions take center stage in this eco-friendly two-wheeler. In ECO-HYBRID mode, the engine gracefully shuts off when the bike comes to a halt, conserving fuel and reducing environmental impact. It's a win-win for riders and the planet.
From an idling stop function to a 6-speed automated manual transmission, the Z7 Hybrid is a tech lover's dream. The TFT full-color instrumentation, boasting smartphone connectivity, adds a futuristic touch, offering riders an enhanced and connected motorcycling experience.
The 2024 Kawasaki Z7 Hybrid isn't just a motorcycle; it's a testament to Kawasaki's commitment to innovation and pushing boundaries.
With its strong hybrid technology, efficient power train, and a host of rider-friendly features, it's a game-changer in the world of motorcycles.
photos: Kawasaki