Introducing the 2024 Yamaha Ténéré 700 Extreme: Unleash Your Inner Adventurer
Rev up your excitement and get ready for the thrill of a lifetime with the all-new 2024 Yamaha Ténéré 700 Extreme. This beast of a machine takes the Ténéré series to the extreme, making it a hardcore off-road performer that's designed to conquer the wildest terrains.
The Ténéré 700 Extreme lives up to its name with extended long-travel suspension and a range of special chassis components, making it the ultimate go-anywhere machine. This bike is not for the faint of heart; it's for those who crave adventure and challenge.
Premium KYB Suspension
For class-leading off-road handling and lightweight agility on rough terrain, the Ténéré 700 Extreme is equipped with fully adjustable KYB suspension systems. With 20mm of extra travel at both the front and rear compared to the standard Ténéré 700, it's ready to tackle the harshest trails.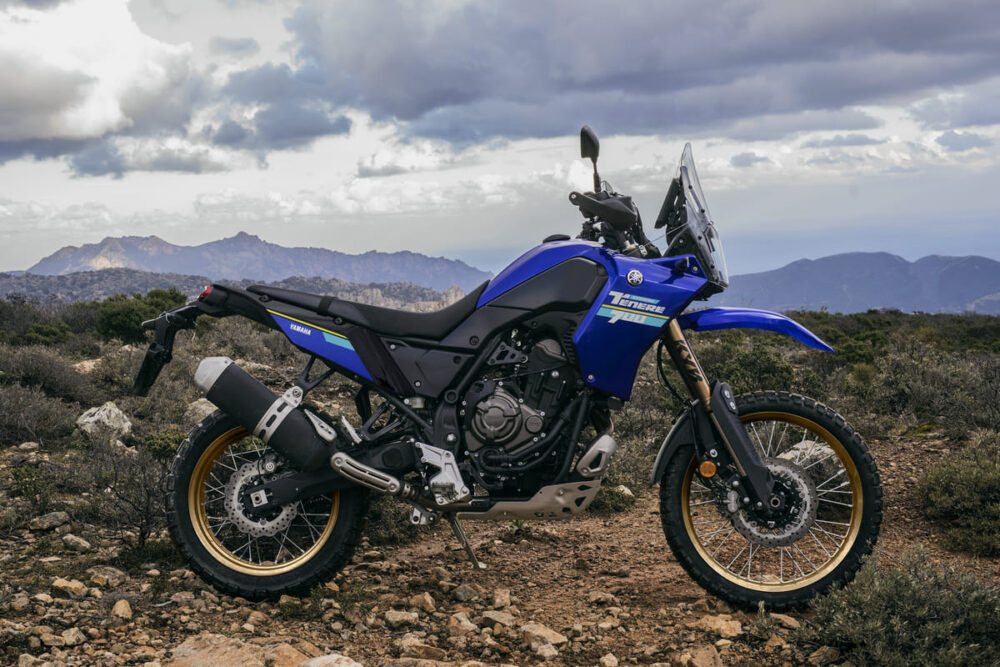 The Kashima-coated front forks ensure super-smooth suspension action, eliminating stiction at lower speeds. The gold-colored fork inner tube adds a touch of quality to this rugged adventurer.
The fully adjustable KYB suspension can be customized to suit different rider physiques and riding styles, making it a serious performer for motocross and enduro enthusiasts. If you're seeking added performance for challenging off-road terrain, the Ténéré 700 Extreme is your ideal companion.
Built for the Extreme
Factory-equipped with lightweight titanium footrests, an aluminum radiator protector, and a chain guide, this high-spec adventure bike is prepared for extreme conditions.
Its two-piece front fender assembly provides protection from dirt and debris, and the one-piece rally seat allows for quick bodyweight shifting.
Lightweight competition-type titanium footrests with 35% greater surface area reduce pressure on boot soles, ensuring you stay comfortable during long rides. With a ground clearance increased to 260mm, this bike is ready to take on the most inhospitable terrains.
Finally, the 5-inch TFT meter features three separate themes, including a Rally Raid roadbook-style display for effective navigation even in the most remote areas.
Key Features
Fully adjustable 43mm KYB Kashima-coated front forks with 230mm wheel travel (20mm more than the Ténéré 700).
Fully adjustable KYB piggyback rear shock absorber with 220mm wheel travel (20mm more than the Ténéré 700).
260mm ground clearance (20mm more than the Ténéré 700).
3-theme connected 5-inch vertical TFT meter with Rally Raid roadbook-style screen option.
Left side switch cluster with trip switch.
Flat one-piece seat with 20mm additional padding, offering a higher 910mm seat height.
High-level color-matched front fender.
Aluminum mesh radiator protector.
Chain guide.
Gold anodized aluminum spoke wheels.
With the 2024 Ténéré 700 Extreme, your wildest adventures await. Are you ready to take on the extreme?
photos: Yamaha