First carbon fiber premium electric bike is presented: a mixture of motorcycle and bicycle
NOVUS, a German startup, presented its first premium electric motorcycle, with a unique design and entirely made of carbon fiber. The model looks more like an electric bicycle than a motorcycle, with a hollow frame and mountain bike-style handlebars.
It is handcrafted from virtually all carbon fiber parts. The frame, for example, is a single piece, with a hollow central part and battery kit at the bottom. This frame weighs just 6.9 kg and is made for just one person, holding up to 125 kg.
According to the company, this is the first super-light premium electric motorcycle. "NOVUS is more than a motorcycle. It is a work of art on wheels." The inspiration, according to them, came from bicycles and motorcycles.
Another highlight of the model is its mono fork front suspension, with 100 mm of travel. It is complemented by wheels, also in carbon fiber. With that, the total weight is only 80 kg, including the battery.
Engine, battery and technology
The NOVUS electric motor is located on the rear wheel and has a peak power of 30 kW, which allows it to go from 0 to 50 km/h in just 2.8 seconds, and reach a top speed of 130 km/h.
The battery is 4.3 kW/h and 100 V which, according to the company, allows a 130 km autonomy in the city.
Finally, the NOVUS electric motorcycle has Full-LED lighting and a fully digital panel with power modes and access by App. There are three power modes: Basic, with a maximum power of 7 kW and Top Speed of 90 km/h, Super, with power of 11 kW and maximum 110 km/h, and God, which allows the maximum, that is, up to 30 kW and 130 km/h.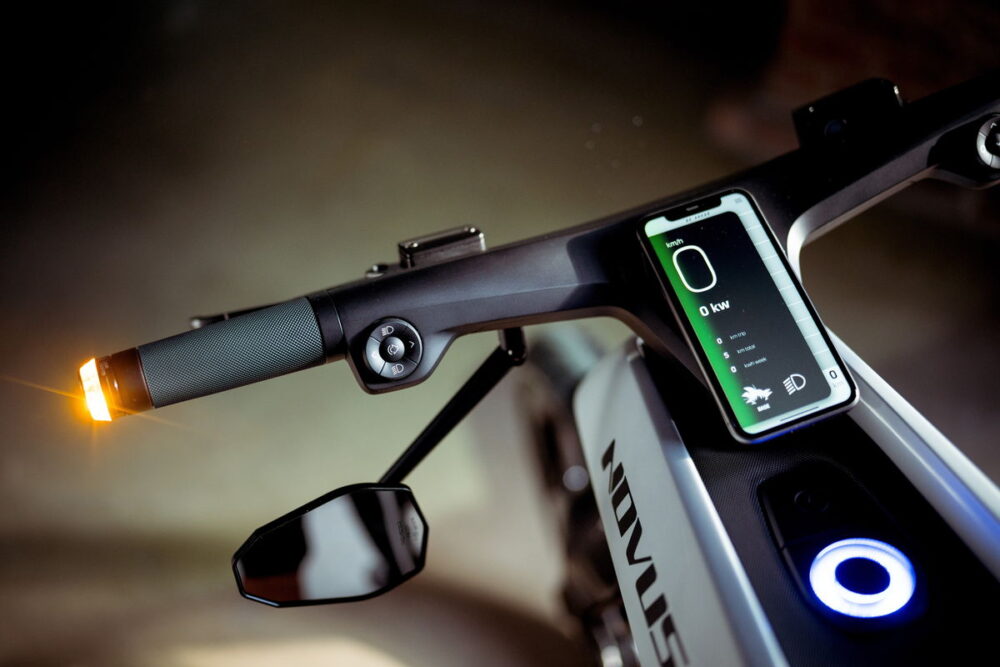 With App access, you can unlock the bike via NFC, meaning no key is needed.
Finally, NOVUS can now be booked in Germany, with deliveries scheduled for October 2022. The price starts at €29,900 + 19% VAT, that is, €35,580. There is no forecast for other countries.
For more information, visit https://novusbike.com/home-2/.