BMW presents R 18 custom with fairing, a radical customization
BMW presented in Germany a custom R 18 motorcycle with fairing, called "Spirit of Passion", a radical customization made by Kingston Custom.
The work was done by Dirk Oehlerking, owner of the custom shop, in collaboration with BMW Motorrad.
The Kingston Custom from Oehlerking is well known for its extreme customization. Anyone who expects a complete rebuild of the R 18 will be in for a surprise, however. "The BMW R 18 is so perfect that I left the technology as it is. The frame is 100% original and so sophisticated that nothing should be changed here," says Oehlerking.
The main highlight in this customization is the huge front fairing, having a characteristic front radiator grille of BMW cars (mainly older models).
The bodywork is finished by hand, as are the handlebars and fenders. The exhaust of the BMW R 18 was modified by Oehlerking in the Kingston Roadster style, while its seat was designed from a range of universal accessories.
The turn signals have been replaced by Kellermann indicators and the LED headlight is now integrated into the fairing. The original painting and lines were adopted for the fairing and the wing, with the addition of some details in the Kingston style.
The wheel suspension and fuel tank are original. The design as a whole is based on the classic 'art deco' style.
How is the BMW R 18
The BMW R 18 is based on the brand's historic motorcycles, especially the 1930 R 5, bringing a simple design, with the boxer engine being the center of attention. There is also a lot of chrome and a classic black finish with white stripes.
The centerpiece of the BMW R 18 is the new boxer engine made of aluminum and glass, with hand-polished aluminum components and a modern oil and air cooling system. This 2-cylinder, 1802 cm³ engine weighs just 110.8 kilos, including the 6-speed automatic transmission and the intake system.
The maximum power is 67 kW (91 hp) at 4,750 rpm and the maximum torque is 16 kgfm / 160Nm at 3,000 rpm.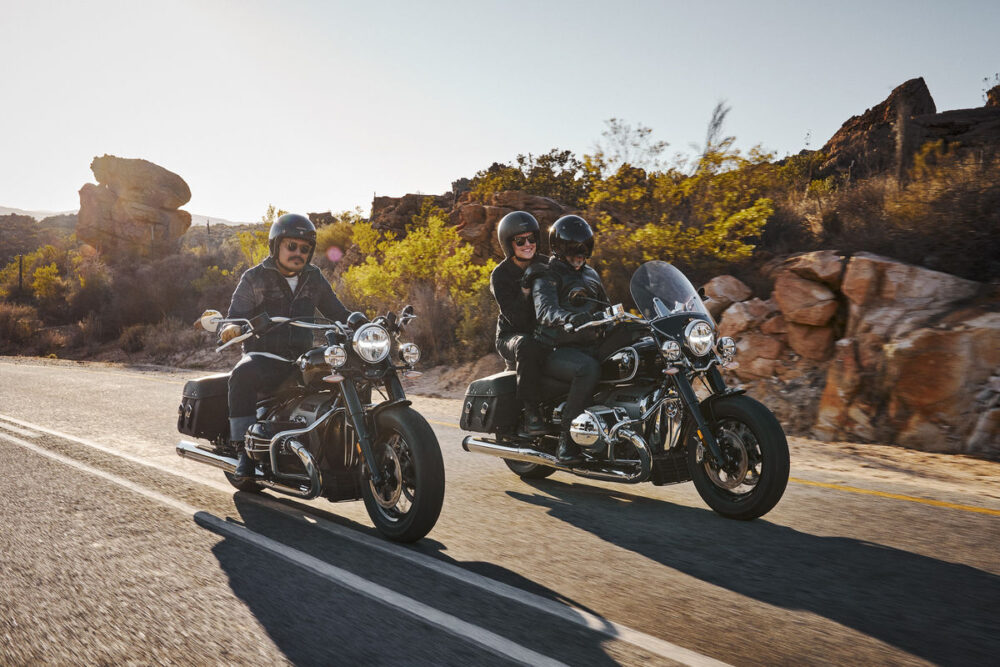 Some curiosities about this new engine: The maximum speed is 5,750 rpm and the idle speed is 950 rpm. More than 15 kgfm of torque is available from 2,000 rpm to 4,000 rpm. It uses the classic valve control system (OHV), despite having 4 valves per cylinder, double ignition and electronic injection.
Finally, the BMW R 18 can be easily customized, with Roland Sands Design options: "Machined" and "2-Tone-Black", the American manufacturer Mustang Seat and customization of exhaust systems in cooperation with Vance & Hines.