2022 Yamaha MT-25 ABS gets new colors and graphics in Indonesia
Yamaha launched in Indonesia the 2022 MT-25 ABS, its 250cc premium 'naked' motorcycle, which arrives with new colors and graphics.
Now, the 2022 MT-25 comes out in the following colors: Metallic Blue and Metallic Dark Grey. The Metallic Blue version has the dark blue color on the body and wheels, with a touch of cyan on the graphics.
The Metallic Dark Grey uses the latest brand color scheme, with dark grey color on the body and cyan on the wheels. It is complemented by cyan and orange on the graphics.
"For fans of naked sports bikes, especially the MT Series, we're again introducing the latest colors and graphics of the MT-25. In addition to highlighting the distinctive features of Yamaha's blue, combined with an attractive cyan color variation, they provide new options for consumers. Supported by the quality and several advantages it has, the MT-25 is always a preferred product. In addition, with a great torque (Master of Torque), better performance, as well as modern features and technology, it deserves to become it the best choice in its class," said Antonius Widiantoro, Public Relations Manager, YRA and PT Community Yamaha Indonesia Engine Manufacturing (YIMM).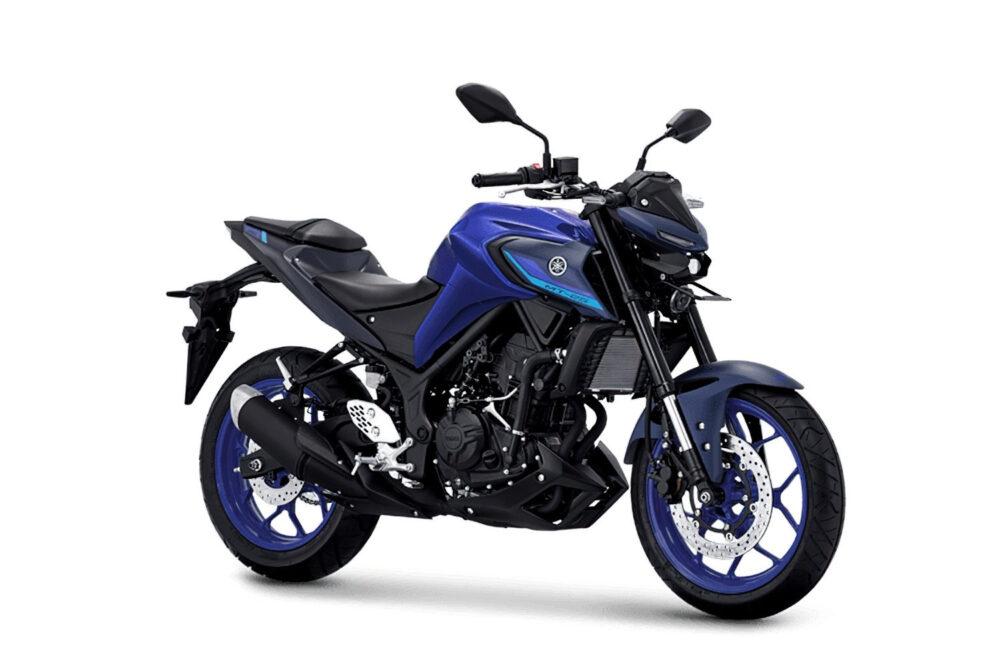 The 2022 MT-25 Metallic Blue and Metallic Dark Gray are sold in Indonesia for IDR 55,935,000 (on the road in Jakarta). For more information, visit the official Yamaha Indonesia website at https://yamaha-motor.co.id/product/mt-25/.
How is the Yamaha MT-25
The Yamaha MT-25 has a design inspired by the MT-09 and very similar to the small MT-15. It has a single LED cannon for the headlamp and two small LED lines for daytime running lighting (DRL).
In addition, the turn signals are also LED, with a very modern look. Complementing the design changes, the sides of the fuel tank are made more robust, with new fairings and "air intakes".
Improvements that have been implemented on the 2021 model include: adoption of 37mm upside-down front suspension; longer rear swingarm with new suspension configuration; and a new all-digital LCD panel featuring 'Shift Light'.
The 2022 Yamaha MT-25 has the same engine as the previous model, that is, a 250cm³ DOHC bicylindrical with liquid cooling (piston in aluminum and DiASil technology), capable of generating up to 26.5 kW (35.5 HP) of power at 12,000 rpm and 23.6 Nm (2.4 kgfm) of torque at 10,000 rpm. The transmission is 6 speed and the fuel tank capacity is 14 liters.
Finally, the brakes have ABS on both wheels and the front disc is 298 mm. The tires measures 110/70-17 at the front and 140/70-17 at the rear.