2021 Honda CB 1000R is launched in Europe: revised design and 'Black Edition'
Honda launched the 2021 supernaked model CB 1000R in Europe. The 'Neo Sports Café' model arrives with a revised design, a new colored TFT panel and a completely black edition, called 'Black Edition'.
The design change was light, with the LED headlamp having a shape closer to a drop of water (instead of completely round). In addition, the radiator's side fairings are more compact, the aluminum rear subframe comes out in aluminum color and the model has new wheels.
In terms of equipment, the 2021 Honda CB 1000R has now a fully digital panel in 5-inch colored TFT, as well as a connection to the Smartphone 'Honda Smartphone Voice Control (HSVC)'.
CB 1000R Black Edition
The 2021 CB 1000R has a completely black version called 'Black Edition' and brings, as the name suggests, black paint and details (almost all) also in black. In addition, it is equipped with accessories and a quick gearshift system (Quickshifter) from the factory.
Despite some details of machined aluminum, everything on display is black: the headlight frame, panel cover, fork rods, radiator covers and air box covers (with anodized finish), exhaust and muffler. Deep graphite black paint adorns the fuel tank and the rear seat cover.
Mechanics is practically the same
The 2021 Honda CB 1000R had practically no changes in the mechanics. It continues with the same chassis and engine, this with an fuel injection adjustment, to leave the model with a smoother power delivery.
In addition, the gear ratio was shortened until the third gear, leaving the model, according to the brand, with an exciting acceleration through the gears between 30-130km / h.
The engine is a 4-cylinders 998 cm³ with liquid cooling, capable of generating up to 143 HP of maximum power at 10,500 rpm and 10.6 kgfm / 104Nm of torque at 8,250 rpm.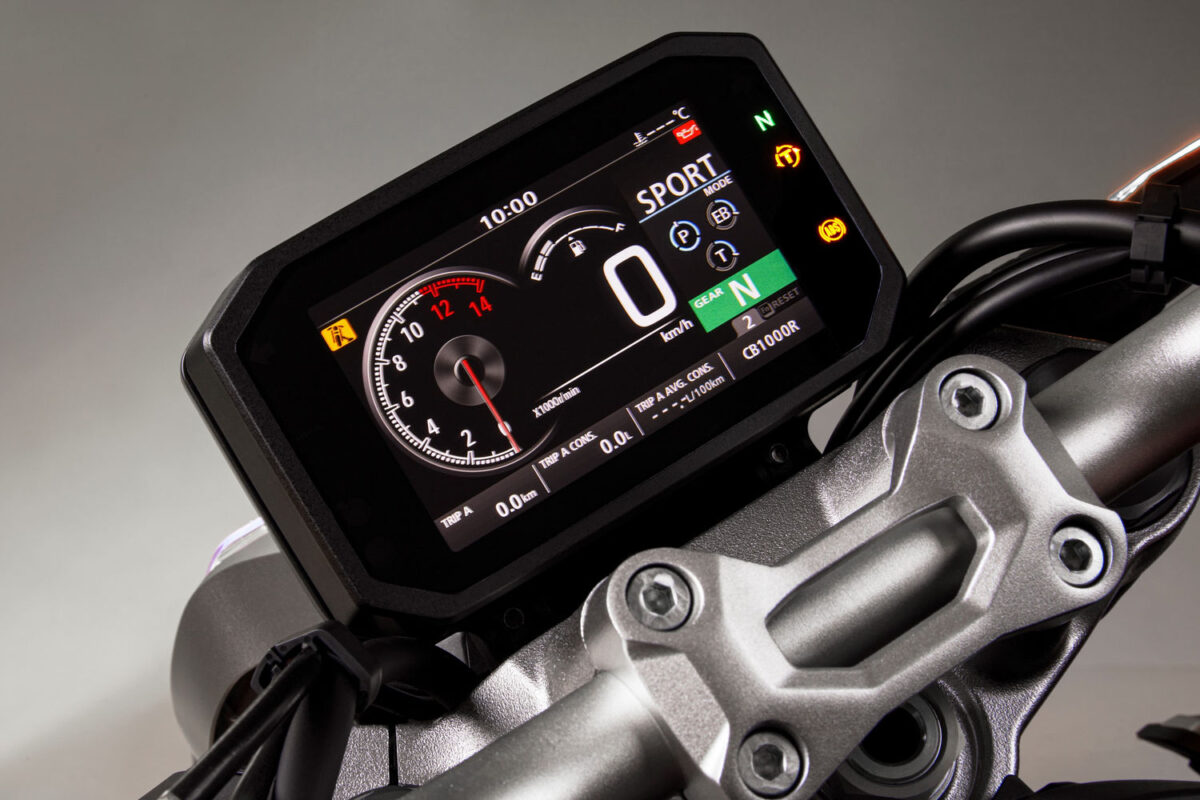 The 2021 CB 1000R also has an electronic accelerator (Throttle by Wire) and 4 riding modes that allow you to configure power, torque control and engine brake.
In addition, the fuel tank has a capacity of 16.2 liters, the front suspension is the inverted Showa SFF-BP (Separate Function front Fork) type and shock absorber with a BPF (Big Piston front Fork) structure, double front 310 mm brake discs and 17″ alloy wheels. The gearbox has 6 speeds and it is equipped with an assist and slip clutch.