Yamaha Celebrates 40 Years of Ténéré: A Triumph of Legacy and Resilience
Yamaha is proudly commemorating the 40-year anniversary of its iconic Ténéré. Since its inception in 1983 with the XT600Z, the Ténéré has captured the hearts and minds of adventure enthusiasts worldwide, solidifying its place as a legendary symbol of exploration, resilience, and the spirit of adventure.
Over the past four decades, the Yamaha Ténéré has forged an indelible legacy, inspiring riders to push the boundaries of what is possible and embodying the thrill of embarking on daring journeys.
From conquering the treacherous terrains of the Paris-Dakar Rally to accompanying adventurers in their quest for new horizons, the Ténéré has become a true icon in the motorcycle world.
The Ténéré's illustrious history is rich with remarkable achievements. In 1979-80, Cyril Neveu secured historic double victories in the first and second Paris-Dakar rallies on the XT500, setting the stage for Yamaha's incredible rallying feats.
Legendary riders such as Jean-Claude Olivier, Serge Bacou, and the legendary 'Monsieur Dakar' Stéphane Peterhansel, who remains undefeated with six Yamaha victories since 1991, have conquered some of the world's most demanding terrains astride their Ténéré machines.
More recently, Yamaha ambassador Nick Sanders completed his latest global trip on his trusty Ténéré 700, while factory riders Pol Tarrés and Alessandro Botturi continue to etch their names in rally racing history with their GYTR-kitted Ténéré 700 World Raids.
To honor this incredible journey and the legendary riders who have contributed to the Ténéré's legacy, Yamaha has embarked on a 40th Anniversary tour across Europe. This tour showcases a collection of historic Ténéré production models from 1983 to 2010, as well as original Dakar classics. Enthusiasts have the unique opportunity to witness the evolution of this iconic adventure machine firsthand.
In addition to the historic models, the tour features a comprehensive lineup of the latest Ténéré models available for test rides. However, the highlight of the 40th Anniversary tour is the unveiling of the new Ténéré 700 World Rally, adorned in striking factory racing colors reminiscent of the YZE 850 that led Peterhansel to victory in 1993.
The Ténéré 700 World Rally blends Yamaha's rich desert racing heritage with modern, world-class performance, representing the culmination of four decades of experience and success. This machine stands unrivaled in its ability and adventurous spirit, embodying the essence of the Ténéré name.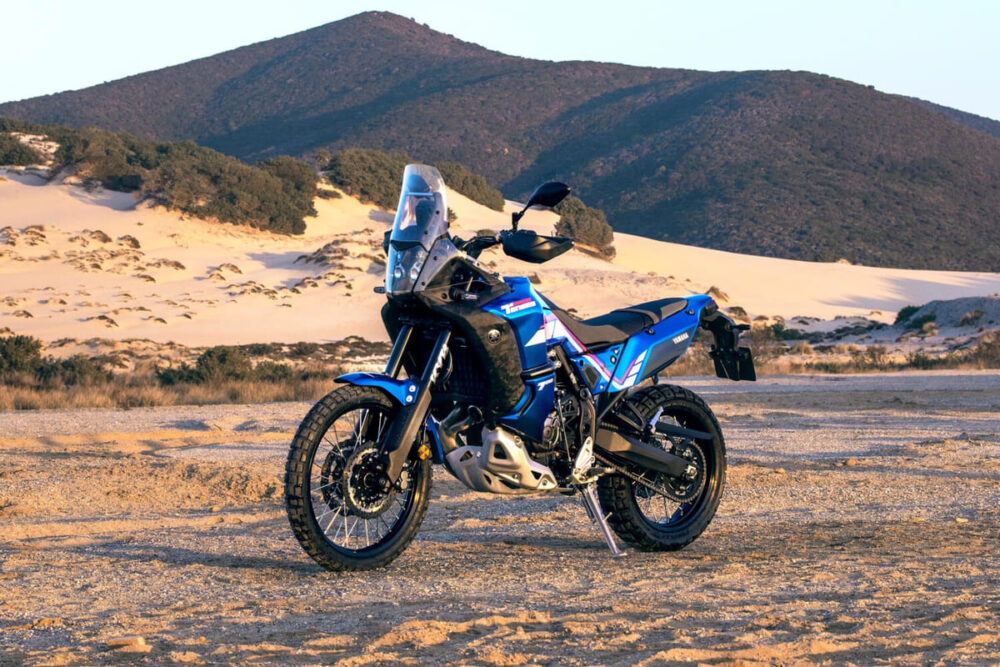 The Ténéré 40th Anniversary tour will continue to captivate audiences at upcoming events such as Ténéré Spirit Aguilar de Campoo in Spain from June 31 to July 1, MaxlRIDE Motofestival in Germany from August 25 to 27, and Alpes Aventure Motofestival in France from September 8 to 10.
These events offer enthusiasts a chance to witness the Ténéré's evolution, experience its capabilities firsthand, and immerse themselves in the rich heritage of this iconic machine.
photos: Yamaha