Suzuki launches 2023 V-Strom 1050DE with 21″ wheel and higher suspension
Suzuki has launched the new 2023 V-Strom 1050DE, its most extreme 1050cc bigtrail bike, which comes with a 21″ front wheel and longer-travel suspension, making it even more apt for off-roading.
Now, there are two models that will be marketed: V-Strom 1050DE and V-Strom 1050. The first is more geared towards off-roading, with 21″ spoked wheels at the front. The V-Strom 1050 is equipped with aluminum alloy wheels and therefore more suitable for the road. The 'XT' nomenclature is no longer used.
The Suzuki V-Strom 1050DE introduces a new package of features specifically aimed at maximizing performance and control on gravel and dirt roads. Features include a 40mm longer wheelbase, 25mm higher ground clearance and 20mm wider handlebars on each side.
Also, as mentioned, it is equipped with spoked wheels and aluminum rims (21 inches at the front), longer rear swingarm, and longer-travel suspension, with 170 mm of travel at the front and 168 mm at the rear.
As for the wheels, it should be noted that the two models use different tires: The V-Strom 1050DE is equipped with Dunlop TRAILMAX MIXTOUR tires measuring 90/90-21 at the front (tube type) and 150/70-17 at the rear (tubeless). The V-Strom 1050, on the other hand, leaves the factory with Bridgestone BATTLAX ADVENTURE A41 tires, measuring 110/80-19 at the front and 150/70-17 at the rear, both tubeless.
Finally, the V-Strom 1050DE adopts G (Gravel) mode in the traction control system and ABS which can be turned off at the rear wheel. Also new to the model is the 5-inch color TFT instrument panel, which provides the rider with information from the latest electronic controls.
Design
The design of the 2023 V-Strom 1050DE has not changed, it remains inspired by the legendary DR-Z (Desert Racing Prototype) and the production model DR-BIG. The "nozzle" and color schemes pay homage to the aforementioned models. The design is aggressive, with straighter lines and defined angles.
In addition, it continues with a rectangular headlight, with vertically stacked LED lighting. In fact, the lighting is Full-LED, that is, headlights, flashlights and turn signals (blinkers) rely on this technology.
Engine and technology
The new 2023 V-Strom 1050DE continues with the same liquid-cooled 90˚ 'V' 2-cylinder 1037cc DOHC engine, which is capable of generating up to 107 HP (79 kW) of maximum power at 8,500rpm and 100 Nm (10.2 kgfm) of torque at 6,000 rpm.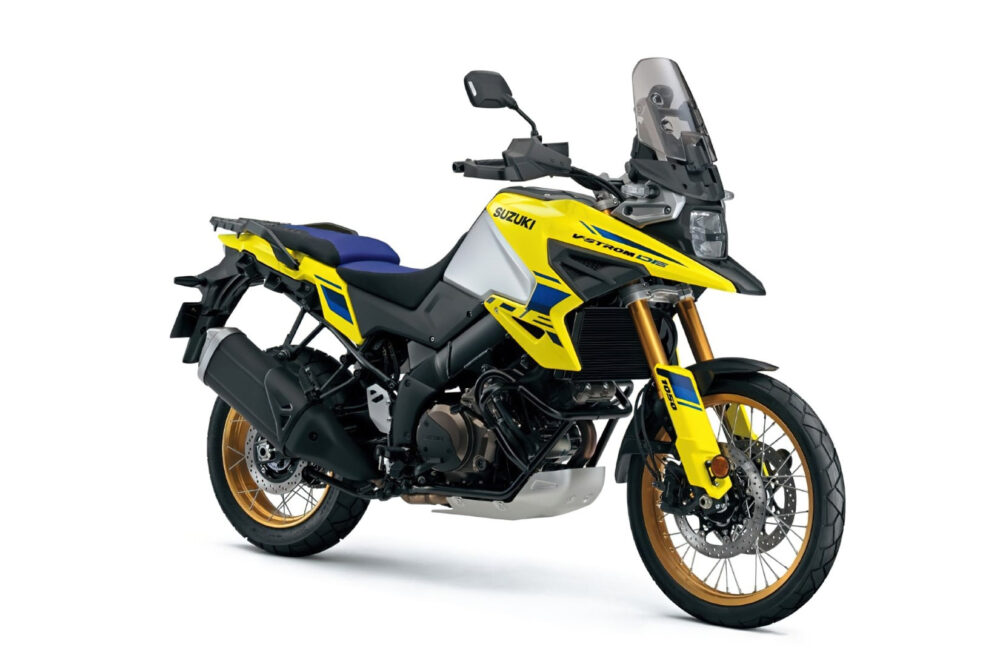 It works together with a 6-speed gearbox, equipped with an assist and slipper clutch, electronic throttle bodies, and a low RPM assistant.
In addition, it comes standard with a Bi-directional Quick Shift System, Traction Control, Cruise Control, 3 Riding Modes, Hill Hold Control System and Ride-by-Wire Electronic Throttle system.
Availability
The new 2023 Suzuki V-Strom 1050DE is expected to hit stores in Europe and North America in early 2023. For now, prices have not yet been released. The current 'XT' model retails in the UK from £12,399.
Anyway, for more information, access https://bikes.suzuki.co.uk/bikes/.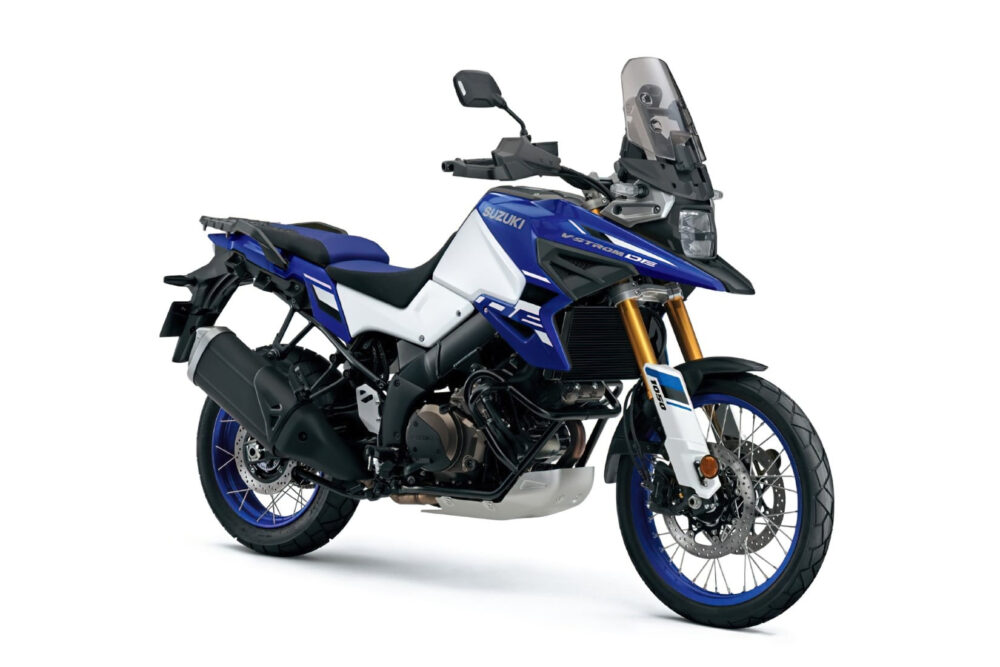 photos: Suzuki