Revolutionizing Motorcycle Riding: BMW Motorrad ConnectedRide Smartglasses
What if your motorcycle could provide you with all the crucial information you need without you ever having to take your eyes off the road?
It might sound like something out of a science fiction movie, but thanks to BMW Motorrad, this futuristic concept has become a reality with the introduction of their groundbreaking innovation: the BMW Motorrad ConnectedRide Smartglasses.
Gone are the days of fumbling with your smartphone or glancing down at your bike's dashboard to check your speed, gear, or navigation.
The BMW Motorrad ConnectedRide Smartglasses leverage head-up display (HUD) technology, which has already made its mark in the automotive industry, to project vital data directly into the rider's field of vision in real-time. This exciting development not only enhances motorcycle riding safety but also takes comfort and convenience to a whole new level.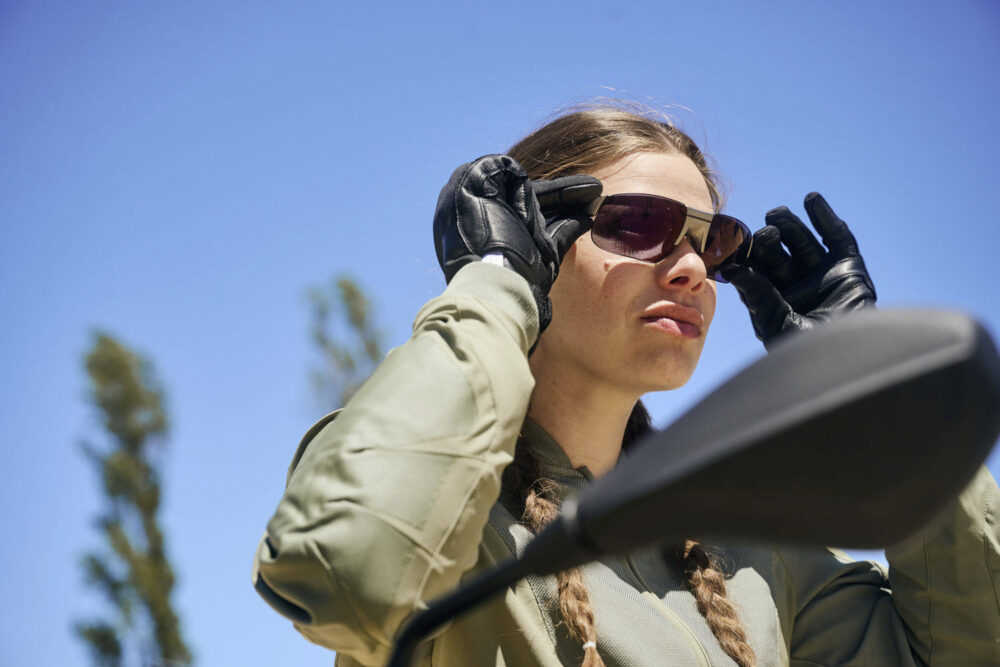 Pairing these smartglasses with your smartphone is a breeze, thanks to their seamless Bluetooth connectivity and dedicated app. Before setting off on your journey, you can easily position the projection and customize the settings using the multicontroller on your motorcycle's handlebars. The ability to fine-tune the display ensures that you have complete control over your riding experience.
Designed with the specific needs of motorcyclists in mind, the BMW Motorrad ConnectedRide Smartglasses offer an ergonomic and comfortable fit. The goggles' design and display have been meticulously crafted to cater to the demands of riders, guaranteeing a comfortable experience even during long day trips. Furthermore, the smartglasses can be adapted to fit numerous helmet styles and face shapes, accommodating riders' unique preferences.
To ensure versatility, BMW Motorrad includes two sets of certified UVA/UVB lenses with the smartglasses. One set boasts 85% transparency, ideal for helmets equipped with integrated sun visors. The other set features tinted lenses, transforming the smartglasses into a stylish pair of sunglasses suitable for various lighting conditions.
For riders who wear prescription glasses, the BMW Motorrad ConnectedRide Smartglasses offer a convenient solution. An RX adapter, with an adjustable range of up to +/- 4.5 diopters, can be ordered separately. This thoughtful inclusion ensures that riders with different visual acuity requirements can enjoy the benefits of these innovative smartglasses.
The BMW Motorrad ConnectedRide Smartglasses made their much-anticipated debut on July 7, 2023, as part of the BMW Motorrad Days event held in Berlin. Enthusiasts and industry insiders marveled at the groundbreaking technology that is set to revolutionize motorcycle riding.
Let's delve into some of the key highlights of the BMW Motorrad ConnectedRide Smartglasses. The goggles come in two sizes (M and L) with interchangeable nose pads, accommodating a wide range of facial structures. The M size fits a pupil distance between 53 to 67 mm, while the L size caters to 59 to 73 mm. With two sets of lenses (tinted and 85% transparent) and an integrated light sensor, the smartglasses offer optimal visibility and eye protection.
Thanks to its seamless integration with smartphones and the BMW Motorrad Connected App, the smartglasses provide real-time GPS data transfer, ensuring accurate and up-to-date navigation. The head-up function enables riders to access personalized navigation displays that show relevant information, including street names, intersections, and precise directions. Additionally, the smartglasses display essential details such as speed, speed limits, and current gear, empowering riders to stay informed without any distractions.
The smartglasses' cutting-edge technology incorporates an integrated light sensor and an optics module, ensuring secure data transmission and clear, vivid displays on the top left of the right lens. With a long-lasting lithium-ion battery offering up to ten hours of operation, riders can confidently embark on extended journeys without worrying about battery life.
BMW Motorrad has left no stone unturned in their pursuit of innovation, even considering environmental conditions. The BMW Motorrad ConnectedRide Smartglasses boast an operating temperature range of -10°C to +50°C, guaranteeing optimal performance in various weather conditions.
Available in an elegant anthracite color, the BMW Motorrad ConnectedRide Smartglasses are poised to become an indispensable companion for motorcycle enthusiasts. With a recommended retail price (RRP) of €690.00, these smartglasses represent an investment in safety, comfort, and unparalleled riding experiences.
Anyway, the BMW Motorrad ConnectedRide Smartglasses mark a milestone in motorcycle technology, pushing the boundaries of what was once considered science fiction.
photos: BMW