MotoGP | Marco Bezzecchi Triumphs in Spectacular Fashion at the GP of India
The Grand Prix of India witnessed an awe-inspiring performance by Marco Bezzecchi (Mooney VR46 Racing Team), shaking up MotoGP Championship race.
In a race filled with twists and turns, Bezzecchi left no room for doubt as he dominated the competition, clinching a resounding victory with a lead of 8.649 seconds.
The race unfolded in a dramatic fashion as Jorge Martin (Primac Pramac Racing) took an early lead, thanks to a lightning start that left pole-sitter Bezzecchi trailing.
Francesco Bagnaia (Ducati Lenovo Team), the championship leader, was determined to keep Martin in check and launched a spirited attack to close the gap.
In a daring move on the brakes, Bagnaia attempted to overtake Martin, but the reigning world champion proved to be a tough nut to crack. Unfortunately for Martin, he ran wide and slipped down to fourth place, handing the lead to Bagnaia. Seizing the opportunity, Bezzecchi made his move on Martin, who found himself in third place.
Bezzecchi wasted no time and unleashed a torrent of fast laps, putting immense pressure on Bagnaia. The VR46 machine started to pull away, and Bezzecchi was soon a full second ahead of his rivals. Meanwhile, Bagnaia found himself embroiled in a fierce battle with Jorge Martin, who was eager to regain his position at the front. With 17 laps to go, Martin executed a daring pass, setting his sights on Bezzecchi, who had extended his lead to two seconds.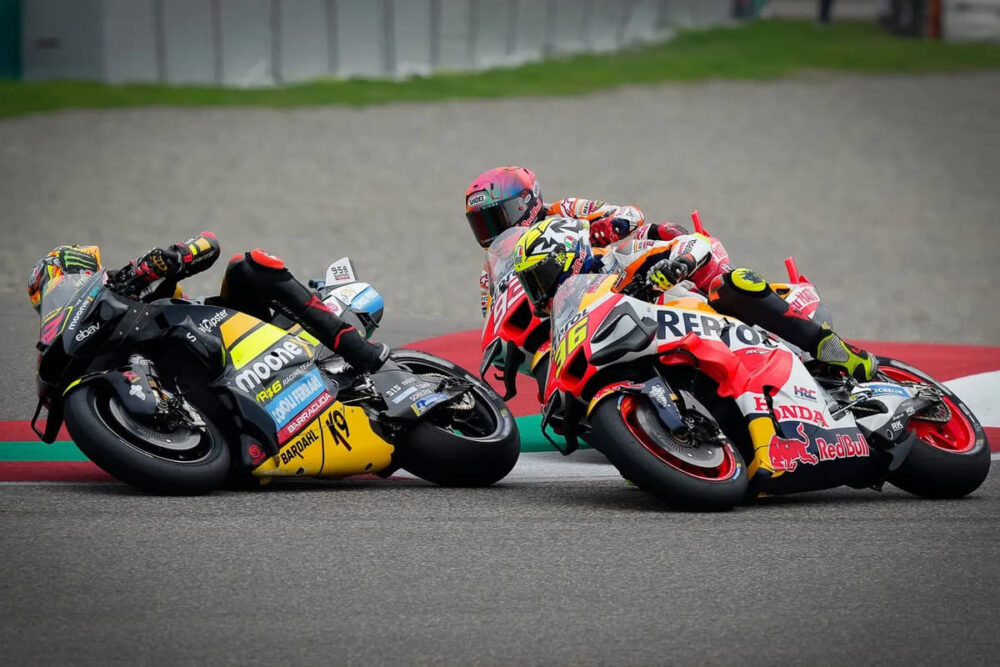 Marc Marquez (Repsol Honda Team), who had been watching from fourth place, tried to enter the fray but found the pace a bit too hot to handle. Unfortunately, his front end folded at Turn 1, forcing him to rejoin the race and settle just outside the points, losing a mere 10 seconds during the mishap.
The excitement continued to build as Martin did everything in his power to shake off Bagnaia, who refused to yield. With eight laps remaining, Bagnaia made a bold move to regain the lead but succumbed to the pressure, causing his front end to wash out from underneath him.
This costly error dealt a significant blow to his championship aspirations and elevated Fabio Quartararo (Monster Energy Yamaha MotoGP) to a podium position. Quartararo, who had been lurking in fourth place, benefited from the Ducati duel unfolding ahead.
As the race neared its conclusion, Marco Bezzecchi, the race leader, was in a league of his own, securing an incredible victory and adding 25 valuable points to his championship campaign.
Jorge Martin began to struggle in the scorching Indian heat, making a costly mistake in the closing stages. Quartararo seized the opportunity and moved ahead of Martin, but the Spaniard managed a remarkable defensive performance, thanks in part to the power of his Ducati, securing second place.
Further down the field, Brad Binder (Red Bull KTM Factory Racing) engaged in an epic battle with Joan Mir (Repsol Honda Team) for fourth place. Binder emerged victorious after a stellar performance that saw him charge through the ranks from 13th on the grid.
Remarkably, Marc Marquez staged an incredible recovery, finishing in ninth place after his earlier mishap. The GP of India delivered a breathtaking race, shaking up the MotoGP Championship race and leaving fans eagerly anticipating the next thrilling installment of this high-speed drama.
See the Championship standings after the race in Buddh:
| Position | Rider | Bike | Points |
| --- | --- | --- | --- |
| 1 | Francesco Bagnaia | Ducati | 292 |
| 2 | Jorge Martin | Ducati | 279 |
| 3 | Marco Bezzecchi | Ducati | 248 |
| 4 | Brad Binder | KTM | 192 |
| 5 | Aleix Espargaro | Aprilia | 160 |
| 6 | Johann Zarco | Ducati | 157 |
| 7 | Maverick Viñales | Aprilia | 138 |
| 8 | Luca Marini | Ducati | 135 |
| 9 | Jack Miller | KTM | 109 |
| 10 | Alex Marquez | Ducati | 108 |
MotoGP returns on October 1st with the Japan GP at the Motegi circuit.