MotoGP | Honda presents Marc Marquez and Joan Mir's bikes for the 2023 season
Honda has unveiled the Repsol Honda Team bikes for the 2023 MotoGP season. The factory team continues with eight-time World Champion Marc Marquez and Joan Mir, who competed last season for Suzuki.
The bikes remain in the same colors as last season but, mechanically and even visually, have some modifications. The front aerodynamic wings have a new shape, the front air intake also has a difference, the tail has 'stegosaurus' style wings, and there is a new rear swingarm.
Not to mention the modifications and improvements that exist underneath the fairings, such as in the engine, electronics, etc.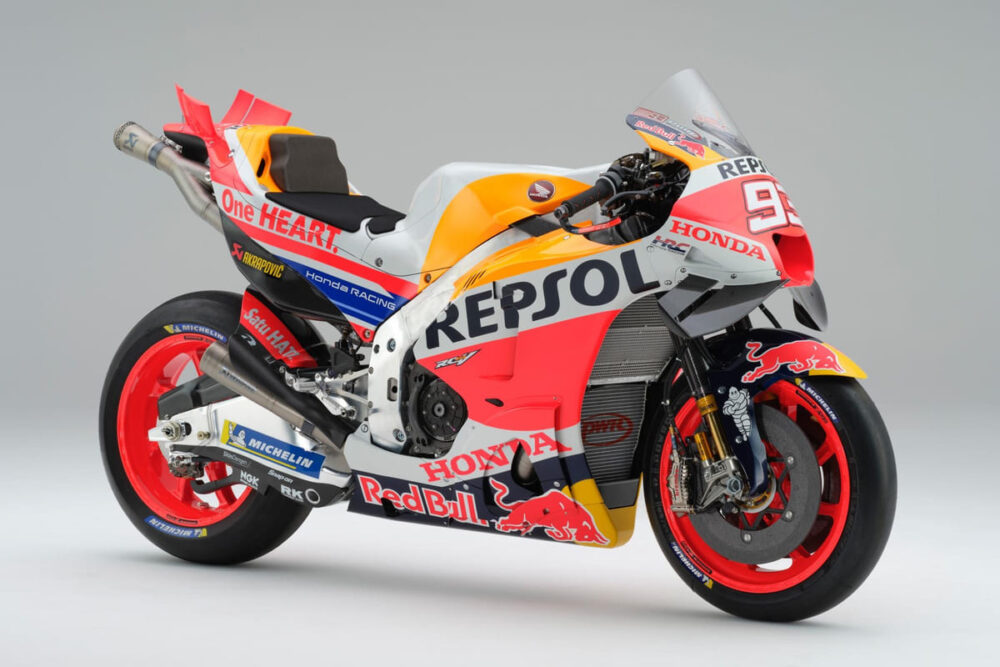 Marc Marquez: "The bike looks great again this year! I am really looking forward to riding in full Repsol Honda Team colours again at the Portugal Test. It's great to be here with the whole Repsol family who have been with me and the team for such a long time. It will be an important test in Portimao, as we have some work to do, but the engineers have been working hard in Japan. I am eager to keep working and get this season started, I am feeling fit and ready to go racing."
Joan Mir: "It feels incredible to wear the full Repsol Honda Team colours for the first time and to show off the latest version of the Honda RC213V. It's such an honour to join this iconic team and my focus is to deliver the best results possible, what is expected when you join a team such as this. We've made good progress already in Sepang and we still have time to prepare in Portugal, we keep working and we keep improving."
Tetsuhiro Kuwata (HRC Director): "We arrive at the 2023 season after some challenging years, but we have not lost our spirit or our drive. Honda has won 25 Premier Class World Championships, including 24 Constructors Championships and we know what we are capable of as a company and as a constructor. Competition in MotoGP is tighter than ever, but we are continuing to work to our maximum in order to give our riders what they need. It is a pleasure to again be with our partners at Repsol to unveil our new colours for a new season, another beautiful Repsol Honda Team machine.
"We have two great riders to lead us this year, Marc Marquez's history and accomplishments with us need no explanation. He has brought us some of the brightest points in our history and we are delighted that he is back to full fitness. On the other side of the garage is Joan Mir who has already twice been a World Champion at 25 years of age and has a proven track record of adapting quickly to new situations. I hope to see them both achieving the success we at Honda HRC know they are capable of this year."
photos: Repsol Honda MotoGP