Meet the RAY 7.7, the premium Spanish high-performance electric scooter
Spanish startup RAY ELECTRIC MOTORS has launched the premium high-performance electric scooter RAY 7.7, which comes with a powerful engine and large battery for an improved riding experience, targeting those looking for something more powerful in the category.
As expected, the RAY 7.7 is equipped with a mid-engine with 10.7 kW of continuous power and a maximum power of 17.5 kW, which allows a top speed of up to 125 km/h (77.7 MPH). The engine torque is 60 Nm and the final transmission is by belt.
The lithium battery is 89V and 87Ah with a capacity of 7.7 kW (hence its name!), which allows a range of up to 160 km (100 MPH) at 50 km/h (31 MPH) of constant speed. It has a standard 1.8 kW charger (3.3 kW optional), which allows a full charge in 4h 20min (2h 35min with optional charger).
The design of the RAY 7.7 has very straight lines, with a 'nozzle' at the front where two round LED projectors for the headlights are fitted. In the tail, two round lanterns are also fitted. The LED turn signals have a very modern design and are located on the sides of the fairing.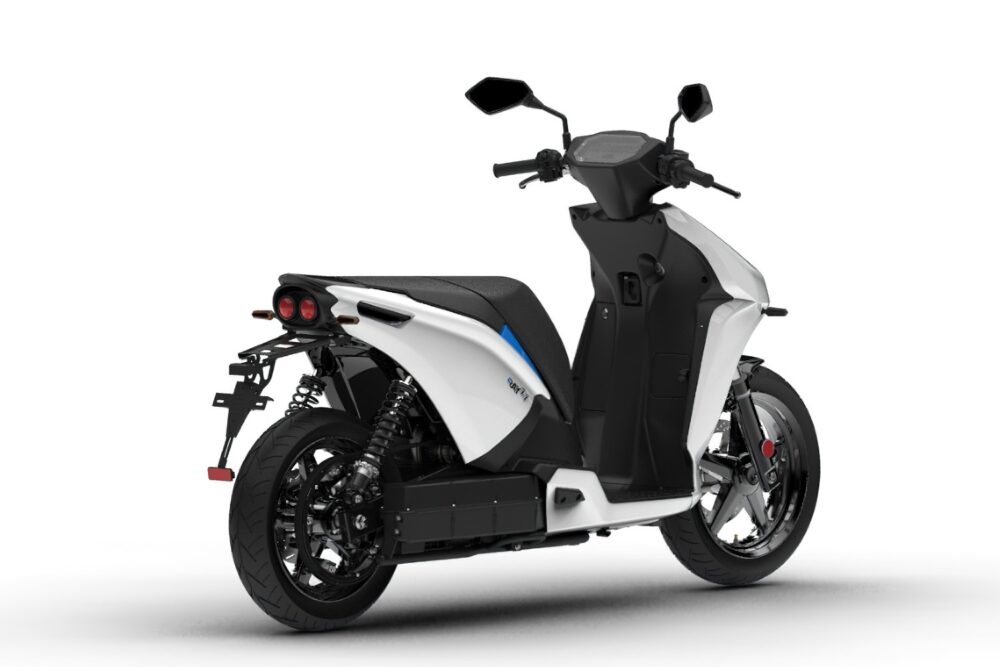 In terms of chassis, the model does not disappoint, as it has motorcycle-type suspensions, aluminum alloy wheels, disc brakes on both axles with a JJUAN set, and wide tires, with 120/70-15 at the front and 140/60-14 at the rear.
Finally, it comes as standard with a 5-inch color TFT digital panel, turn-by-turn GPS navigation, smartphone connection via Bluetooth, 3 riding modes (City, Sport and Flow), reverse gear, USB port, remote control, anti-theft alarm, and Full-LED lighting.
Finally, the RAY 7.7 is sold in Spain for €7,400 (approximately US $ 7,793), already considering local discounts and incentives.
For more information, visit https://ray.eco/.
photos: RAY