2023 Honda Forza 350 gets design updates and new colors
Honda has launched in Europe the 2023 Forza 350, its 'premium' 350cc scooter, which arrives with design updates, a new instrument panel and new colors, but maintains the mechanics of the previous model.
The 2023 Forza 350 now has a new front look influenced by its bigger 'sister' Forza 750, with more sober and elegant LED headlights. The general lines are sharper but still show a lot of sportiness, characteristic of this Maxi GT model.
In addition, to complete the technological package, it can connect wirelessly to the smartphone through the Honda Smartphone Voice Control (HSVC) system, which now for 2023 is also compatible with IOS and Android devices.
In terms of colors, the 2023 Forza 350 arrives with two new options: Pearl Siena Red and Matt Robust Gray Metallic. The others that are still available are: Matt Pearl Pacific Blue, Matt Cynos Gray Metallic and Pearl Falcon Gray.
Otherwise, it remains the same model, without any mechanical changes. In 2021, it brought a bigger, more powerful engine, along with cosmetic and aero upgrades, a 40mm taller windshield, and a USB Type-C socket instead of an ACC charging point.
How is the 2023 Forza 350
The 2023 Honda Forza 350 is a 'Maxi' and 'GT' scooter, that is, it has touring characteristics, being a light, compact and agile scooter, without losing comfort and performance.
Some features give it a certain sportiness, such as the fairings and rear-view mirrors, fixed to the fairing itself.
In addition, it has several technological items such as, traction control (HSTC – Honda Selectable Torque Control), ABS brake system, Full-LED lighting, digital panel with analog displays and electrically adjustable windshield. The front turn signals are built into the rear view mirrors.
Finally, for those who need space to carry small purchases or objects, it has space under the seat for up to two full-face helmets and more objects, as well as a USB socket.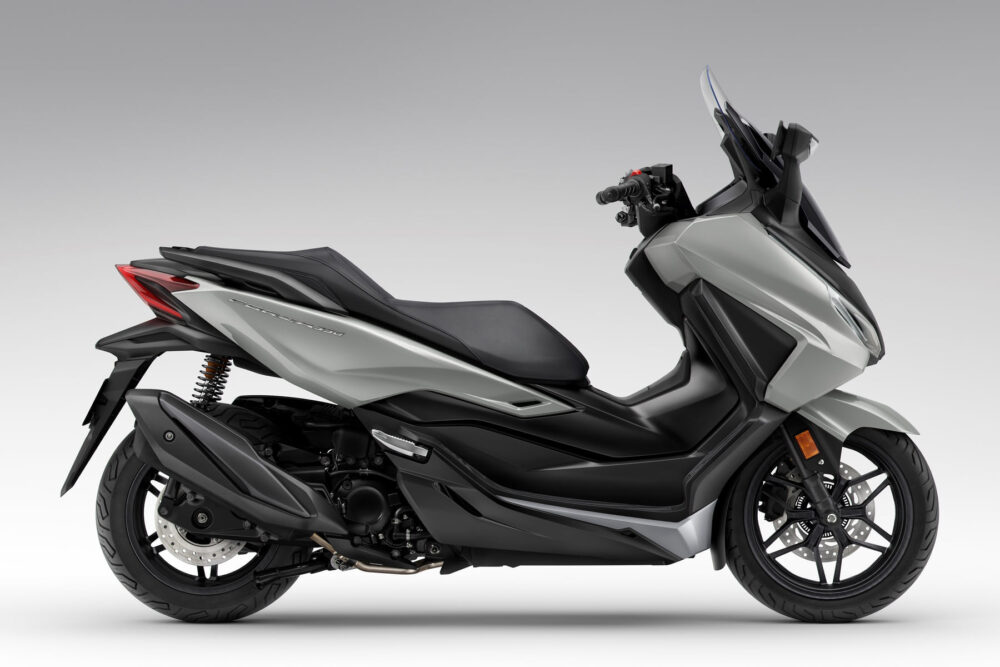 The 2023 Honda Forza 350 has a 330 cm³ liquid-cooled single-cylinder engine with enhanced Smart Power+ (eSP+) and Idling Stop technology, capable of generating up to 21.5 kW (29.2 hp) of maximum power at 7,500 rpm, and 31.5 Nm ( 3.16 kgfm) of torque at 5,250 rpm. According to Honda, consumption is 29.4 km/L and top speed is 150 km/h.
Anyway, for more information, access https://www.honda.co.uk/motorcycles.html.
photos: Honda